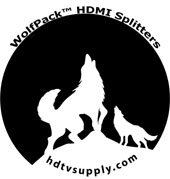 HDTV Supplys WolfPack
1x2 HDMI to Coax Splitter
sends a single HDMI converted to coax video signal data to 2 - coax to HDMI converted devices at the same time. There is no signal loss in the splitting process. Our 1x2 HDMI to Coax Splitter supports almost all video formats and it can also achieve up to 1080p @ 60Hz for Full HD output performance. The 1x2 HDMI to Coax Splitter supports both video and audio.
The 1x2 HDMI to Coax Splitter is
part of a system
that allows you to extend HDMI audio/video signal by up to 100 meters (328 feet)feet using optional the local transmitter and remote receiver units and is ideal for point-to-point digital signage applications that require high quality HDMI video. The extender allows you to run the connection over an existing coaxial cable, with little to no modification required, making it a perfect solution for a broad range of applications.
NOTE:
This 1x2 HDMI to Coax Splitter is part of a HDMI to coax back to HDMI system is NOT a standalone device and must be used with our
WolfPack HDMI to Coax SEND or RECEIVE Adapters
. See the above OPTIONS and ACCESSORIES TAB for more.
1x2 HDMI to Coax Splitter Features:
BNC Coax Inputs: One (1)
BNC Coax Outputs: Two (2)
Features equalizer circuitry on the inputs and outputs allowing it to support long coax cable runs
Support for multiple standard and high definition video resolutions:

HD 720p @ 60 Hz
HD 1080i @ 60 Hz
HD 1080p @ 60 Hz

Supports 8-bit, 10-bit, and 12-bit Deep Color
Full HD video format
Built-in Cable Equalizer, Re-clocker & Cable Driver
Max. cable length using Belden 1694A is 100 feet.
Excellent HDMI to Coax signal jitter suppression
Power supply indicator light
Why not buy this 1x2 HDMI to Coax Splitter today?