Features
Key Digital Power over HDBaseT/HDMI (Tx + Rx Set) Extenders with HDR, HDCP2.2 and 4K
This
KD-X222PO HDBaseT/HDMI (Tx & Rx) Extenders
is an HDCP 2.2 compliant product that extend 4K/UHD 24/25/30 (4:4:4) and 4K/UHD 60 (4:2:0) signals up to 150 ft. using Key Digital KD-CAT6STP1X Super CAT6A Shielded cable, or up to 125ft. using a single third-party CAT5e/6 cable. 1080p/60, 1920x1200, 3D signals are extended up to 250 ft. via single Key Digital KD-CAT6STP1X Super CAT6 shielded cable, or up to 230 ft. using a single third-party CAT5e/6 cable. In addition to HDMI video and audio signals, KD-X222PO carries IR or RS-232 for controlling remotely located equipment or the RS-232 port can be used to control the KD-X222PO.
NOTE: HDTV Supply is proud to be an Authorized Reseller of Key Digital Products and provide Key Digitals 3 YEAR WARRANTY along with our Free HDTV Supply Lifetime Telephone Tech Support. HDTV Supply also upgrades their 3-Year Warranty to a 5-YEAR WARRANTY at no cost to you and we will Price Match if you find a lower price from an Authorized Key Digital Reseller conforming to the specs on this product page.
Key Digital Power over HDBaseT/HDMI (Tx + Rx Set) Extenders with HDR, HDCP2.2 and 4K Features:
HDBaseT via Single CAT5e/6 UTP/STP Extension: With fully automatic adjustment of feedback, equalization, and amplification depending on cabling length
KD-X222PO: Features power extension from Tx to Rx with Power Over HDBaseT, Rx unit does not require power supply
Signal Extension: Up to 150 ft. @ 4K 24/25/30(4:4:4)/60(4:2:0) using KD-CAT6STP1X cabling Up to 125 ft. @ 4K 24/25/30(4:4:4)/60(4:2:0) using third-party CAT5e/6UTP/STP cabling Up to 250 ft. @ 1080p /1920x1200 using KD-CAT6STP1X cabling Up to 230 ft. @ 1080p /1920x1200 using third-party CAT5e/6 cabling
HDCP 2.2: Compliancy up to HDCP 2.2 and backward compliant
HDR (High Dynamic Range): More life-like images through a greater range of luminance levels
4K/Ultra HD Resolution: Support for 4096x2160 or 3840x2160 24/25/30Hz at 4:4:4/8 Bit or 60Hz at 4:2:0/8 Bit
Deep Color Support: Up to UHD/4K 30Hz 4:2:2/12 bits or 60Hz 4:2:0/8 bit
3D: Support for standard 3D stereoscopic signal formats
Low Profile: Super slim chassis design
HDMI and HDCP Licensing: Fully licensed and compatible with HDCP 2.2 and HDMI latest technology such as 4K/UHD 4:2:0/8bit at 60f/s
EDID Control: Internal library features 15 default EDID configurations and native EDID data from Output/Display devices connected via Rx
Hot Plug Detection Control: Enables integrator to choose if active signal voltage is forced to connected input devices
Full Buffer System: Manages TMDS re-clocking / signal re-generation, HDCP authentication with source & display, EDID Control handshake, and Hot Plug control
IR Sensor: Sensor powering via +5V on Rx unit In port collects line-of-sight IR from remote(s) without external IR connecting block
Up/Down IR: Two channels of IR enable control to/from devices connected to Tx and Rx units
RS-232: Bi-Directional control to/from Tx and Rx unit on Phoenix connector
Rotary Switch RS-232 Control Mode: Provides control of Tx unit as well as connectivity status
Lossless compressed digital audio: Support for Dolby TrueHD, Dolby Digital Plus, Dolby Atmos, and DTS-HD Master Audio
CEC Support: For inter-device control between input and output HDMI channel
I2C Communication: EDID and HDCP authentication to Display and Source
Control System Support: Fully controllable by all RS-232 supported control systems via open API: Compass Control, AMX, Crestron, KNX, RTI, Savant, URC, Leviton etc.
Why not buy this Key Digital Power over HDBaseT/HDMI (Tx + Rx Set) Extenders with HDR, HDCP2.2 and 4K today?
Warranty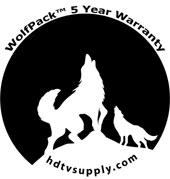 HDTV Supply
includes a
WolfPackCare
5 Year U.S. Limited Extended Warranty on this product. There are two bundled parts to this 5 year warranty. The 5 year warranty is only for the main device you purchased and does not include any product options or additional products you purchased at the same time.
FIRST THROUGH THIRD YEAR:
The first part of the warranty is a 3-year warranty direct with Key Digital ay 855-539-3444. The warranty states that the Product will perform substantially in accordance with the supplied written materials and Product information located on this Product web site page for a period of 3-years from the date of shipment of the Product and that the Product will be free from defects in materials & workmanship under normal use & service for a period of 3-years from date of shipment.
In order to get a warranty replacement for a defective item within the 3-years call Key Digital at 855-539-3444.
4th THROUGH 5th YEAR:
The 4th through 5th year are direct with
Consumer Priority Extended Warranty Service (CPS)
as they are HDTV Supplys extended warranty provider. They are a large 3rd party repair company with facilities throughout the U.S. and offer our U.S. customers unparalleled product coverage and repairs. If after calling HDTV Supply, at 800-841-9238, we find we can't fix the issue over the phone, and you need a repair, you will henceforth deal directly with CPS for the repairs via their toll free phone number (800) 905-0443 Option 3 during the 4th and 5th year.
Read
HDTV Supplys Warranty Terms and Conditions
and
Key Digitals Warranty Terms and Conditions
for more.
You can also
email CPS
and
email HDTV Supply
and
email KEY DIGITAL
as well as call us a 800-841-9238 if you have any questions with this 5 year bundled warranty.
Government
This product may be eligible to be purchased through the United States Governments SEWP program, similar to their GSA program.
The NASA SEWP (Solutions for Enterprise-Wide Procurement) provides the latest in Information and Communications Technology (ICT) and Audio-Visual (AV) products and services for all Federal Agencies and their approved contractors.
If you are a government agency and want to see whether HDTV Supply has this product in the SEWP database go to our
our SEWP Contract Holder RedHawk IT Solutions, LLC
to allow you to maybe order this product from the United States Governments SEWP program. It is very easy to place your order, go to the link above and enter HDTV Supply and there you will see a list of part numbers of what we currently have. If you do not see it than give us a call at 833-WOLFPACK (833-965-3722) and we may be able to enter it.
Our SEWP Contract Holder RedHawk IT Solutions partner has the following credentials:
DUNS: 801957023
TIN: 260452583
CAGE: 4TBM6
Their SEWP Federal Contracts are:
SEWP Contract Number: NNG15SD38B
Group: Group B_SDVOSB
NAICS: 541519
and
SEWP Contract Number: NNG15SD88B
Group: Group C
NAICS: 541519
The SEWP Program Office manages a suite of government-wide IT products and services contracts that enable NASA and all Federal Agencies to achieve their missions and strategic initiatives by providing streamlined access to critical technologies and solutions. The Program provides best value for the Federal Government and American taxpayer through innovative procurement processes, premier customer service and outreach, acquisition insight, and partnership with Government entities and Industry.
For a complete listing of HDTV Supply products from us, or our other vendors, call 833-WOLFPACK (833-965-3722).