Key Digital KD-S4X1 4 to 1 HDMI Switcher, 4K, HDR10, HDCP2.2




4 to 1 HDMI Switcher

4K, HDR10, HDCP2.2

Free Shipping & 5-Year HDTV Supply Warranty

Free Lifetime Telephone, CHAT, TEXT and Email Tech Support

Part # KD-S4X1

Usually ships the same business day

Today's Price: $170.00
Features
Key Digital KD-S4X1 4 to 1 HDMI Switcher, 4K, HDR10, HDCP2.2
This Key Digital® KD-S4X1 is HDMI switchers are designed and engineered to offer the best in quality, performance, and reliability, while providing a cost-effective HDMI switching solution. The KD-S4X1/KD-S4x1 HDMI switchers provide multiple input to one output switching and maintain crystal-clear, pristine picture and sound quality, without signal degradation. KD-S4X1/KD-S4x1 HDMI switchers support all SD, HD, VESA and Ultra HD/4K video standards, including UHD/4K, 1080p/60, 1920x1200, and 3D. The switchers feature push button and optical IR switching, status-monitoring LEDs, and support of HDR10, HDCP 2.2 and 4K.
NOTE: HDTV Supply is proud to be an Authorized Reseller of Key Digital Products and provide Key Digitals 3 YEAR WARRANTY along with our Free HDTV Supply Lifetime Telephone Tech Support. HDTV Supply also upgrades their 3-Year Warranty to a 5-YEAR WARRANTY at no cost to you and we will Price Match if you find a lower price from an Authorized Key Digital Reseller conforming to the specs on this product page.
Key Digital KD-S4X1 4 to 1 HDMI Switcher, 4K, HDR10, HDCP2.2 Features:
Digital Switching: 4 HDMI Sources to 1 HDMI Display
Resolution Support: SD, HD, and VESA up to UHD/4K
18 Gbps Bandwidth: High Speed / Performance for latest HDMI standards
HDR10 (High Dynamic Range): More life-like images through a greater range of luminance levels
HDCP 2.2 and HDMI Licensing: Fully licensed and compatible with HDCP 2.2 and HDMI latest technologies
Ultra HD/4K Support: 4096x2160 or 3840x2160 30Hz at 4:4:4 and 60Hz at 4:4:4
3D Ready: Capability to pass 3D stereoscopic signal formats
EDID Control: Internal library with 16 default EDID configurations for each input, including native EDID data of Output/Display
Full Buffer™ System: Manages TMDS re-clocking / signal re-generation, HDCP source & display authentication, Hot Plug Management and EDID Control handshake
Lossless Compressed Digital Audio: Dolby® TrueHD, Dolby® Digital Plus, Dolby® Atmos and DTS-HD Master Audio™
Deep Color Support: Up to 12 Bit at UHD/4K 24/25/30Hz 4:4:4
I2C Communication: EDID and HDCP buffering from Display to Source
Control: Front panel push buttons and LEDs, Optical IR
CEC: Full Support
Control System Support: Fully controllable by all IR, RS-232, and TCP/IP supported control systems via open API: AMX®, Crestron®, KNX®, RTI®, Savant, URC®, Leviton® etc.
Why not buy this Key Digital KD-S4X1 4 to 1 HDMI Switcher, 4K, HDR10, HDCP2.2 today?
Specs
Key Digital KD-S4X1 4 to 1 HDMI Switcher, 4K, HDR10, HDCP2.2
Input: HDMI Connector, Type A, 19 Pin Female
Output (Each): HDMI Connector, Type A, 19 Pin Female
Bandwidth: TMDS bandwidth 18 Gb/s
DDC Signal (Data): Input DDC Signal - 5 Volts p-p (TTL)
HDMI Video/Audio Signal: Input Video Signal - 1.2 Volts p-p
Power Supply: KD-PS5V1ASC, 5V/1A, 100-240VAC, 50-60Hz, Interchangeable head, screw-in connector
Regulation: CE, RoHS, WEEE
Enclosure: Black Metal
Product Dimensions: 6.25" x 1.1" x 3.1"
Packaging Dimensions: 9.8" x 4.5" x 3.35"
Product Weight: 0.9 lb
Shipping Weight: 1.5 lb
Videos
Why not buy this Key Digital KD-S4X1 today?
Warranty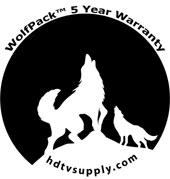 HDTV Supply
includes a
WolfPackCare
5 Year U.S. Limited Extended Warranty on this product. There are two bundled parts to this 5 year warranty. The 5 year warranty is only for the main device you purchased and does not include any product options or additional products you purchased at the same time.
FIRST THROUGH THIRD YEAR:
The first part of the warranty is a 3-year warranty direct with Key Digital ay 855-539-3444. The warranty states that the Product will perform substantially in accordance with the supplied written materials and Product information located on this Product web site page for a period of 3-years from the date of shipment of the Product and that the Product will be free from defects in materials & workmanship under normal use & service for a period of 3-years from date of shipment.
In order to get a warranty replacement for a defective item within the 3-years call Key Digital at 855-539-3444.
4th THROUGH 5th YEAR:
The 4th through 5th year are direct with
Consumer Priority Extended Warranty Service (CPS)
as they are HDTV Supplys extended warranty provider. They are a large 3rd party repair company with facilities throughout the U.S. and offer our U.S. customers unparalleled product coverage and repairs. If after calling HDTV Supply, at 800-841-9238, we find we can't fix the issue over the phone, and you need a repair, you will henceforth deal directly with CPS for the repairs via their toll free phone number (800) 905-0443 Option 3 during the 4th and 5th year.
Read
HDTV Supplys Warranty Terms and Conditions
and
Key Digitals Warranty Terms and Conditions
for more.
Ask a Question
Questions & Answers

Ask a question about the Key Digital KD-S4X1 4 to 1 HDMI Switcher, 4K, HDR10, HDCP2.2 or Call 833-WOLFPACK (833-965-3722)


FAQ

Reasons To Buy an Key Digital Product
Why not buy this Key Digital KD-S4X1 4 to 1 HDMI Switcher, 4K, HDR10, HDCP2.2 today?
Key Digital KD-S4X1 4 to 1 HDMI Switcher, 4K, HDR10, HDCP2.2
Scroll Left & Right To See 20 Of Your Recently Viewed Items Below