Key Digital KD-S4X1 4 to 1 HDMI Switcher, 4K, HDR10, HDCP2.2




4 to 1 HDMI Switcher

4K, HDR10, HDCP2.2

Free Shipping & 5-Year HDTV Supply Warranty

Free Lifetime Telephone, CHAT, TEXT and Email Tech Support
Key Digital KD-S4X1 4 to 1 HDMI Switcher, 4K, HDR10, HDCP2.2
This Key Digital® KD-S4X1 is HDMI switchers are designed and engineered to offer the best in quality, performance, and reliability, while providing a cost-effective HDMI switching solution. The KD-S4X1/KD-S4x1 HDMI switchers provide multiple input to one output switching and maintain crystal-clear, pristine picture and sound quality, without signal degradation. KD-S4X1/KD-S4x1 HDMI switchers support all SD, HD, VESA and Ultra HD/4K video standards, including UHD/4K, 1080p/60, 1920x1200, and 3D. The switchers feature push button and optical IR switching, status-monitoring LEDs, and support of HDR10, HDCP 2.2 and 4K.
NOTE: HDTV Supply is proud to be an Authorized Reseller of Key Digital Products and provide Key Digitals 3 YEAR WARRANTY along with our Free HDTV Supply Lifetime Telephone Tech Support. HDTV Supply also upgrades their 3-Year Warranty to a 5-YEAR WARRANTY at no cost to you and we will Price Match if you find a lower price from an Authorized Key Digital Reseller conforming to the specs on this product page.
Key Digital KD-S4X1 4 to 1 HDMI Switcher, 4K, HDR10, HDCP2.2
Digital Switching: 4 HDMI Sources to 1 HDMI Display
Resolution Support: SD, HD, and VESA up to UHD/4K
18 Gbps Bandwidth: High Speed / Performance for latest HDMI standards
HDR10 (High Dynamic Range): More life-like images through a greater range of luminance levels
HDCP 2.2 and HDMI Licensing: Fully licensed and compatible with HDCP 2.2 and HDMI latest technologies
Ultra HD/4K Support: 4096x2160 or 3840x2160 30Hz at 4:4:4 and 60Hz at 4:4:4
3D Ready: Capability to pass 3D stereoscopic signal formats
EDID Control: Internal library with 16 default EDID configurations for each input, including native EDID data of Output/Display
Full Buffer™ System: Manages TMDS re-clocking / signal re-generation, HDCP source & display authentication, Hot Plug Management and EDID Control handshake
Lossless Compressed Digital Audio: Dolby® TrueHD, Dolby® Digital Plus, Dolby® Atmos and DTS-HD Master Audio™
Deep Color Support: Up to 12 Bit at UHD/4K 24/25/30Hz 4:4:4
I2C Communication: EDID and HDCP buffering from Display to Source
Control: Front panel push buttons and LEDs, Optical IR
CEC: Full Support
Control System Support: Fully controllable by all IR, RS-232, and TCP/IP supported control systems via open API: AMX®, Crestron®, KNX®, RTI®, Savant, URC®, Leviton® etc.
Why not buy this Key Digital KD-S4X1 today?
Key Digital KD-S4X1 4 to 1 HDMI Switcher, 4K, HDR10, HDCP2.2
Input: HDMI Connector, Type A, 19 Pin Female
Output (Each): HDMI Connector, Type A, 19 Pin Female
Bandwidth: TMDS bandwidth 18 Gb/s
DDC Signal (Data): Input DDC Signal - 5 Volts p-p (TTL)
HDMI Video/Audio Signal: Input Video Signal - 1.2 Volts p-p
Power Supply: KD-PS5V1ASC, 5V/1A, 100-240VAC, 50-60Hz, Interchangeable head, screw-in connector
Regulation: CE, RoHS, WEEE
Enclosure: Black Metal
Product Dimensions: 6.25" x 1.1" x 3.1"
Packaging Dimensions: 9.8" x 4.5" x 3.35"
Product Weight: 0.9 lb
Shipping Weight: 1.5 lb
Why not buy this Key Digital KD-S4X1 today?
Why not buy this Key Digital KD-S4X1 today?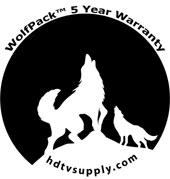 HDTV Supply
includes an
HDTV Supply Direct WolfPackCare
5 Year U.S. Limited Warranty on this Key Digital product. The 5 year warranty is only for the main device you purchased and does not include any product options or additional products you purchased at the same time.
The warranty states that the Product will perform substantially in accordance with the supplied Key Digital written materials and Product information located on Key Digital web site page for a period of 5-years from the date of shipment of the Product and that the Product will be free from defects in materials & workmanship under normal use & service. In order to process a warranty, call HDTV Supply with your order number at 800-841-9238. Please make sure you have your order number at the time of the call.
Questions & Answers

Ask a question about the Key Digital KD-S4X1 4 to 1 HDMI Switcher, 4K, HDR10, HDCP2.2 or Call 800-841-9238


HDTVSupply.com & Key Digital have had a long-term relationship. We are an Authorized Reseller Dealer & have a signed contract with Key Digital to sell and support their complete product line.
Our partnership started when HDTV Supply went looking for a company that could supply unique products, provide flawless support and had fair pricing. Key Digital was the first company that met out strict demands and they were one of the best we have developed a relationship with.
Reasons To Buy This Key Digital Product From HDTVSupply.com:
Because Key Digital products are so reliable HDTV Supply upgrades the Key Digital 3-year warranty to HDTV Supplys 5-year Warranty (2-additional years from us) when you buy from HDTV Supply
Our partnership with Key Digital gives you FREE HDTV Supply U.S. based Live Telephone Lifetime Tech support
HDTV Supply has a dedicated TEXT support line at 805-409-0208 to support you
HDTV Supply has a dedicated Product Manager for Key Digital products to assist with any special needs
Many times we will list lower cost Closeout Key Digital products at our site
All Key Digital are in stock and ship the same weekday if the order comes in by 12PM PST
You can buy Key Digital products from us with most any credit card, your Amazon account and PayPal
HDTV Supply has many videos to show the features of Key Digital products
You will find all Key Digital User Manuals and other manuals at our site
From time-to-time HDTV Supply runs a Factory Authorized sale on Key Digital products
If there is a Key Digital firmware update for your product you will find it at our site
Many times we will list lower cost Refurbished Key Digital products at our site
The below may be available on many Key Digital products, just email, TEXT or call us to find out:

RS232 Docs
GUI software
Ethernet TCPIP Docs
.pdf IR codes
HEX IR codes
Control4 drivers

All Key Digital products bought from HDTV Supply are brand new and in unopened boxes.
All Key Digital products bought from HDTV Supply are shipped in double carton boxing.
All Key Digital products bought from HDTV Supply have full value shipping insurance
All Key Digital products bought from HDTV Supply have a 30-day No-Hassle returns
All Key Digital products bought from HDTV Supply can be shipped blind to your customer
We have shipped >100s of Key Digital products throughout the world
HDTV Supply is located in the West coast and Key Digital is located on the East coast making for longer telephone phone support hours
Key Digital stocks extra accessories in case you misplace your remote we can get you a new one
HDTV Supply & Key Digital pride ourselves on confidentiality, any personal information that you may share with us is kept absolutely private.
Why not buy this Key Digital KD-S4X1 today?
Key Digital KD-S4X1 4 to 1 HDMI Switcher, 4K, HDR10, HDCP2.2
Recently Viewed Items