WolfPack HDMI to single CAT5 cable to 175′ w/Bi-directional IR & Loopout





Wire 1080p HDMI ~175 feet with only 1-CAT6 cable

Bi-directional 20KHz to 60KHz wideband IR

HDMI Loopout for a local TV

Includes both HDMI SEND & RECEIVE units

1 Year Warranty & Free Lifetime U.S. Telephone Tech Support
Features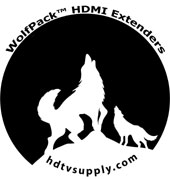 HDTV Supplys WolfPack
HDMI to single CAT5
cable with Bi-directional IR send an video/audio transmission up to to 175 feet in an 1080p format. The HDMI transmitters combine HDMI video, audio and control signals and then transmit them through a single CAT5e cable. When the HDMI receivers get these signals, they separate the signals and rebuild video, audio and control ones and outputs them through the HDMI output. The HDMI to single CAT5 cable also supports bi- directional wideband remote IR(RX->TX and TX->RX), EDID call back and both input and output are the latest HDCP 1.2 compatible.
The WolfPack HDMI to single CAT5 cable also supports the most advanced 3D video format with the highest 3D video compatibility on the market. With only one cost effective CAT5e/6 cable, you can extend HDTV sources from DVD players, Blu-ray Disc player, PS4, PC, and any other kinds of sources compliant with HDMI to distant display monitors including HDMI or DVI enabled TV sets or LCD PC monitors. The extender requires only one CAT5e or CAT6 cable.
WolfPack HDMI to Single CAT-5 or CAT-6 Extender Features:
Extending distance is ~175 feet at resolutions 1080p
Support audio formats, Dolby True HD, DTS-master, etc.
Support 3D signals (all 7 formats), such as Frame packing, Side-by-Side,Top-to-Bottom, etc.
Supports EDID call back.
Supports CEC pass through.
VESA DDC and hot swap technology (HPD).
Bi-direction remote IR (RX->TX and TX->RX).
Allows HDMI Audio/Video and IR signals to be transmitted over a single CAT5e/6 cable
Distribute a HDMI signal to local HDMI output port
Bi-directional IR system allowing for control of source or display (IR accessories included)
Smart EDID management
Transmission Range: Extends 1080p resolution up to 150 feet over a single Cat5e or Cat6 cable
Works with HDMI and HDCP compliant devices
Supports up to 1080p High Definition resolution
Compact design for an easy and flexible installation
HDCP 1.2 compatible.
Compatible DVI 1.0.
Support cascade to enhance extending distance.
Industrial metal case, easy to install. versions
Supports both HDMI audio and HDMI video
Supports 2D and 3D
Connectors: Standard HDMI 19 pin, RJ45 (CAT5E)
HDCP / DDC Compliant
Power Supply: DC on either unit
Recommended Cables: CAT5e or CAT6
Five year warranty
With the advanced design for the latest HDMI technology, deep color video, DTS-HD Master Audio or Dolby TrueHD audio, and HDCP supports and compatibility are all further insured. This flexibility makes HDCP compliant DVD players or PS3 transmit u™ost high quality video and audio with a greater distance at the minimal cost, when integrating several components apart. In addition, HDMI to single CAT5 cable is also equipped with bi-directional IR pass-through path. This bonus feature allows users to boost IR control distance and makes IR control possible through only single Cat.5/5e/6 cable including HDMI signals Compared to regular copper HDMI cable using a booster or repeater, or a fiber cable solution, it is great cost effective way to wire HDMI long distances. Only one (1) CAT5 or CAT6 cable is needed and are easy to install and terminate in the field to fit exact length requirements. Both the below PVC and Plenum grade CAT5e/6 are low in cost to fit most budgets.
The HDMI to single CAT5 cable consists of a transmitter unit & a receiver unit. At the source end the high-speed externally powered transmitter transcodes HDMI signals over 1-CAT5 / 6 cable. At the display end, the externally powered receiver unit transcodes signals back to HDMI.
Why not buy this WolfPack HDMI to single CAT5 cable today?
Specs
WolfPack HDMI to Single CAT-5 or CAT-6 Extender Specs:
Video Bandwidth: Single-link 165Mhz [ 4.95Gbps]
Video Support: 480i/480p/720p/1080i/1080p @60Hz
Audio Support: Surround Sound (up to 7.1 ch) or stereo digital audio
Transmission Range: HD [1080p 24-bit color] up to 60m [200ft]
Input ™DS Signal: 3.3 volts
Input DDC Signal: 5.0 volts/P-P
ESD Protection: Human Body model: +/- 8 kV (air-gap discharge) ; +/- 4 kV (contact discharge)
PCB stack-up: 4 layouts
HDMI connector: Type A 19 pin female
RJ-45 connector: WE/SS 8P8C
3.5mm connector: (TX and RX) IR Receiver/IR Blaster
This HDMI over single CAT5 package includes:
1 unit transmitter 1 unit receiver.
1 remote IR blaster 1 remote IR receiver
2 DC adapters
Why not buy this HDMI to single CAT5 cable today?
Accessories
WolfPack 4K 1x2 HDMI Splitter w/16-Adjustable EDID Modes

Price: $299.95

Today's price:

$99.95

(You Save: 67%)

4K WolfPack 1x4 HDMI Splitter w/16-EDID Modes For Problem Installs

Price: $199.95

Today's price:

$124.95

(You Save: 38%)
Compatibility
This HDMI to CAT-5 or CAT-6 extender can be used with:
Any high definition Dish Network and DirecTV receiver with HDMI outputs
High definition TiVo's with HDMI outputs
Any high definition cable receiver with HDMI outputs
Canadian Rogers, Shaw, Bell ExpressVu and Star Choice receivers with HDMI out, or DVI out with a converter
Any "Over The Air" (OTA) high definition receiver with HDMI outputs
Sony PS3, HD DVD and Blu-ray DVD players
Any Xbox360 with HDMI outputs
Any upconverting DVD player with HDMI outputs
Any DVHS VCR with HDMI outputs
An APPLE TV with HDMI outputs
An Roku with HDMI outputs
An VuduTV with HDMI outputs
Many PC video cards with HDMI outputs
Any high definition camcorder with an optional type C to standard HDMI cable
Many A/V surround sound receivers with HDMI switching that include the proper chip set. Call your AV receiver supplier to discuss your application or us.
Any HDCP compliant HDTV, monitor and projector. If the source is HDCP compliant and your TV is not, you will not get a picture. Please check your TV manual or the manufacturers web site.
and other similar devices.
Why not buy this HDMI to single CAT5 cable today?
Similar
WolfPack HDMI to CAT5 Adapter to 100 Feet w/Audio EDID & HDMI Loopout

Price: $199.95

Today's price:

$124.95

(You Save: 38%)

4K WolfPack HDBaseT Extender to 220 Feet with POE & 15-Level EDID

$499.95

WolfPack HDMI Extender via CAT5 to 150′ w/Loopout, EDID, Coax ARC & IR - 1 Year Warranty

Price: $299.95

Today's price:

$134.95

(You Save: 55%)

4K WolfPack HDMI HDBaseT Extender to 220 Feet with IR

$150.00
3D
HDTV Supply is a leader in supplying 3D equipment for this new, fast growing 3DTV market. Our test lab includes the latest equipment for designing, testing and supporting 3D video equipment. The chips sets we use support the below 3D formats and work with many of our HDMI 1.3 and HDMI 1.4 compliant devices. This HDMI to single CAT5 cable supports these 3D formats:
Side-by-Side 3D Format
Top-and-Bottom 3D Format
Blu-ray 3D Format
Frame packing
and more
We not only test this HDMI over "single" CAT5 cable with lab equipment we also test many of our 3D devices with 3D products you are likely to use. The products used for the test are:
Sony PS3 with the 3D 3.41 firmware
Samsung model PN50C7000YF 3DTV
Samsung model BD-C6900 3D Blu-ray player FORCED to 1080p
Solid CAT6 cable
Samsung model SSG-P2100T 3D glasses
DirecTV models HR21-100 and the HR24 high definition receiver.
HDTV Supply's true HDMI 2.0 cables
It works with all HDMI devices including the new 3D units.
The 3D viewing results were awesome in our lab and did not have any picture or audio degradation. The normal and standard (2D) results equally exhibited a superb picture quality.
Why not buy this HDMI to single CAT5 cable today?
Q/A
Q: This product has CEC, what is CEC?
A:
This product features CEC (Consumer Electronics Control) allowing your HDTV's remote to manage up to ten devices that are connected via HDMI (such as Blu-ray Disc players or home theater receivers) with no special programming needed. For example, you can use your remote to turn on your TV, your player, and your receiver at the same time, and adjust the system volume with one button. All devices must support CEC, though.
Most major TV manufacturers now support CEC, and an HDTV with HDMI 1.3 will likely have the technology. Manufacturers call it by different names; LG Electronics, for instance, calls its implementation SimpleLink, whereas Toshiba calls its version CE-Link. Interoperability isn't mandatory, so some manufacturers limit control to their own products; Sony, for one, allows only Sony-to-Sony communication.
Why not buy this HDMI to single CAT5 cable today?
Warranty

Click Here for Product Warranty
Ask a Question
Questions & Answers

Ask a question about the WolfPack HDMI to single CAT5 cable to 175′ w/Bi-directional IR & Loopout or Call 800-841-9238


FAQ
HDTV Supply has created dozens of HDMI extenders over CAT5e/6 with various features for your needs.
If this HDMI to single CAT5 doesn't meet your needs see our
HDMI over CAT5e/6 comparison spreadsheet
for other HDMI to CAT5e/6 extenders with different features or call us right now at 800-841-9238 to discuss your requirements.
WolfPack HDMI to single CAT5 cable to 175′ w/Bi-directional IR & Loopout
Recently Viewed Items