HDTV Supply's WolfPack 4K 30 Hz HDMI to CAT5e/6 Extender includes a transmitter unit (TX) and a Receiver unit (RX) and working as a pair allows for transmission of a 4K 30 Hz HDMI signal via a single CAT6/6A/7 network cable. The transmission distance is up to 120 feet. At the same time, the signal is stable, and the built-in EDID improves the compatibility of the device.
Also, it supports PoC to power the receiver (Connect the power supply to the transmitter unit only, each unit will power up, as the Receiver unit is powered by the Transmitter unit through network cable). This product is perfect for AV transmission in applications of HD conference system, HD video shooting, HD multimedia education system, HD digital advertising, and signage, etc.
What Sets This HDMI To CAT5e/6 Extender Apart from Others:
Only one power adapter is needed for the TX as the RX can be powered by the TX over network cable
Compliant with HDMI 1.4, HDCP 1.4, and DVI 1.0 protocol
Support video bandwidth 10.2 Gbps
Video resolution is up to 4K @ 30Hz YUV 4:4:4
Allow for cascading via additional HDMI loop out port
Extends HDMl up to 230ft (70m) /1080P60 up to131ft (40m /4K2K)
One-way IR signal transmission
Why not buy this HDMI To CAT5e/6 Extender Apart from today?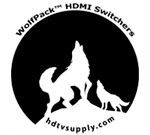 Reasons To Buy an HDTV Supply WolfPack Product