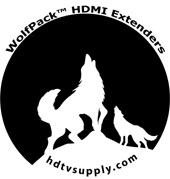 This WolfPack™
HDMI Receiver Over IP
receives an HDMI video/audio signal from up to 100 meters or 330 feet in a 1080p HDMI format from its companion HDMI Transmitter Over IP. It includes an HDMI Receiver (Decoder) and is POE so an universal power supply is not needed. The Receiver is installed using 1 piece of twisted pair CAT-5e/6 cable. AV signals are transmitted digitally over a single CAT5e/6 cable without any signal loss. Internal JPEG video compression adapts to available network bandwidth if needed. These WolfPack HDMI Receivers Over IP use the H.264 or H.265 technology to work together with WolfPack Transmitters (Encoders) to provide a complete end-to-end streaming system. Video, audio and RS232 signals can be routed together or separately throughout the matrix system. They can also provide a video wall up to the a 16 x 16 (256 TVs) with input and output HDMI resolutions supporting up to 1920x 1080@60Hz.
With only one low cost CAT5e/6 cable you can readily extend HDMI sources from a laptop, DVD player, PS4, PC, and any other kind of sources compliant with HDMI and TMDS to distant displays, TV, projectors and monitors including HDMI enabled TV sets or LCD PC monitors up to 330 feet away. With equalization control switch on the receiving unit, users can adjust the equalization strength to the received TMDS signals, and therefore optimize the transmission distance between source and destination. This cost effective flexibility makes HDCP compliant devices receives high quality video & audio from longer distances when integrating several components apart. The Receiver unit is used to capture the input signal & carries the signal thru one RJ-45 connector through to an HDMI cable. This Receiver (RX = Decoder) unit is responsible for equalizing the sent TMDS multimedia data.
10 - Features That Separates This WolfPack HDMI Receiver Over IP From the Competition:
Wireless iPad control
Built-in Video Wall Processor:

Drag-N-Drop
Supports up to a 16x16 (256 TVs)
Supports Multiple Video Walls

Engineered using the H.265 protocol for the best picture
Zero Latency
100ms Switching Time
Separate audio
Extends the signal 330' in & out of the Ethernet switch with CAT5/5e
Extends the signal 450' in & out of the Ethernet switch with CAT6/7
POE design so it doesn't require AC adapters
Our WolfPack™ HDMI Receiver Over IP uses TCP/IP network technology and has the ability to have a full HD HDMI signal transmitted and distributed to 100m or 330 feet. The local and remote units can be connected together for a point-to-point connection, or through VLAN isolation on a managed network switch for a multipoint-to-multipoint configuration. However, for the multipoint-to-multipoint configuration the gigabit Ethernet switch must support the IGMP communications protocol.
HDMI Receiver Over IP Features:
Receiver (Decoder) supports an RJ45 Input & HDMI output
Internal Video Wall function
Supports both H.264 and H.265 protocols
POE Design
Supports audio de-embedding output.
Allows video, audio and RS232 signals to be routed together or separately.
Streams HDMI signal over an IP network.
End-to-End Time Latency with Transmitter:

About 50 ms (Low latency mode)
About 250 ms (High quality mode)

The companion Transmitter supports resolutions up to 1920 x 1080@60Hz.
This Receiver offers auto scaling with output resolutions supported from 480p@60Hz to 1920 x 1080@60Hz scaling based on the EDID of display.
Able to output two IP streams.
One large IP stream supports streaming resolution from 480p@60Hz to 1920 x 1080@60Hz to view a video on the decoder side.
The other small one supports streaming resolution 352x288@5Hz to easily preview a video on a third party device (e.g. tablet).
Features video wall configurations up to 16 x 16.
Available API interface for third party control system integration, offers control through IP control box, a PC configuration and an iPad.
Supports firmware upgrade through Maintain Tool.
Supports EDID import to encoder and export from display to decoder.
Supports CEC one-touch-play and standby commands to power on and off the display and reports the CEC commands that come from display to IP control box.
Supports decoder to turn off the output through API when no source is detected.
Support HDCP 1.4.
Configurable encoding bit rate up to 30 Mbps.
Supports seamless 100ms switching.
Supports PoE to be powered by power source equipment.
Supports Auto IP: Automatically generates a dynamic IP address at startup in the absence of a DHCP server.
Supports communications protocols such as H.264, H.265, TCP/IP, Telnet, UDP and IGMP.
Why not buy this WolfPack HDMI Receiver Over IP today?
The HDMI Receiver Over IP allows you to simultaneously support an HDMI 1.4 Signal (including 1080p video with 5.1 audio) to one or more HDMI video projectors or LCD Panels using one CAT5e/6 cable over a standard Ethernet infrastructure.
HDMI Receiver Over IP Specs:
Resolutions Supported:

640 x 480@60Hz
480p@60Hz,
576P@50Hz,
800 x 600@60Hz,
1024 x 768@60Hz,
720p@50Hz, 720p@60Hz,
1280 x 800@60Hz,
1280 x 1024@60Hz,
1366 x 768@60Hz,
1400 x 1050@60Hz,
1440 x 900@60Hz,
1680 x 1050@60Hz,
1920 x 540@60Hz,
1080p@24Hz,
1080p@25Hz,
1080p@30Hz,
1080p@50Hz, 1080p@60Hz

HDMI 1.3, HDCP 1.4
POE or can be powered using provided power supply
No need to do the IP settings, plug and play
WEB GUI control for IP address, video wall, EDID etc settings
Supports to rename the sources and displays
3-pin audio de-embedded on TX and RX
EDID preset/learning
Low latency About 50 ms (Low latency mode) About 250 ms (High quality mode)
Video Wall mode and matrix switch both modes
Supports iPad APP control with preview function
HDMI Receiver Over IP Set Includes:
1 - HDMI Over Ethernet Receiver unit
1 - 12V 1A power adapter
1 - User manual
HDMI Receiver Over IP Specs:
Input TMDS signal: 1.2 volts (peak-to-peak)
Input DDC signal: 5 volts (peak-to-peak)
HDMI Connector: 19 pin type female connector
RJ-45 Connector
Why not buy this WolfPack HDMI Receiver Over IP today?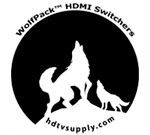 Reasons To Buy an HDTV Supply WolfPack Product
Control
Q:
This product has CEC, what is CEC?
A: This product features CEC (Consumer Electronics Control) allowing your HDTV's remote to manage up to ten devices that are connected via HDMI (such as Blu-ray Disc players or home theater receivers) with no special programming needed. For example, you can use your remote to turn on your TV, your player, and your receiver at the same time, and adjust the system volume with one button. All devices must support CEC, though.
Most major TV manufacturers now support CEC, and an HDTV with HDMI 1.3 will likely have the technology. Manufacturers call it by different names; LG Electronics, for instance, calls its implementation SimpleLink, whereas Toshiba calls its version CE-Link. Interoperability isn't mandatory, so some manufacturers limit control to their own products; Sony, for one, allows only Sony-to-Sony communication.
NOTE:
All of these HDMI Matrix Switchers Over LAN systems, unless otherwise noted, require a dedicated HDMI video system with its own Ethernet switch and not attached to your existing LAN system due to the unknown bandwidth impact on the HDMI video from your network. The design needs to meet these specs:
One Dedicated VLAN for the below devices
No other network appliances in the VLAN
Not the same as an existing "Multicast VLAN"
Unique subnet
No other network appliances in the subnet
Using all of the below systems in a single dedicated VLAN to keep them from interfering with the rest of your VLAN. With all devices in a single VLAN, switching sources involves modifying the IP of the Receiver rather than actively manipulating the VLAN configuration of the managed switch. See hundreds below if you can create a dedicated HDMI Video system over a VLAN based upon the above criteria.
Can the Ethernet switches be cascaded and still act as a matrix?
A:
Yes. The network switches can be cascaded and still act as a large matrix.
Q: Is it a WEB GUI control or PC software?
A: It is a PC control software-based system for the configurations like CEC settings, resolution, image rotating, etc Q: How do you setup the video wall and can it support a 16x16 video wall 256 TVs?
A: For the video wall set up, it can done it in seconds using the iPad app. The video wall maximum can up to 16x16 with 256 TVs Q: How do you change the IP and MAC address of the transmitters and receivers?
A: You can set up the IP and MAC on the iPad app or PC control software but we recommend using the automatic IP and MAC address, so it can support plug and play. Q: The Transmitters and Receivers both have Audio out on the receiver can the audio be matrixed such as Receiver A sends audio out to Receiver B, if using the audio out?
A: The audio out on both the RX and TX are the corresponding audio with the video so its audio function is only an extract function from the video and is not able to do as an audio matrix. Q: On the IP control box there are (2) LAN ports, would that be for 2 separate LANs?
A: We will only need to use the LAN 1 for the controlling & settings and for the broadcast version:
LAN1 (AV/POE): To connect with the network switch use the PC control software to control this system
LAN2 (C): To connect with the network switch this is used for a 3rd party to use the IP control this system
Q: What is it a distance with POE in and out?
A:
With the POE, the input can up to 100m (330 ft) at 1080p@60Hz and the output also is 100m (330 ft)
Q: What is the distance without POE using the AC adapters in and out?
A:
It is also the same distance as the POE distance as in and out both are 100m (330 ft)
Q: What type of UTP cable do you recommend?
A:
As it's using for the video signal transmission we recommend using the STP 868B cable
Q: Can you use CAT5 - 5E - 6 and 7 and is there a difference in length of cables?
A:
We did the tests here with the Cat5/Cat5e/Cat6/Cat7 cable and the CAT6 and CAT7 are the best and can reach a distance of 150m with POE
Q: Please give us an explanation of when the large and small streaming resolutions would be used?
A:
The highest resolution can up to 1080P@60Hz, the lowest resolution is 680x480@60Hz but that resolution can't support the IP camera decoding
Q: When do you use the control box?
A:
There are 2 situations will need to use the control box:
When using the broadcast version (unlimited TX and RX)
When needing to use a 3rd party to control this system (IP/ RS232)
What does the PC Configurator do?
A:
The PC control software is mainly for the resolutions, CEC, RS232, image rotating and RX/TX IP settings
Q: Does the iPad control require a wireless router?
A:
Yes, it will need a WIFI router connected in the same system
Q: In the diagram in the manual it shows the IP control box with only an Internet connection, does a PC plug into it?
A:
Yes, the control PC uses a LAN cable connected to the same network switch
Q: You also recommend Managed POE switches, correct?
A:
We tested on several POE network switches and so far both of the managed POE or the non-managed POE network are working well. But the managed network switch is more stable and it's fanless which is quieter.
HDTV Supply's WolfPack Family of Matrix Switchers can be created however you wish. Just SCROLL DOWN and fill out the below and press SUBMIT and we will send you a quotation based upon your needs within an hour.
If it doesn't meet your needs just call us right now at 833-WOLFPACK or 833-965-3722 or email us at support@hdtvsupply.com