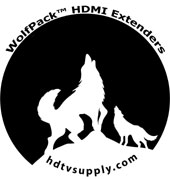 This
HDMI over Single CAT5
cable can extend your display >400 feet with only a single CAT5/6 cable. This HDMI over Single CAT5 is a perfect solution for those who need to extend an HDMI signal over a long distance with just one CAT5/6 cable and is based upon the latest TCPiP technology. See the below lab tests table for Resolutions, Distances and Types of cables used with this HDMI over Single CAT5 balun. Alternately, since it uses TCPiP technology you can insert the transmitter in a router and have multiple receivers (See More Pictures Tab).
The HDMI over Single CAT5 includes two units: 1 - transmitting and 1 - receiving unit. The transmitting unit is used to capture the input HDMI/DVI signals and and carry the signals through one RJ-45 connector into one CAT5/6/7 cable. Because the quality of the CAT-5/5e/6 cables has major effects in how long transmission distance will be, and the quality that is received by the display, the actual transmission length is subject to your CAT5/6/7 cables. We only recommended CAT6 solid with this HDMI over Single CAT5 set to go its maximum distance. The receiving unit is responsible for equalizing the sent TMDS multimedia data.
| | | | |
| --- | --- | --- | --- |
| Type: | 1-CAT5E Solid Cable | 1-CAT6 Solid Cable | 1-CAT7 Solid Cable |
| Shielded: | No | Yes | Yes |
| Gauge (AWG): | 24 | 23 | 22 |
| 720p | 400 feet | 475 feet | 500 feet |
| 1080i | 400 feet | 475 feet | 500 feet |
| 1080p | 375 feet | 475 feet | 500 feet |
We recommend you use at least our CAT6 solid wire to get the best quality signal at the lengths that this HDMI over Single CAT5 supports on new installs.
For optimal video performance use our
WolfPack HDMI 2.0b and HDCP 2.2 cables
with this product.
HDMI over Single CAT5 Features:
Based upon TCPiP M-JPEG technology
Supports 1080p at ~400 feet with only one CAT6 solid cable
Supports CAT5E/CAT6/CAT7 cables of variable types.
Supports high definition resolutions up to 1080p
Easy to install and simple to operate.
Plug and play
Auto-adjustment of feedback, equalization and amplify.
Includes a Status and Power light on each unit
Compact size
2D only, no 3D
Supports HDMI 1.3
Supports highest video resolution 1080p.
Supports 225MHz/2.25Gbps per channel (6.75Gbps all channel) bandwidth.
Supports 8bit per channel (24bit all channel) deep color
Supports uncompressed 2 channel audio such as LPCM
NOTE:
We recommend strongly that you use good CAT5/6/7 cables with any converting products like this one. Most of our "no picture" support calls are due to poor quality and cheap or poorly made cables. Since it is high definition video we only recommend CAT5/6 cables with specs like our CAT-5 /6 cables either bought from us or another high quality supplier. We also recommend, if possible, pre-made cables that are factory tested vs. field made cables due to the advanced testing methods used.
The HDMI over Single CAT5 is HDCP compatible; however, you must verify your source and destination devices support (or don't support) HDCP encryption. Essentially, HDCP compliant devices will only transmit to or receive from other devices with HDCP coding. This HDMI splitter will also work if neither device is HDCP compatible.
Why not buy this HDMI over Single CAT5 today?