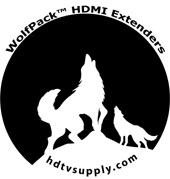 HDTV Supplys WolfPack
HDMI Over LAN Receiver
receives HDMI from our companion transmitters or other HDMI device through a standard Ethernet network H.264 (LAN) to a display. The HDMI Over LAN Receiver supports both HDMI video and HDMI stereo audio. Our WolfPack HDMI Over LAN Adapter is IP addressable. The supplied remote control allows you to choose the source and the LED shows the group ID.
The WolfPack HDMI Over LAN Receiver is of POE Design & no AC power is needed when using a POE Ethernet switch.
The conversion to TCP/IP allows you to forego the limitations of point-to-point extender systems and Receive directly over your network. You can also use this Receiver as a typical point-to-point extender and transmit for up to 394 ft over a single Cat6 cable or 330 feet over a CAT5e cable.
This HDMI Over LAN Receiver use the advanced H.264 as the compression type, which makes it occupy lower bandwidth and transmit over the LAN more smoothly. It supports 330 feet over single cat5e/6 cable at point to point, as well as point to many and many to many over Ethernet switch. The over IP solution is widely used in various locations, like meeting room, class room, metro, airport, home, mall advertisement...etc.
EXAMPLE: 8x32 Network HDMI Matrix Switch: Let′s say you have an application where you need a 8-1080p sources sent to 32-TVs in any combination. The sources are 6 feet away from the switch and the TVs are 200 feet away from the switch. This is an 8x32 Network HDMI switch and here is what you need to buy from above:
8 - 1080p POE HDMI Transmitters (TX)
32 - 1080p POE HDMI Receivers (RX)
1 - 40 port (or larger) IGMP 10-Gigabit POE Ethernet Switch (not supplied)
Field expandable by simply buying more TVs, sources and RXs and TXs
WolfPack HDMI Over LAN Receiver Features:
Using H.264 compression encoding supporting resolutions up to 1080p@60hz
Complys with TCP/IP protocol
Streaming bit rate is 15Mbps
Supports resolutions up to Full HD/1080p
LED channel display
Front panel channel plus/minus buttons
PoE (Power over Ethernet) power encoders/decoders from 802.3af are for PoE network switches (not supplied)
Transmits up to 120m over single CAT5e/6 cable with an looping HDMI output
Looping HDMI output for a local monitor
Support LPCM audio format
Support Dynamic Host Configuration Protocol (DHCP)
Wide-band IR control (38KHz to 56KHz)
With IR Remote to choose the source with LED to show the Group ID
By pass 2 way UART/RS232 (Up to 115200)
Uses a remote controller to select 8 group Baud rate
Supports one to one, one to many, many to one, many to many modes, with large cascade
Supports PC tool control
Compatible with Video Player such as VLC etc
HDCP Compliant
The HDMI Over LAN Receiver operates over a standard Ethernet Hub/Switch/Router and even supports direct connection up to ~330 feet away.
Why not buy this HDMI Over LAN Receiver today?
Our WolfPack HDMI Over Your LAN Adapter System provides one-to-one extension at distances up to 394 feet as well as many-to-many matrix switching of multiple devices, all with PoE support and convenient channel-viewing using the front panel LED display.
HDMI Over LAN Receiver Specs::
Protocol H.264 encoder over TCP/IP
Support Video format 480i/480p/576i/576p/720p/1080i/1080p@60HZ
Support Audio format LPCM, Audio sampling rate 48KHZ
Streaming Bit Rate 15Mbps
HDCP Compliant
IR Frequency 38 -56 KHZ
RS232 Baud rate Default 2400bps, total 8 kinds optional
IP setting & Group ID setting:
Default IP TX: 192.168.1.11 ; RX: 192.168.1.12
Group ID Group 00 ~ group 63
Request for Switch/Router Support IGMP, support DHCP
Connectors on the Receiver:
Input 1xRJ45 input
Output 1x HDMI Female port looping output
RS232 Phoenix RS232 port
IR: IR RX port (Support 38K-56KHz) & IR Ext port (Support 38KHz)
Environmental & Power Requirements:
Operating temperature -5 to +35 ℃ ( +23 to +95℉)
Operating Humidity Range 5 to 90%RH (No Condensation)
Power supply DC 5V 1A
Power consumption Max 3 watt Physical
Dimension TX: 119x79.5x28mm ; RX: 119x79.5x28mm
Net Weight TX: 0.28KG ; RX:0.28KG4
This HDMI Over LAN Receiver works with the following devices:
Support for multiple transmitters requires a managed POE network switch with VLAN/IGMP support. Standard LAN switches can only support one transmitter.
The POE managed switch must support port based IEEE 802.1Q VLAN, IGMP, and permit duplicate IP addresses across the VLAN domains.
Each VLAN acts as a separate HDMI Over IP Channel on the network.
Number of local and remote units that can be used is dependent on the backplane bandwidth of the switch.
For a point-to-many connection, a standalone network with an POE unmanaged network switch, hub, or router can be used instead of a managed network switch.
If possible, it is not recommended to use any other network devices on this standalone network as it may cause a degradation in performance.
Uses M-JPEG technology to process image compression on a fixed bandwidth.
Note: At high resolutions, characters on PCs may get slightly fuzzy due to image compression and decompression process so use the Sharpness, Contrast, Brightness and Tint controls on the TVs to optimize the image.
Local and remote units must be in the same LAN. The units do not support WAN connections.