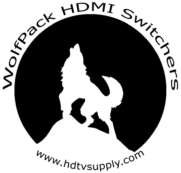 HDTV Supplys WolfPack
HDMI Over IP Network
switch, together with the above optional HDMI extenders, operates as a Professional HDMI Extender, HDMI Splitter and HDMI Matrix Switcher depending upon your needs. Because it is a matrix switcher, it allows any input to be routed to any output; or the same input to be routed to all outputs, or any combination.
It is controlled by a PC or MAC only via its LAN port with the supplied Browser Based GUI and a FIREFOX Browser. Our 120m HDMI Matrix Extender over IP is a device based on the standard TCP/IP protocol for transmitting HD audio and video source over LAN. It transmits your HD display with the high resolutions up to 120 meters away from your HDMI or DVI-D source by using one CAT5e/6 cable. At the same time, its also convenient to transmit HDMI audio and video source by point-to-point, point-to-many and many-to-many and a cascade connection mode.
With one low cost CAT-5/5e cable, you can readily extend HDMI sources from a DVD player, PS3, PC, and any other kind of sources compliant with HDMI and ™DS to distant display monitors including HDMI enabled TV sets or LCD PC monitors.
Note: For many to many application, please buy a 10-Gigabit switch with IGMP Multicast function with three layers protocol.
WolfPack HDMI Over Ethernet System Features:
Support HDMI1.3/HDCP1.1&1.2
Support point-to-point mode, multipoint-to-multipoint mode and cascade connection mode.
Standard 802.3 Ethernet
Support one way IR extension.
Pure hardware design, plug and play, do not need to install additional software
All available LAN technology can be used to connect the Tx and the Rx; e.g., Ethernet, WLAN, Home PNA and EoC.
HDMI 1.3a compatible
Supports up to 1920 x 1080 (HDTV) resolution
Input Resolution: 480i/p, 576i/p, 720p & 1080i/p
Output Resolution: 480p, 576p, 720p & 1080p
Standard Ethernet packets to deliver audio and video
Extend the transmission distance up to 100 meters from the sources at 1080p
HDCP compliant
The HDMI Over Ethernet allows you to simultaneously send out an HDMI 1.3 Signal (including 1080p video with 5.1 audio) to one or more HDMI video projectors or LCD Panels and return an IR control Signal to the source using CAT5/6/7 Cable over a standard Ethernet infrastructure. The HDMI Over Ethernet set can be used to distribute HD digital content from multiple Sources to up 200 remote distribute on a LAN by cascading Managed Ethernet switches up to 3 levels, allowing the display very far away from the 1080p source devices while sustaining picture & sound quality.
Each device is installed using 1 piece of twisted pair cable. AV signals are transmitted digitally over the CAT5/6/7 cable without any signal loss. Internal JPEG video compression adapts to available network bandwidth if needed. The integrated Scaler function allows different input and output resolutions (different displays can be at different resolutions). The IR TX / RX function can be used to remotely control the HDMI source device from any receiver location. This cost effective flexibility makes HDCP compliant devices transmit high quality video and audio with longer distances when integrating several components apart.
The transmitting unit is used to capture the input HDMI signals and carries the signals thru one RJ-45 connector into one low cost CAT-5/5e/6 cable. The receiving unit is responsible for equalizing the sent ™DS multimedia data. The transmission distance between the sending and receiving units can be up to 100 meters at 1080p. With equalization control switch on the receiving unit, users can adjust the equalization strength to the received ™DS signals, and therefore optimize the transmission distance between source and destination.
Why not buy this HDMI Over Ethernet today?
HDMI Over Ethernet Includes:
HDMI Over Ethernet transmitting unit
HDMI Over Ethernet receiving unit
5V 2A power adapter
User manual
HDMI Over Ethernet Specs:
Input ™DS signal: 1.2 volts (peak-to-peak)
Input DDC signal: 5 volts (peak-to-peak)
HDMI Connector: 19 pin type female connector
2 - Universal Power Supplys: 5V 2A
RJ-45 Connector
Dimensions: 13 0x 137 x 30mm (Lx W x H)
Weight: 1.6kg
Why not buy this HDMI Over Ethernet today?
This HDMI Over Ethernet Can Be Used With:
Any high definition Dish Network and DirecTV receiver with HDMI outputs
High definition TiVo's with HDMI outputs
Any high definition cable receiver with HDMI outputs
Canadian Rogers, Shaw, Bell ExpressVu and Star Choice receivers with HDMI out, or DVI out with a converter
Any "Over The Air" (OTA) high definition receiver with HDMI outputs
Sony PS3, HD DVD and Blu-ray DVD players
Any Xbox360 with HDMI outputs
Any upconverting DVD player with HDMI outputs
Any DVHS VCR with HDMI outputs
A Roku with HDMI outputs
A Vudu with HDMI outputs
An APPLE TV with HDMI outputs
Many PC video card with HDMI outputs. Call your video card supplier to discuss your application or us.
Any high definition camcorder with a standard HDMI out or an optional type C to standard HDMI cable
Many A/V surround sound receivers with HDMI switching that include the proper chip set. Call your AV receiver supplier to discuss your application or us.
Any HDCP compliant HDTV, monitor and projector. If the source is HDCP compliant and your TV is not, you will not get a picture. Please check your TV manual or the manufacturers web site.
All HDMI 1.3b compliant devices as well as with older 1.0, 1.1, 1.2 and 1.3 versions
and other similar devices.
Why not buy this HDMI Over Ethernet today?