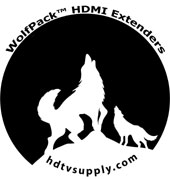 HDTV Supply's WolfPack
HDMI Over CAT5
Balun is a simple, low cost system tested to deliver 1080p at 300 over standard CAT5/6 cables. The HDMI Extender over one CAT5E/6 is a tool for extending your HDMI signal over long distances to a compatible HDMI display. Instead of using expensive HDMI cables, a CAT5E/6 cable can be utilized to perform advanced functions like transferring Deep Color (12 bits/color) high definition 1080p video and digital audio with a bandwidth up to 225MHz. The transmitter equalizes and recovers incoming TMDS data before re-transmitting it in optimal quality regardless of the incoming signal quality.
The HDMI Over CAT5 set converts HDMI to standard TCP/IP and transmits the signal over your local area network or a single CAT5e/6 cable, whatever you choose. The great advantage of converting HDMI to TCP/IP is that you can now send HDMI over your entire network freeing you of the typical limitations found in send/receive point-to-point systems. The HDMI Over CAT5 delivers unparalleled performance in PRO-AV projection networks, digital signage systems and educational streaming applications. Now your network is your HDMI network!
HDMI Over CAT5 Features:
Input HDMI resolution: 480i@60Hz; 480p@60Hz; 576i@50Hz; 576p@50Hz; 720p@50/60Hz; 1080i@50/60Hz; 1080p@50/60Hz;
Output HDMI resolution: 480p@60Hz; 576p@50Hz; 720p@50/60Hz; 1080p@50/60Hz
Supported Video Color Formats: 24 Bit/Deep color; 30 Bit/Deep color; 36 Bit Deep Color
Supported audio format: DTS-HD/Dolby-true HD/LPCM7.1/DTS/Dolby-AC3/DSD
Supports HDMI 1.3, HDCP 1.1 and DVI1.1 compliantcy.
Supports Deep Color up to 12 bits/color.
Supports IR re-transmitting.
Uses one CAT5E/6 cable for data/DDC transmission.
Equalizes and recovers the incoming TMDS data before re-transmitting it in optimal quality regardless of the incoming signal quality.
Cable testing showed that with 1080p resolution the HDMI input source can be 20 meters away.
When transmitting a signal in 1080p resolution the CAT6 operating distance is 100 meters.
Supported Resolution: 480p, 720p, 1080i, 1080p, 1920 x 1200
Bandwidth: 1.65Gbps
Transmission Range: CAT5e/6 UTP 24AWG @ 1080p at ~300 feet
Supported HDMI cable length:
HDMI cable lenght from source (e.g. DVD) to Sender - 20 feet max with 24 AWG HDMI cable
Receiver to Unit (e.g. LCD TV) -- 6 feet with 28 AWG HDMI cable
Both UTP (Unshielded Twisted Pair) & STP (Shielded Twisted Pair) cables can be used with UTP recommended
NOTE:
The Remote IR works with 1-source & 1-TV and the remote IR is not compatible with our matrix switchers remote IR.
The HDMI to CAT5 set is designed to convert an HDMI signal to standard TCP/IP and then transmit by an Ethernet internet cable to the supplied receiver. The HDMI to CAT5 extender used an M-Jpeg technique to process image compressing with little image loss, even at 300 feet. The HDMI Extender also supports IR re-transmitting, so you can control the source device which which can be 100 meters away.
You can also use the IR extender capability and control your source device from the viewing location. The Unique Backward-IR Channel allows you to control devices at the viewing location from the source equipment location. The target plugs into adapter at the end of the HDMI cable that connects it to the display and inserts IR over the HDMI cable back to the transmitter. See pictures in the above MORE PICTURES Tab.
Why not buy this HDMI over CAT5 today?