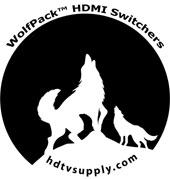 HDTV Supplys WolfPack™ 4K 8x16 (8x8x2)
HDMI Matrix Switcher Over HDBaseT
has simultaneous CAT5e/6/7 and HDMI outputs connects eight HDMI sources to sixteen displays. This matrix features eight HDMI outputs and each HDMI eight is mirrored to provide a CAT-Cable output which runs simultaneously. It supports the transmission of up to 4K video as well as supports high resolution digital audio formats such as LPCM 7.l CH, Dolby True HD, Dolby Digital Plus and DTS-HD Master Audio.
NOTE 1:
There are 2 version of this 4K WolfPack 8x16 (8x8x2) HDMI Matrix Switcher Over HDBaseT & HDCP 2.2. One has 8-HDbaseT extenders to 220 feet at 1080p and 115 feet at 4K and the other goes to 330 feet at 1080p and 175 feet at 4K.
Connect a HDBaseT Receiver to each of the CAT-Cable outputs to extend the HDMI signal for multi-room connectivity. It works with Blu-Ray players, Set-Top boxes, Home Theater PCs, and game consoles that connect to an HDMI display. Any source is accessible at all times by any display by selecting it via the supplied IR Remote Control, RS232, TCP/IP or by using the selection buttons on the front panel of the HDMI Matrix Switcher Over HDBaseT. This WolfPack™ HDMI Matrix Switcher Over HDBaseT supports High Definition Audio and is 3D signal capable. Each HDMI and HDBaseT output is mirrored. It supports up to 16 different EDID configurations to support TVs of multiple resolutions. Its flexible control is through on-panel buttons, IR remote control, RS-232 or via Ethernet protocol.
NOTE 2:
If both the CAT5/6 (RJ45)and the standard HDMI outputs are used, the number of total outputs would be up to 16. Each individual zone (example, VIDEO OUT 1) of the CAT5 and HDMI output would have the same picture, though. Think of it as an 8X8X2. Since the matrix switch also has 8-female HDMI outputs you can use these with the above optional stand alone HDMI extenders that have separate
extended warranties
if you have long distances to where your widescreens are located at. Those HDMI outputs do not support IR.
WolfPack 4K 8x16 (8x8x2) HDMI Matrix Switcher Over HDBaseT Features:
HDMI input supports: HDMI 2.0, HDCP 2.2 and DVl1.0 compliant
Compatible with:

OPPO, Sony, Panasonic, Philips and Samsung UHD 4K DVD Players
Roku 4 media player
4K DirecTV Genie receivers
4K Sony FMP-X10 UHD players
4K NVidia Shield UHD Netflix devices
4K Amazon Fire Players
4K Surround Sound AV Receivers
and more 4K HD HDCP 2.2 devices

Supports HDMI 3D pass-through
Supports resolutions from VGA, WUXGA and HD resolutions from 480i to 1080p & 4Kx2K @ 30 dependent upon the EDID settings
Optionally supports 1080p transmission distances up to 328ft/100m or 4K/30 to 175 feet through CAT5e/6/7 cable
Supports POE function
Supports simultaneous HDMI and CAT outputs
Supports wideband IR (30-60Khz) matrix system, IR transport channel can be forward or backward.
Latest 2019 firmware
Supports GLOBAL IR input and output.
Supports RS-232, remote control, on-panel control and TCP/IP Control
Supports smart EDID management
Supports Digital Audio and stereo audio outputs
Supports bi-directional IR & RS232 control
Supports HDBaseT LAN Serving function
Supports LPCM 7 CH, Dolby TrueHD, Dolby Digital Plus and DTS-HD Master Audio transmission
NOTE 3:
HDTV Supplys implementation of the HDBaseT technology and this product adds virtually zero latency to the HDMI audio and video signal, less than 7 microseconds (0.000007 sec) over 220 feet of CATx cable. At 100 feet you are talking about 3 microseconds (0.000003 sec). This means for example, in a church or auditorium, the speakers lips are always in synch with the video image on all the TVs and projectors 100's of feet away.
Why not buy this HDMI Matrix Switcher Over HDBaseT today?