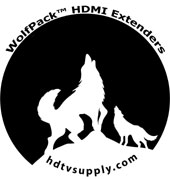 Part of HDTV Supply popular WolfPack family of products the
PUNY
HDMI Extender Over CAT5
(CAT6 preferred with new installations) may be puny in size but not in features as it sends a 4K at 30 Hz signal ~25 feet of CAT6 WITHOUT AC adapters making it great for systems that have 4K projectors or cramped installation areas. HDTV Supply engineers creatively use PIN 18 of the HDMI devices connected on both ends to provide the +5 volts needed to power the internal chips in our PUNY set.
NOTE:
The HDMI Extender Over CAT5 comes with a (TX) Transmitter which plugs into your source video device and an (RX) Receiver which plugs into your TV. Don′t put them in backwards or you won′t get a picture. The extender is HDCP 1.4 compliant and HDMI 2.0 compliant.
HDTV Supplys WolfPack
PUNY
HDMI Extender Over CAT5
uses only one cost effective CAT5Ee/6/7 cable and can extend your HDTV display up to ~25 feet with 4K at 30 Hz and ~75 feet at 1080p, both over CAT6 or CAT7. Our PUNY HDMI Extender Over CAT5 comes with an HDMI transmitter and an HDMI receiver and no AC adapters are required as your TV powers the HDMI Receiver and your HDMI source device powers the Transmitter. If you need to extend the connection further away from the devices HDMI connectors see the above optional 8 inch Male-to-Female HDMI cables.
HDTV Supplys PUNY HDMI Extender Over CAT5 delivers full HD and 2K / 4K video to a network of devices or to a single device (point-to-point). Since the video is passed through the HDMI chipset it supports all key HDMI 1.4 features, including EPG, CEC, EDID, and HDCP. The unique video-coding scheme ensures the highest video quality at zero latency.
PUNY HDMI Extender Over CAT5 Features:
The PUNY supports 4K by 2K at 30 Hz resolutions for Post Productions, Digital Movie Theaters, CAD/CAM and Video Graphics applications.
Supports 480i / 480p / 720p / 1080i / 1080p60
Support 4K at 30 Hz to ~25 feet
Signaling rater up to 1.65Gbps in support of 1080p display.
Uses HDMI technology
Video bandwidth of Single-link 225MHz [6.75Gbps]
Extends HDMI and IR signal over one CAT5/5e/6 cable.
High definition video up to 1080p@60Hz@48bits and 3D and 4K*2K capable.
2D and 3D compliant
HDMI 2.0 and HDCP 1.4 compliant
Uncompressed 7.1ch digital audio
DTS-HD Master Audio, and Dolby TrueHD high-bit-rate audio support
Auto equalization control for minimizing cable skew
HDMI Deep Color
The
PUNY
HDMI Extender Over CAT5 delivers audio, video and control signals with zero degradation at distances up to 75 feet. This HDCP compliant extender supports High Definition 1080p resolutions, 48-bit color, 7.1 channel digital audio and auto equalization.
Why not buy this PUNY HDMI Extender Over CAT5 today?