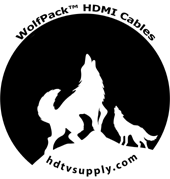 HDTV Supply's
WolfPack HDMI Active Optical Cable (AOC)
are high performance, low power consumption and low cost long cables. Using optical fiber to replace copper wire as the high-speed signal transmission medium, HDMI AOC can perfectly transmit 4K@60HZ 4:4:4 images. These WolfPack HDMI Active Optical Cables carries all high-speed signals on optical fibers and is much smaller and lighter than comparable copper HDMI cables or extenders. At the same time, our proprietary plastic optical fiber technology costs a fraction of competing optical solutions. Our HDMI Active Optical Cables are the first product to bring the benefits of optical communications to a low-cost HDMI link.
These Long HDMI Active Video & Audio Optical Cables extend an HDMI signal up to 330 feet & offers all the benefits of HDMI 2.0 High Speed functionality but without the high cost of glass fiber active active cables. The cables diameter (1/4") is much smaller than copper & more flexible which makes it easier to install in tight spaces.
Compared with the traditional copper wire, HDMI AOC is much longer, softer, more slim, with better signal quality and perfect EMI/EMC feature.Compared with other HDMI optical fiber transmission solution, HDMI AOC is easy to use, has perfect compatibility, and no external power supply needed. Constructed from fiber strands, this cable reduces the risk of EMI/RFI so performance is stable when used in typically high interference environments such as data centers, surgical theaters or manufacturing facilities where high resolution and consistent display are critical.
These long HDMI Active Optical Cables use both high-speed plastic optical fiber and copper wires to deliver 18 Gb/sec video bandwidth as well as many of HDMI 1.4 HDMI features including 1080p resolution, 3D, Deep Color, x.v color (xvYCC), Dolby TrueHD, DTS-HD Master Audio, HDMI-CEC, and HDCP.
Unique WolfPack Hybrid Fiber & Copper Solution:
Uses fiber for transmitting of the high speed clock and data channel which assures the received signal to be the same.
Uses copper wire transmission of the DDC and other signals which achieves perfect Compatibility with all HDMI devices.
WolfPack HDMI Active Optical Cables Feature:
Video Resolution - 4K@60Hz 4:4:4 UHD, 4K @30Hz 4:4:4 8Bit, full HD, 3D Deep Color across all lengths.
HDR10 compliant
Dolby Vision compatible
Atmos 7.1 compatible
High Data Transfer Rate - Up to 18Gbps.
Embedded Audio - PCM 8−channel, Dolby Digital True HD, DTS−HD Master Audio.
HDCP Support - HDCP2.2/CEC/EDID.
No External Power - HDMI +5V, consumes only 0.25W.
Much longer transmission distance than copper wire.
Supports 4K@60HZ HDR displays.
Strong and bending insensitive.
Thinner, softer and lighter than copper wire and highly resistant with EMI and RFI.
Interface: HDMI Type A plug-Type A plug One end connect source another display
Cable Diameter: 3.0x5.0mm
Bend Radius: 20mm
Operating and Storage Temp:-40-70˚C
Very small cable dimensions: 0.16 inch X 0.1 inch
Very light weight: only 0.75 pounds
HDCP 2.2 rated
High Speed HDMI
3 year warranty
These HDMI Active Optical Cables meet most HDMI 1.4 specifications (less Ethernet) with support for:
Full HD support: 1080p and 4Kx2K for future products
4K Ultra High Definition (4x more pixels than 1080p)
sRGB
YCbCr
8 channel LPCM, 192 kHz, 24 bit audio capability
Blu-ray Disc and HD DVD video and audio at full resolution
Consumer Electronic Control (CEC)
DVD-Audio support
Super Audio CD (DSD) support
Deep Color
xvYCC Color
Auto lip-sync
7.1 Lossless PCM Audio
Dolby TrueHD bitstream capable
DTS-HD Master Audio bitstream capable
Updated list of CEC commands
2D and 3D Over HDMI
Why not buy a WolfPack HDMI Active Optical Cable today?
Long HDMI Active Optical Cable Specs:
Interface : HDMI Type A/A pluggable
Cable diameter : 3.0 - 5.0mm
Bend Radius - 20mm
Permissible tensile force: Long-term 100N/Short-term 200N
Allow the Compressed stress: Long-term 200N/mm/Short-term 500N/mm
Operating and Storage Temp: - 40℃-70℃
Video Connectors: Male HDMI
Power Connector: USB Type A
HDMI Cable Type: High Speed HDMI
Weight: 0.75 pounds
Total Power Consumption: 1.8 W
Minimum Bend Radius: 4 mm
Crushing load rating : 100 kg (over 10 cm length)
Maximum Tensile Load: 100 N (10 kg)
Operating Temperature Range: 050
Max. Operating Humidity: 95%
Storage Temperature Range: -30 +50
Why not buy a WolfPack HDMI Active Optical Cable today?
This WolfPack HDMI active optical cable (AOC) doesn't need external power supply as it only consumes 0.25W with a voltage of 5V from HDMI connectors so the current will be only 0.05A. Theoretically, it should be better than a normal HDMI cable.
Our WolfPack HDMI active optical cables (AOC) are different than fiber optic cable as it is bigger than the optic cable, the bend radius is 20mm the permissible tensile force is 100N for long-term and 200N for short-term.
DirecTV Controller
This long HDMI Active Optical Cable is designed with both commercial installation and videophile consumer use in mind and is perfect for distributing A/V in conference room or classroom settings, yet affordable enough for consumers to use in home theaters. The HDMI Active Optical Cable uses optical fiber communications and shielded end casings to provide immunity to electromagnetic and radio-frequency interference, so it can be reliably used in challenging environments such as hospitals, factories, and data centers.
In a home theater installation, this optical cable reliably provides error-free transmission in even the most densely packed systems.
This HDMI Active Optical Cable works with the following devices but they require power at the display or sink device:
Any high definition Dish Network and DirecTV receiver with HDMI outputs
High definition TiVo's with HDMI outputs
Any high definition cable receiver with HDMI outputs
Canadian Rogers, Shaw, Bell ExpressVu and Star Choice receivers with HDMI out, or DVI out with a converter
Any "Over The Air" (OTA) high definition receiver with HDMI outputs
Sony PS3, HD DVD and Blu-ray DVD players
Any Xbox360 with HDMI outputs
Any upconverting DVD player with HDMI outputs
Any DVHS VCR with HDMI outputs
All APPLE-TV's with HDMI outputs
A Boxee with HDMI ouputs
A VuDu with HDMI outputs
A Hulu with HDMI outputs
A Roku with HDMI outputs
Many PC video cards with HDMI outputs
Any high definition camcorder with an optional type C to standard HDMI cable
Many A/V surround sound receivers with HDMI switching that include the proper chip set and output amp. Call your AV receiver supplier to discuss your application or us.
Any HDCP compliant HDTV, monitor and projector. If the source is HDCP compliant and your TV is not, you will not get a picture. Please check your TV manual or the manufacturers web site.
and other similar devices.
Why not buy a WolfPack HDMI Active Optical Cable today?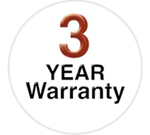 HDTV Supply
includes a 3 Year Limited Warranty on this HDMI Active Optical Cable. The warranty states that (a) its products the will perform substantially in accordance with the accompanying written materials for a period of 3 years from the date of receipt and (b) that the HDMI Active Optical Cable will be free from defects in materials & workmanship under normal use & service for a period of 3 years. In order to get a warranty replacement for a defective item, HDTV Supplys Support Team will verify the product is eligible for warranty. An RMA number will then be issued. Shipped replacements will be in like new conditions, tested and all components included.
Why not buy a WolfPack HDMI Active Optical Cable today?