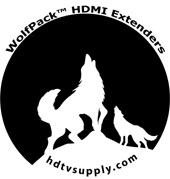 HDTV Supplys WolfPack 4K
HDBaseT Balun
sends HDMI audio & 1080p video up to 330 feet & 4K/30 up to 220 feet with only one CAT6 cable. HDBaseT Balun includes a Transmitter & Receiver. The built-in IR extender function on the HDMI to CAT5/6 HDBaseT Adapter allows IR remote control of Source devices from a remote viewing location by sending IR commands received in the vicinity of the Display back to the source devices. It includes 1-Transmitter, 1-Receiver, 1-AC adapters and 2-Infrared cables for the transmitter as the receiver has a built-in IR window.
This HDBaseT Balun includes a transmitter unit (TX) and a receiver unit(RX), working as a pair. It supports high resolution up to 4Kx2K HDMI signal via CAT6/6A/7 network cable, max to 100m with zero latency. At the same time, the signal is stable, and the built-in EDID greatly improves the compatibility of the device. Our HDBaseT Balun supports two way wideband IR remote control and RS232 , also it supports PoC to power the sender/receiver (Connect power supply to the transmitter /receiver, each unit will power up, as the unit through network cable). This product is perfect for AV transmission in applications of HD conference system, HD video shooting, HD multimedia education system, HD digital advertising and signage etc. The device has a long transmission distance, low use cost, convenient installation and good compatibility, and it is a stable and efficient transmission method.
HDTV Supplys implementation of the HDBaseT technology and this HDBaseT Balun adds virtually no latency to the signal, less than 10 microseconds over 330 feet of CATx cable. At 100 feet you are taking about 3 microseconds. This means, for example, in a church or auditorium, the speakers lips are in synch with the image on all the screens. HDBaseT delivers full HD / 3D and 2K / 4K uncompressed video to a network of devices or to a single device (point-to-point ). Since the video is passed through the HDMI chipset, HDBaseT supports all key HDMI 1.4 features, including EPG, CEC, EDID, and HDCP.
HDTV Supply, Inc. is an HDBaseT.Org Approved Adopter of HDBaseT Products.
HDBaseT Balun Features:
Aluminum alloy housing design, stable and durable ;compact size and Slim ,strong anti-interference, Wall-mounted type is more convenient;
HDBaseT technology. Supports 3D signal
Uncompressed transmits HDMI signals up to 70 meters for 4Kx2K over one cat6 cable & 100m for 1080p@60hz.
Support 2-way wide band infrared signal transmission;
Support RS232 & CEC pass-through
Build-in EDID function, can match many kind display device;
Support POC unilateral power supply, need 1pc 12V power to TX/RX
Compliant with HDMI 1.4 and HDCP 1.4 standards
Ethernet cables with a standard IEEE - 568b connection, convenient installation;
High compatibility, can auto-match source and display device;
Built-in automatic adjustment system, make the image smooth, clear and stable;
4K, 2D and 3D compliant
Metal casing
It supports 4K by 2K resolutions for Post Productions, Digital Movie Theaters, CAD/CAM and Video Graphics applications.
Supports all HDMI 1.4 formats
Does not support HDMI 1.4 back Ethernet
Uses HDBaseT Lite Technology to 70M
Manage both source device and display remotely
340 MHz bandwidth and extends up to ~220 feet
Full IR bandwidth capability up to 80 KHz
Deep Color Video with EDID pass-thru capability
DTS-HD & Dolby TrueHD multi-channel digital audio
Includes 1-Transmitter, 1-Receiver, 1-AC adapter and 1-Infra-Red cable for the transmitter as the receiver has a built-in IR window.
Why not buy this HDBaseT Balun today?
POE Designed:
By utilizing POE technology both HDMI audio and video signals and power can be sent to a device via standard Cat5e/6/6a cabling. This means you do not need to install a power outlet at the device location and you can use readily available, relatively low cost Ethernet cabling with this this HDBaseT Extender.
HDBaseT Supports Full HD Uncompressed Video: HDBaseT delivers uncompressed HD video to a network of devices or as a point-to-point connection. Uncompressed content supports all video sources, including legacy products, accurately renders gaming graphics and features such as Electronic program guides, and does not degrade video quality or add latency. HDBaseT supports TV and PC video formats including standard, enhanced, high-definition and 3D video.
RS232: For RS232 control signal transmission, just connect two RS232 cables to both RS232 ports of HDMI over a single CAT5/6 Cable Extender Set, they work just like an RS232 extension cable.
HDBaseT Balun Specs:
HDMI version: HDMI 1.4 High speed with 3D
HDCP version: HDCP1.4
Supported HDMI resolutions: 1080P/1080i/720P/576P/576i/480P/480i
Supported video color bit: deep color 24bit/36bit
Supported audio formats: LPCM/Dolby-AC3/DTS7.1/DSD
Input Video signal: 5.0Volts P-P
Output cable distance: Less than 12 feet of 24AWG
Input cable distance: Less than 12 feet of 24AWG
Data transfer: 6.75Gbps-10.2Gbps
Operating Humidity range: 5 to 90%RH (No Condensation)
Operating Temperature: -15 to +55C (5 to 131F)
Power adapter format: Input AC (50Hz.60Hz) 100- 240V
Power Supply: DC 12V
HDBaseT Balun Contents:
1x HDMI extender transmitter (TX)
1x HDMI extender receiver (RxR
1x AC adapter (12VDC)
1x IR transmitter bulb
1x IR receiver bulb
1x User's manual
Why not buy this HDBaseT Balun today?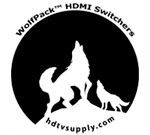 Reasons To Buy an HDTV Supply WolfPack Product
Why not buy this HDBaseT Balun today?
HDMI to CAT5 HDBaseT Adapter Can Be Used With:
Any high definition Dish Network and DirecTV receiver with HDMI outputs
High definition TiVo's with HDMI outputs
Any high definition cable receiver with HDMI outputs
Canadian Rogers, Shaw, Bell ExpressVu and Star Choice receivers with HDMI out, or DVI out with a converter
Any "Over The Air" (OTA) high definition receiver with HDMI outputs
Sony PS3, HD DVD and Blu-ray DVD players
Any Xbox360 with HDMI outputs
Any upconverting DVD player with HDMI outputs
Any DVHS VCR with HDMI outputs
An APPLE TV with HDMI outputs
A Roku with HDMI outputs
A Vudu with HDMI outputs
Many PC video card with HDMI outputs
Any high definition camcorder with an optional type C to standard HDMI cable
Many A/V surround sound receivers with HDMI switching that include the proper chip set. Call your AV receiver supplier to discuss your application or us.
Any 2D HDCP compliant HDTV, monitor and projector. If the source is HDCP compliant and your TV is not, you will not get a picture. Please check your TV manual or the manufacturers web site.
All HDMI 1.3 compliant devices as well as with older 1.0, 1.1, 1.2 and all 1.3 versions
and other similar devices.
Why not buy this HDBaseT Balun today?
Q: Can I use this HDMI extender to patch through a patch panel & wall plates to connect to a remote TV?
A:
No. The Cat5e/6 connection between the HDMI Transmitter and Receiver has to be a single, home run, point-to-point patch cable with CAT6 solid being the best cable for new installations. CAT5e will also work well. Patching through patch panels, couplers, wall jacks and poor conductor patch cables create multiple points of signal attenuation (loss), causing the HDMI signal to degrade to the point where the Receiver may not recognize it.
Q: What do the lights mean on this HDMI extender?
A: See the below:
POWER: Indicates that power is available to the unit.
MODE: When blinking indicates the device is active.
LINK: When ON indicates that an HDBaseT link connection has been established between the two units over the CAT5e cable.
HDCP: When ON, indicates that video content with HDCP protection is being transferred. When BLINKING, indicates video content without HDCP. When OFF indicates that no video is being transferred.
Q: I need to send my PC 100 feet and don't know what to buy, can you help me?
A:
Sure, see our
HDMI over CAT5e/6 comparison spreadsheet
for a complete set of specs of the more popular ones people buy.
Q: Does it work with 4k?
A: Yes, we have tested it with a 4K DVD player and a new Vizio 4k TV. It works with the Xbox One and cable boxes also.
Q: Will the Remote IR work with all remote controls?
A: The IR repeater works well with 26 KHz single band remotes but may not work with multi-band remotes used on a few satellite boxes. Look for 2 emitters on the nose of the remote. If you are pre-wiring make sure to run a 3rd cat5 cable so you can add an IR system that can handle multi-band remotes. If you have multi-band remotes you might want to upgrade your remotes to UHF, which goes through walls. This will bypass the IR system completely on the extender or change to a universal remote control to handle all your devices.
Q: Does the remote IR work with a HDMI matrix switch or HDMI splitter?
A: These HDMI extenders will send both HDMI video and audio from a matrix or splitter, etc but the remote IR is designed to be used with only one source, like a cable box, to one widescreen. There would be too many IR cables to attach on the sources IR window. See our HDMI switchers and splitters that have it integrated.
Q: Does it include both a transmitter and a receiver?
A: Yes and 1 - AC adapter.
Q: This HDBaseT Balun supports CEC, what is CEC?
A: This product features CEC (Consumer Electronics Control) allowing your HDTV's remote to manage up to ten devices that are connected via HDMI (such as Blu-ray Disc players or home theater receivers) with no special programming needed. For example, you can use your remote to turn on your TV, your player, and your receiver at the same time, and adjust the system volume with one button. All devices must support CEC, though. Most major TV manufacturers now support CEC, and an HDTV with HDMI 1.3 will likely have the technology. Manufacturers call it by different names; LG Electronics, for instance, calls its implementation SimpleLink, whereas Toshiba calls its version CE-Link. Interoperability isn't mandatory, so some manufacturers limit control to their own products; Sony, for one, allows only Sony-to-Sony communication.
Q: How is HDBaseT technology different than others?
A: Unlike other HD distribution technologies, HDBaseT is the only technology which enables CAT5/6/7 connectivity from 70 meters to 100 meters, depending upon the specific product, for uncompressed full HD multimedia content and up to 100 watts of charging power via a single cable. HDBaseT is optimized for video applications and can connect all HDBaseT enabled home entertainment devices. Also, HDBaseT technology has the capacity to deliver double the resolution available today to future 2K and 4K formats. Other existing solutions also require a specific cable and/or a new proprietary connector while HDBaseT utilizes the existing Ethernet infrastructure.
HDMI HDbaseT Extender Helpful Tips & Recommendations:
Keep cables away from any equipment with an electromagnetic wave, e.g., mobile phone, microwave, radio equipment, fluorescent lamp, high voltage power lines, etc.
CAT5/6 cables should not exceed 220 feet or (70m).
Please adhere to the TIA/EIA568B standards when terminating network cables in the field.
Shielded CAT5/6 with metal RJ-45 connectors are recommended to safeguard against random video flashes caused by electromagnetic interference (EMI).
Why not buy this HDBaseT Balun today?