Controlling TVs with RS232




Controlling TVs with RS232

For Experimenters Only

Uses this 3.5mm to RS232 9-pin cable

Connects with a PC

Part # samsung-tvs-with-rs232

Usually ships the same business day

Today's Price: $20.00
Features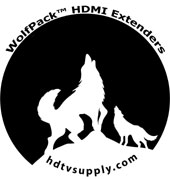 One of the best kept secrets of the SAMSUNG Smart TV line is that many of the models can be controlled via RS232. Samsungs ExLink port allows serial control of a Samsung TV. For example, turn on/off , changed channels and etc. An ExLink cable has a 3.5mm jack (like a audio headphone cable) on one side and on the other side is an RS-232 interface. Along with this, HDTV Supply has dozens of HDMI extenders which support RS-232 in and out with HDMI extending upwards of 300 feet away if you would like to control a Samsung TV from afar. These are shown in the above Accessories Tab if you would like to experiment using the combo.
Option 1:
Use the
HDBaseT card and Receivers
to control the TV OFF/ON, see the VIDEO Tab here.
Option 2:
Recommend using the
AV over IP system
, see the the videos showing to power ON/OFF displays by the RS232 commands.
Traditionally, consumer TVs rely on IR-based control, with almost every TV shipped with an IR remote included. You simply point the remote at the TV and each function of the TV is accessed via this hand-held remote option. This works well for consumer applications. For example, if you sit down to watch TV, you hit the ON (or POWER or commonly labeled I/O) button and the TV, of course, turns ON. Since you are sitting in front of the TV, you can tell it is on. And in well over 95 percent of consumer TV applications, the entire TV bezel is exposed, thus, the IR signal reaches the TV no matter where you point the remote control.
However, when the TV is mounted (such as in a meeting room application), or in an application were there are multiple TVs mounted all over a facility, there are times where you cannot use an IR remote efficiently. For example, the bezel may be surrounded or blocked by a decorative enclosure. Or the central control (such as in a digital signage application) of multiple TVs is in a different facility from where the TVs are located and you cannot even send an IR command from the remote. Or in the case where you might use an IR repeater, you do not have a visual of the TV (you cannot see it physically) thus, you have no idea if the TV turned on or not.
Ask a Question
Questions & Answers

Ask a question about the Controlling TVs with RS232 or Call 833-WOLFPACK (833-965-3722)


Government
This product may be eligible to be purchased through the United States Governments SEWP program, similar to their GSA program.
The NASA SEWP (Solutions for Enterprise-Wide Procurement) provides the latest in Information and Communications Technology (ICT) and Audio-Visual (AV) products and services for all Federal Agencies and their approved contractors.
If you are a government agency and want to see whether HDTV Supply has this product in the SEWP database go to our
our SEWP Contract Holder RedHawk IT Solutions, LLC
to allow you to maybe order this product from the United States Governments SEWP program. It is very easy to place your order, go to the link above and enter HDTV Supply and there you will see a list of part numbers of what we currently have. If you do not see it than give us a call at 833-WOLFPACK (833-965-3722) and we may be able to enter it.
Our SEWP Contract Holder RedHawk IT Solutions partner has the following credentials:
DUNS: 801957023
TIN: 260452583
CAGE: 4TBM6
Their SEWP Federal Contracts are:
SEWP Contract Number: NNG15SD38B
Group: Group B_SDVOSB
NAICS: 541519
and
SEWP Contract Number: NNG15SD88B
Group: Group C
NAICS: 541519
The SEWP Program Office manages a suite of government-wide IT products and services contracts that enable NASA and all Federal Agencies to achieve their missions and strategic initiatives by providing streamlined access to critical technologies and solutions. The Program provides best value for the Federal Government and American taxpayer through innovative procurement processes, premier customer service and outreach, acquisition insight, and partnership with Government entities and Industry.
For a complete listing of HDTV Supply products from us, or our other vendors, call 833-WOLFPACK (833-965-3722).
Catalog
HDTV Supply WolfPack Product Catalog (2020)
Controlling TVs with RS232
Scroll Left & Right To See 20 Of Your Recently Viewed Items Below