AIDA Imaging PTZ-NDI-X12 Full HD NDI/HX Broadcast PTZ Camera




NDI|Hx streaming capable

Full HD Progressive Scan sensor

Advanced digital image processor

Video without blur

Free 2-Year AIDA Imaging Warranty

Add'l Discounts to .GOV & .MIL & .EDU & .ORG

Free Shipping

Part # PTZ-NDI-X12

Usually ships the same business day

Today's Price: $1,435.00
Features
AIDA Imaging PTZ-NDI-X12 Micro UHD 4K/30 HDMI 1.4 POV Camera
This AIDA Imaging PTZ-NDI-X12 Micro UHD 4K/30 HDMI 1.4 POV Camera is AIDA's first camera to utilize NDI technology. The camera features Newteks NDI to help ease production with seamless video transfer over almost any existing network infrastructure. With integrated RS232 and VISCA over IP camera control, this camera is compatible with most IP based controllers, simplifying existing workflows with better cable management. The camera features traditional multi video format outputs such as 3G-SDI, HDMI, USB 3.0, as well as online video outputs RTSP/RTMP. Our camera's cost effective approach makes professional grade PTZ cameras, at the fraction of the price.
NDI, NewTek's innovative Network Device Interface technology, is a royalty free standard enabling IP video workflows across Ethernet networks. NDI is a bi-directional standard that allows video systems to identify and communicate with one another over IP, and to encode, transmit, and receive multiple streams of broadcast-quality, low latency, frame-accurate video and audio in real time. The NDI encoding algorithm is resolution and frame rate independent, supporting up to 4K and beyond, as well as multi-channel, floating-point audio up to 16 channels and beyond. NDI also includes tools to implement video access and grouping, bi-directional metadata, tally, and more.
AIDA Imaging PTZ-NDI-X12 Micro UHD 4K/30 HDMI 1.4 POV Camera Features:
NDI |Hx streaming capable for low latency video streaming and PTZ control over NDI Protocol.
Full HD Progressive Scan sensor captures sharp and vivid color under different light conditions.
Advanced digital image processor provides vivid and detailed images with full access feature sets.
Motion-compensated temporal noise reduction filter leads to effective noise reduction for motion
video without blur.
3G/HD-SDI, HDMI, RJ-45, USB 3.0, and USB 2.0 for versatility and seamless video performance.
Power Optical Zoom capability up to 20X.
Compatible with other industry leading products, conforming with SMPTE 424M/292M standard.
Auto White Balance and shutter speed provides the optimized performance in a variety of situations.
Built-in OSD controls for customizable image settings.
Versatile and compact.
AIDA NOTE: HDTV Supply has a Corporate Goal to support our Federal, State and Local Governments, Schools, Universities and Military accounts and offer an additional discount to AIDA products if your email address ends in .GOV & .MIL & .EDU & .ORG. Please see the Options for this discount and thank you for your service in these entities.
Call 833-WOLFPACK (833-965-3722) right now to place your order.
Why not buy this AIDA Imaging PTZ-NDI-X12 Micro UHD 4K/30 HDMI 1.4 POV Camera today?
Specs
AIDA Imaging PTZ-NDI-X12 Micro UHD 4K/30 HDMI 1.4 POV Camera Specifications:
Image Sensor: 1/2.85" Progressive CMOS
Effective Pixels: Horizontal: 1920, Vertical: 1080
Pixel Size: 2.13 µm x 2.13 µm
Resolution: 1080p & 1080i: 1920 x 1080
Resolution/Rate: 1080 60p/59.94p/50p/30p/29.97p/25p/24p/23.98p/1080 60i/59.94i/50i/720 60p/59.94p/50p/30p/29.97p/25p
IP Rate: 1920 x 1080 @ 1~60, 1280 x 720 @ 1~60, 1024 x 576 @ 1~60, 620 x 360 @ 1~60
Output: HD-SDI/3G-SDI, HDMI, RTSP / RTMP / NDI|HX, USB 3.0 & 2.0
Color Space: 4:2:2 (YCbCr) 10bit
Min. Illumination: 0.1Lux
White Balance: Auto, Manual, Auto Tracking, One Push, Indoor, Outdoor
Focus: Auto, Manual
Shutter Speed: 1 to 1/10,000 Sec.
Lens: 20X HD Optical Zoom, F1.5 ~ 3.0
Pan/Tilt Range: Pan: 340˚, Tilt: +90 to -30˚
Pan/Tilt Speed: Pan: 0˚ to +120˚/s, Tilt: 0˚ to +80˚/s,
Presets: 128 Positions
Field of View: 61˚
SMPTE: SMPTE 292M, SMPTE 424M
IP Protocol: TCP/IP, RTSP/RTMP
Camera Control: Protocol: VISCA
Interface: RS-232C IN & OUT, RJ-45
Remote Controller
Operation Temp: 32˚ F - 104˚ F
Dimension: 155mm x 160m x 170mm / 6.10" x 6.92" x 6.69"
Weight: 1.35kg / 2.97lbs
Power: 12VDC (+9 - +15VDC)
Why not buy this AIDA Imaging PTZ-NDI-X12 Micro UHD 4K/30 HDMI 1.4 POV Camera today?
Warranty

Click Here for Product Warranty
Ask a Question
Questions & Answers

Ask a question about the AIDA Imaging PTZ-NDI-X12 Full HD NDI/HX Broadcast PTZ Camera or Call 833-WOLFPACK (833-965-3722)


FAQ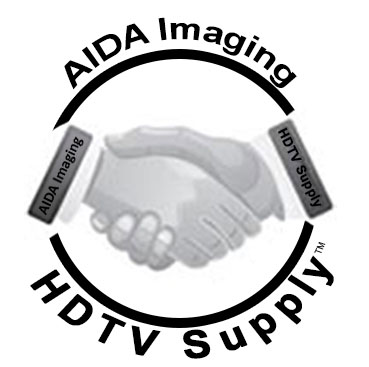 AIDA Imaging Product Return Policy
Government
This product may be eligible to be purchased through the United States Governments SEWP program, similar to their GSA program.
The NASA SEWP (Solutions for Enterprise-Wide Procurement) provides the latest in Information and Communications Technology (ICT) and Audio-Visual (AV) products and services for all Federal Agencies and their approved contractors.
If you are a government agency and want to see whether HDTV Supply has this product in the SEWP database go to our
our SEWP Contract Holder RedHawk IT Solutions, LLC
to allow you to maybe order this product from the United States Governments SEWP program. It is very easy to place your order, go to the link above and enter HDTV Supply and there you will see a list of part numbers of what we currently have. If you do not see it than give us a call at 833-WOLFPACK (833-965-3722) and we may be able to enter it.
Our SEWP Contract Holder RedHawk IT Solutions partner has the following credentials:
DUNS: 801957023
TIN: 260452583
CAGE: 4TBM6
Their SEWP Federal Contracts are:
SEWP Contract Number: NNG15SD38B
Group: Group B_SDVOSB
NAICS: 541519
and
SEWP Contract Number: NNG15SD88B
Group: Group C
NAICS: 541519
The SEWP Program Office manages a suite of government-wide IT products and services contracts that enable NASA and all Federal Agencies to achieve their missions and strategic initiatives by providing streamlined access to critical technologies and solutions. The Program provides best value for the Federal Government and American taxpayer through innovative procurement processes, premier customer service and outreach, acquisition insight, and partnership with Government entities and Industry.
For a complete listing of HDTV Supply products from us, or our other vendors, call 833-WOLFPACK (833-965-3722).
AIDA Imaging PTZ-NDI-X12 Full HD NDI/HX Broadcast PTZ Camera
Scroll Left & Right To See 20 Of Your Recently Viewed Items Below