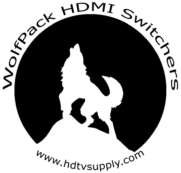 HDTV Supplys Wolfpack™
8x24 HDMI Matrix Over LAN with POE
system is a matrix-based AV over IP solution for distribution of multiple HDMI contents to multiple HDMI display devices over a standard 1G network Ethernet switcher. The 8x24 HDMI Matrix Over LAN with POE incorporates instant switching, video wall and multi-viewer functionality that makes it the best solution for commercial AV installations. It is also POE compliant and has IR passback. It is normally controlled by a WEB GUI.
It offers configurable high quality, low-bandwidth H.264 compression video supporting up to 1920x1080@60fps (1080p). Instead of using an expensive traditional HDMI matrix switch, you can easily & flexibly manage all your HDMI sources & display devices using a Web GUI, a mobile app or a third-party control system using its RS232 port. This WolfPack™ 8x24 HDMI Matrix Over LAN with POE allows any input to be routed to any output; or the same input to be routed to all outputs, or any combination. It includes HDMI, Separate Audio & RS-232 over IP, a Video Wall & Matrix Switch Function with control via a WEB GUI, POE Based & IR passback and an HDMI Loopout on the Transmitter
They are HDCP 1.4 compliant & support resolutions up to 1080p full HD & 1920x1200 (WUXGA). We have installed these WolfPack Network HDMI Matrix Switchers in Restaurants, Sports Bars, Sushi Bars, Casinos, Nail Salons, Spas, Bowling Alleys, Exercise Clubs, Hotels, Schools, Churches, High end homes, Dental & Doctors offices & more IR passback.
8x24 HDMI Matrix Over LAN with POE Features:
Comes with 8-POE HDMI Transmitters and 24-POE HDMI receivers
HDMI Loopout on the Transmitter
A POE Ethernet switch is not supplied
HDMI 1.4b and HDCP 1.4 compliant
Video resolution up to 1080p/60Hz (4:4:4)
Standard H.264 Encoding/Decoding
H.264 IP Cameras supported
Supports HDMI, audio and RS-232 over IP
Unicast, Multicast, Matrix, Video Wall and Multi-viewer (up to 5 windows)
Supports 1G standard IP switcher/router/hub (Not supplied)
Web-based GUI controller (built-in encoder box)
Standard POE supported (PD device)
Compact design for an easy and flexible installations
8x24 HDMI Matrix Over LAN with POE Specs:
HDMI signal: HDMI 1.4 and compliant to HDCP 1.4
Network bandwidth: 28Mbps
HDMI input resolution supported: 480i@60Hz, 480p@60Hz, 576i@50Hz, 576p@50Hz, 720p@50/60Hz, 1080i@50/60Hz, 1080p@50/60Hz, 4Kx2K @24/25/30Hz
Audio format supported: L/R stereo audio
TMDS signal: 0.7~1.2Vp-p
DDC signal: 5Vp-p
Remote control: Support
IR passback: Supports 20~60KHz IR devices
APP control: Support APP control, user can scan, preview, build up their configuration by using a phone/tablet easily, OS system supports IOS and Android
Matrix configuration: Up to 100 source signals can be connected and switched to infinite output
Voltage/Current: 5V/2A
Power consumption: TX≤6W;RX≤5W
Weight: TX: 320g;RX: 310g
Dimensions(LxWxH): 164x107.6x23.6mm
Working temperature: 0~60˚C
Storage temperature: -20~70˚C
Humidity: 0~95%(no condensation)
Color: Black
IR passback
Q: Is an Ethernet Switch supplied?
A: No, the user must supply it.
HDTV Supply's WolfPack Family of Matrix Switchers can be created however you wish. Just SCROLL DOWN and fill out the below and press SUBMIT and we will send you a quotation based upon your needs within an hour.
If it doesn't meet your needs just call us right now at 833-WOLFPACK or 833-965-3722 or email us at support@hdtvsupply.com