This WolfPack 8K 60 Hz & 4K 120 Hz 4x1 HDMI Switcher with HDMI 2.1 extends the bandwidth to 48 Gbps and connects 8K HDTVs to Blu-ray/DVD Player, Xbox, PlayStation, PC, and other HDMI devices. HDR10 and Dolby Vision HDR support ensures every moment of a video is displayed at its ideal values for depth, detail, brightness, contrast, and wider color gamut's on a scene-by-scene or even a frame-by-frame basis. If you need additional inputs on your 8K TV or want to connect several 8K 60 Hz or 4K 120 Hz devices to one port on your 8K 60 Hz or 4K 120 Hz display, then this should work for you.
This WolfPack 8K 60 Hz & 4K 120 Hz 4x1 HDMI Switcher is an ultrathin auto switcher with four HDMI video inputs and one HDMI output. This switcher supports HDMI video resolutions up to 8K@60Hz 4:2:0 12bit, HDR 10, HDR 10+, Dolby Vision and multichannel audio. It passes EDID information from the display as well as there are multiple built-in EDID settings to simplify an installation.
HDTV Supply has tested our WolfPack 8K products with these 8K devices:
8K XBOX-X
8K Sony PS5
8K TV from CHANGHONG
8K TV from Samsung
8K (4320p) NVIDIA GeForce RTX 3080 Video Card
WolfPack 8K 60 Hz & 4K 120 Hz 4x1 HDMI Switcher Features:
HDMI 2.1, HDCP 2.3 & 48-Gbps compliant
Up to 8K60 YCBCR 4:2:0 10bit, 8K30 RGB/YCBCR 4:4:4 10bit or
4K120 RGB/YCBCR 4:4:4 10bit
HDR, HDR10, HDR10+, Dolby Vision & ALLM / VRR (Variable Refresh Rate) pass through
Quick Frame Transport (QFT)
Up to LPCM 7.1CH, Dolby TrueHD & DTS-HD Master Audio
4 - 8K 60 Hz HDMI Inputs & 1 - 8K 60 Hz HDMI Output or...
4 - 4K 120 Hz HDMI Inputs & 1 - 4K 120 Hz HDMI Output
Built-in Equalizer, Retiming and Driver
EDID management
Compact design with Aluminum case
NOTE: Automatic Video Switching based upon 5V detection: A few devices like some DVR's, cable/satellite receivers are "always ON" so auto-sensing switchers, like these, need the "always On" devices to be at a lower video input, so it doesn't block other devices. If you have two devices that are always ON, you'll need to use the buttons and/or remote control (if they have them) to switch inputs. An Apple TV keeps its HDMI port active even in the sleep state, so auto-switching may not work with the Apple TV. Manual switching can still be used.
HDTV Supply uses the world's best ADI 8K chip set and with it the WolfPack™ 8K 4x1 HDMI Switcher displays a higher resolution than 4K. 1080p screens have a resolution of 1,920 by 1,080 pixels. 4K screens double those numbers to 3,840 by 2,160 and quadruple the number of pixels. 8K doubles the numbers again, to a resolution of 7,680 by 4,320. That's four times the number of pixels as 4K, which means it's 16 times that of a 1080p TV. The picture is just glorious.
Why not reserve this WolfPack 8K 60 Hz & 4K 120 Hz 4x1 HDMI Switcher today?
Thanks for looking at our 4x1 8K HDMI Switch which can distribute 4-8K 60 Hz HDMI inputs to 1-8K output
4x1 8K HDMI Switch Specs:
HDMI 8K 60 Hz, HDCP 2.3 compliant and 48Gbps.
Supports up to 8K 60 Hz 4:2:0 12bit, 8K30Hz 4:4:4 12bit and 4K120Hz 12bit.
ALLM (Auto Low-Latency Mode) which automatically adjusts the television's settings to ensure fast-moving content isn't slowed down.
VRR technology eliminates lag and tearing, delivering video frames at the fastest speed.
Advanced EDID management: multiple preset and user defined allowed.
Automatic video switching based on 5V detection.
Controllable via an IR Remote Control.
Firmware upgrade by Micro-USB port.
Why not reserve this WolfPack 8K 60 Hz & 4K 120 Hz 4x1 HDMI Switcher today?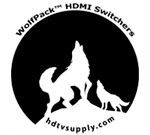 Reasons To Buy an HDTV Supply WolfPack Product
Why not reserve this 8K 4x1 HDMI Switcher with eARC today?