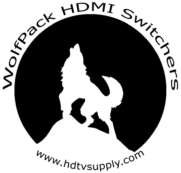 HDTV Supplys WolfPack 4K/60
8-8 HDMI Matrix Switcher with Video Wall Processor
It is a high-performance seamless UHD matrix switcher with 8x HDMI inputs and 8x HDMI outputs. Audio extract or insert can also be enabled on this device. IR matrix routing on this video matrix is followed with video routing. Because it is a matrix switcher, it allows any input to be routed to any output; or the same input to be routed to all outputs, or any combination.
Controlling the WolfPack 8-8 HDMI Matrix Switcher with Video Wall Processor is simple with the front-panel buttons and the RS-232 port. For example, if you wanted your DVD Player going to 5 displays and your DVR going to 3 displays all at the same time, then this is the device you need. What if you wanted to have your Xbox going to 4 displays downstairs, your DVD player to the display in your bedroom upstairs, and your cable box to your living room display and you wanted all of this to happen simultaneously? Well then this WolfPack 8-8 HDMI Matrix Switcher with Video Wall Processor is for you.
Our 8x8 HDMI Matrix Router also can support high-resolution HDMI sources routed to HDMI displays, monitors, projectors, or audio receivers, etc. The EDID can be selected between different modes or copied from the attached displays. This 8-8 HDMI Matrix Switcher with Video Wall Processor has an advanced EDID management, IR functions, memory management and external power supply are just a few of the features that make this 4K/60 8x8 HDMI Matrix Switcher stand out.
WolfPack 8-8 HDMI Matrix Switcher with Video Wall Processor Features:
Supported HDMI video output resolutions:

1080p (4:4:4)
4K 60 (4:4:4)
4K 30 (4:4:4)
3840x2160@60
3840x2160@30
1920x1080@60
1280x720@60
1920x1200@60
1360x768@60
1280x1024@60
1024x768@60

Embedded Audio In & De-embedded audio out on 8x2=16 - 3.5mm connectors
IR In & out on 8x2=16 - 3.5mm connectors
Zero latency
Supports HDMI 2.0
Supports HDCP 2.2
Supports seamless switching
Supports an IR matrix
Support external LR audio insert on HDMI stream
Supports EDID management
Supports TV's at 24/30/60/100/200 Hz
Allows any source to be displayed on multiple displays at the same time
Allows any HDMI display to view any HDMI source at any time
Supports 7.1 channel digital audio
Supports default HDMI EDID and learns the EDID of displays
Easy installation with rack-mounting design
Why not buy this WolfPack 8-8 HDMI Matrix Switcher with Video Wall Processor Control today?
WolfPack 8-8 HDMI Matrix Switcher w/LAN & RS232 Control Specs:
Interface HDMI-A
Input cable distance: ~25 feet AWG22 HDMI 1.4 high speed cable
Output cable distance: ~35 feet AWG22 HDMI 1.4 high speed cable
Clock Jitter <0.15 Tbit (1080p@60)
RiseTime <0.3Tbit (20%--80%)
RiseTime <0.3Tbit (20%--80%)
Transmission Delay 5ns
Amplitude T.M.D.S +/- 0.4Vpp
Differential impedance: 100±15ohm
RS232 control
Baud rate and protocol Baud rate:9600,data bit:8, stop bit:1,No parity checking
WolfPack 8-8 HDMI Matrix Switcher Specs:
Power Adapter 12V/3A 1
User Manual 1
Matrix 1
This 8-8 HDMI Matrix Switcher works with the following devices:
Any high definition Dish Network and DirecTV receiver with HDMI outputs
High definition TiVo's with HDMI outputs
Any high definition cable receiver with HDMI outputs
Canadian Rogers, Shaw, Bell ExpressVu and Star Choice receivers with HDMI out, or DVI out with a converter
Any "Over The Air" (OTA) high definition receiver with HDMI outputs
Sony PS3, HD DVD and Blu-ray DVD players
Any Xbox360 with HDMI outputs
Any upconverting DVD player with HDMI outputs
Any DVHS VCR with HDMI outputs
An APPLE TV with HDMI outputs
A VuDu with HDMI outputs
Many PC video cards with HDMI outputs
Any high definition camcorder with an optional type C to standard HDMI cable
Many A/V surround sound receivers with HDMI switching that include the proper chip set. Call your AV receiver supplier to discuss your application or us.
Any HDCP compliant HDTV, monitor and projector. If the source is HDCP compliant and your TV is not, you will not get a picture. Please check your TV manual or the manufacturers web site.
and other similar devices.
Why not buy this 8-8 HDMI Matrix Switcher today?
Q: HDR and Dolby Vision?
A:
No.
Q: What is its high resolution?
A: The resolution up to 3840x2160@60Hz but no 4096x2160@24Hz/25Hz/30Hz/50Hz/60Hz
Q: Does the software work with 64-bit Windows software?
A: No, only 32-bit.
Q: Does this HDMI Matrix Switch have an IR window and come with a remote control?
A: No.
Q: I see the the HDMI extenders come with 2-remote IR cables, will the remote IR work with this matrix?
A: No, the cables are used when the application has one source and one widescreen. They can't be used with this matrix and need to be set aside and not used.
Q: Can I use unpowered HDMI over CAT5/6 extenders with this matrix?
A: We don't recommend them with our matrices, or anyone else's, due to them consuming power from the matrix and the matrices are not designed to power many external devices.
Consider the example of 9 - HDMI balun transmitters that need 0.5a amp each to power it times 9 or 4.5 amps the matrix would have to supply. The power supply of this matrix is rated at 12v at 3.5 amp so in that example the matrix would probably break down and your warranty may be voided. See the companion powered HDMI extenders in the above OPTIONS that have 2-AC adapters.
HDMI cables with built-in boosters also consume power also and we don't recommend more than 2, if at all. You must use our low power ones, also.
Q: Do the optional HDMI extenders support Remote IR?
A: They send perfect audio and video but the remote IR doesn't support this device as it only works with with 1-source & 1-TV. See our RF remote controls if you want to control all your devices from afar.
HDTV Supply's WolfPack Family of Matrix Switchers can be created however you wish. Just SCROLL DOWN and fill out the below and press SUBMIT and we will send you a quotation based upon your needs within an hour.
If it doesn't meet your needs just call us right now at 833-WOLFPACK or 833-965-3722 or email us at support@hdtvsupply.com
HDTV Supply includes a one year Limited Warranty on this WolfPack 8-8 HDMI Matrix Switcher. The warranty states that (a) its products (the Product) will perform substantially in accordance with the accompanying written materials for a period of one year from the date of receipt and (b) that the Product will be free from defects in materials & workmanship under normal use & service for a period of one year. In order to get a warranty replacement for a defective item, HDTV Supplys Support Team will verify the product is eligible for warranty. An RMA number will then be issued. Shipped replacements will be in like new conditions, tested and all components included.