WolfPack 4x4 HDMI 2.0 Matrix Switch with 4K@60Hz YUV4:4:4, 18GBPS & HDR





WolfPack 4x4 HDMI 2.0 Matrix Switch

Supports 4K@60 YUV 4:4:4 8-Bit & HDR10

HDCP 2.2 and 1.4 compliant

Software control and a WEB GUI
Features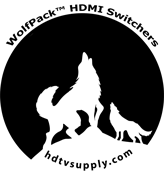 HDTV Supplys Professional Wolfpack™
4K 4x4 HDMI 2.0 Matrix Switch with HDR 4K@60hz YUV4:4:4 @ 18Gbps
routes high definition video sources plus multi-channel (up to 7.1-channel) digital audio from any of the four HDMI sources to the 4-displays at the same time or any of the 256 combinations. The 4K matrix supports HDR which is 4K2K@60 4:4:4. The 4K 4x4 HDMI 2.0 Matrix Switch with 4K@60hz YUV4:4:4, 18Gbps, HDR is also HDCP 1.4 and HDCP 2.2 compliant.
The 4K 4x4 HDMI 2.0 Matrix Switch provides true HDR matrix routing for HDMI signals and supports the transmission of video resolutions up to 2160p@60Hz Ultra HD 4:4:4 as well as
594 MHz or 18 GBPS
and supports high resolution digital audio formats such as LPCM 7.1CH, Dolby TrueHD, Dolby Digital Plus and DTS-HD Master Audio.
4K 4x4 HDMI 2.0 Matrix Switch Features:
HDMI 2.0 version
Supports 4K@60Hz YUV 4:4:4 8-bit
Bandwidth up to 18Gbps
HDCP2.2 input and HDCP2.2 output
HDCP1.4 input and HDCP1.4 output
Supports HDR10
4- HDMI Inputs and 4 - HDMI outputs with 4 -SPDIF Audio outputs
Any one of the 4 Ultra HD sources can go to any one of the 4 Ultra HD displays in any combination
Supports Panel Button, Local IR, RS232 Control with commands, IP Control and Web GUI Control
Supports Dolby True HD and DTS-HD master audio
Supports 3D
Why not buy this 4x4 HDMI 2.0 Matrix Switch with 4K@60hz YUV4:4:4, 18Gbps, HDR today?
Specs
WolfPack 4K 4x4 HDMI 2.0 Matrix Switch with HDR, 4K@60hz YUV4:4:4 @ 18Gbp Specs:
Video Bandwidth: 594MHz [18Gbps]
Supported Video Resolutions: 480i, 576i, 480p, 576p, 720p, 1080i, 1080p24/30/50/60, 2160p24/25/30/50/60;
HDMI connectors: Type A 19 pin female
SPDIF connectors: RCA
RJ-45 connector: WE/SS 8P8C
3.5mm connector: IR Receiver
ESD Protection: Human-body Model: 8kV (Air-gap discharge) 4kV (Contact discharge)
Power Supply: 5V DC
Chassis Material: Metal
Silkscreen Color: Black
Power Consumption: 30 W(max) / 0.5w(Standby)
WolfPack 4X4 HDMI Matrix Switch Contents:
1 - HDMI 4x4 Matrix Switcher
1 - Power Adapter
1 - Operation Manual
1 - Wideband IR Rx cable
1 - HDMI Matrix IR Remote
Why not buy this WolfPack 4X4 HDMI Matrix Switch today?
Compatibility
Compatible with:
OPPO, Panasonic, Philips, Samsung, etc UHD 4K DVD Player compliant
All Roku 4 media players
4K DirecTV Genie receivers
4K Sony FMP-X10 UHD players
4K NVidia Shield UHD Netflix devices
4K Amazon Fire Players
4K Surround Sound AV Receivers
and more 4K HD HDCP 2.2 devices
3D
HDTV Supply is a leader in supplying 3D equipment for this new, fast growing 3DTV market. Our test lab includes the latest equipment for designing, testing and supporting 3D video equipment. The chips sets we use support many of our 4K, HDMI 1.3 and HDMI 1.4 compliant devices. The 3D viewing results were awesome in our lab and did not have any picture or audio degradation. The normal and standard (2D) results equally exhibited a superb picture quality.
We not only test this device with lab equipment we also test many of our 3D devices with 3D products you are likely to use. The products used for the test are:
Sony PS3 with the 3D 3.41 firmware
Samsung model PN50C7000YF 3DTV
Samsung model BD-C6900 3D Blu-ray player FORCED to 1080p
Samsung model SSG-P2100T 3D glasses
DirecTV models HR21-100 and the HR24 high definition receiver.
It works with all HDMI devices including the new 3D units.
Why not buy this product that supports 3D today?
Q/A
Q: Does the matrix support Dolby Vision?
A:
It supports Dolby True HD and DTS-HD master audio but not Dolby Vision.
Warranty

Click Here for Product Warranty
Ask a Question
Questions & Answers

Ask a question about the WolfPack 4x4 HDMI 2.0 Matrix Switch with 4K@60Hz YUV4:4:4, 18GBPS & HDR or Call 800-841-9238


WolfPack 4x4 HDMI 2.0 Matrix Switch with 4K@60Hz YUV4:4:4, 18GBPS & HDR
Recently Viewed Items