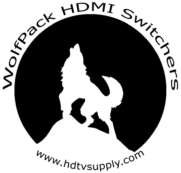 HDTV Supplys Professional Quality Wolfpack™ 4K
4x4 HDMI Matrix Switcher with audio
has HDMI 2.0 & HDCP 2.2 compliancy on all inputs and HDMI 1.4 and HDCP 1.4 on all outputs. Our 4x4 HDMI Matrix Switcher routes HDMI video + multi-channel (up to 7.1-channel) audio from any of the four HDMI sources to the 4 displays. Because it is a matrix switcher, it allows any input to be routed to any output; or the same input to be routed to all outputs or any combination.
This 4K 4X4 HDMI Matrix Switch w/SPDIF audio is a 4x4 HDMI matrix switcher with audio breakouts. It supports HDMI 2.0 and HDCP 2.2 with resolution support up to 4K@60Hz 4:4:4 plus all 3D formats with HDR output support for each channel. It routes four Hi-Def sources to any four HDTV displays, along with multichannel digital audio formats such as Dolby True HD and DTS-HD Master Audio. Each source can be routed to any display using the Push Buttons, IR, RS232 and GUI.
HDTV Supply′s WolfPack 4K 4x4 HDMI Matrix Switcher was designed to support a new 4K display technology. The 4K 4x4 HDMI Matrix Switcher was created to improve the contrast between light and dark images for a more realistic picture featured in new 4K TVs. Since 4K is four times the resolution of 1080p, it required more bandwidth to support the extra data and that is why we have designed these HDMI switchers with HDMI 2.0 Compliancy.
NOTE: The HDCP 2.2 to HDCP 1.4 conversion solves the HDCP problem with HDCP 2.2 devices like...
4K Samsung, Oppo and Philips UHD DVD Players
4K Roku 4 media player
4K DirecTV Genie receivers
4K Sony FMP-X10 UHD players
4K TiVo BOLT
4K NVidia Shield UHD Netflix devices
4K Amazon Fire Players
4K Surround Sound AV Receivers
and more 4K HD HDCP 2.2 devices
...and older 4K TVs that are only HDMI 1.4 and HDCP 1.4. You now can buy a matrix switcher that integrates the conversion so you can see a picture.
WolfPack 4x4 HDMI Matrix Switcher Features:
Input:

4 - Female HDMI inputs
1 - RS-232 for computer control only
1 - LAN for computer control only

Output:

4 - Female HDMI outputs
4 - SPDIF audio outputs

Supports resolutions up to 4K@60Hz 4:4:4
HDCP 2.2/HDCP1.x and DVI compliant
Smart CSC technology support outputting 4K@60Hz 4:4:4 (6G) or 4:2:0 (3G) according to sink device
Supports HDR and full 3D
Supports HDCP management (Follow source or follow sink)
Supports audio de-embed from HDMI output to associated L/R stereo audio output and coaxial SPDIF output simultaneously
Multiple control modes: Push Buttons, IR Remote, RS-232 (API) and GUI.
Advanced EDID management for rapid integration of sources and displays
Supports HDMI 2.0 at 4K at 50/60Hz at YUV420
Support HDCP 2.2 and HDCP 1.4 input and HDCP 1.4 output
Easy to use: installs in seconds with no need for any setting
Allows up to four HDMI source devices to be independently switched to four HDMI monitors, HDTVs, or projectors.
The outputs show the same or different source at the same time no matter the source is HDCP or not
Support high definition resolutions 4K@60Hz, 4K@30Hz, 1080P, 1080i, 720P and standard video format
Five switching modes: Panel buttons, local IR, RS232 & IR extension.
Allows any source to be displayed on multiple displays at the same time
Allows any HDMI display to view any source at any time
Supports all HDMI formats including latest Dolby TrueHD and DTS-HD
Supports default HDMI EDID and records the EDID from all 4 displays
Easy installation
Why not buy this WolfPack 4x4 HDMI Matrix Switcher with audio today?
WolfPack 4x4 HDMI Matrix Switcher Specs:
Operating Temperature Range -5 to +35蚓(-41 to +95 蚌)
Operating Humidity Range 5 to 90 % RH (no condensation)
Input Video Signal 0.5-1.0 volts p-p
Input DDC Signal 5 volts p-p (TTL)
Signaling Rate 3.0Gbit/s
Video Format Supported DTV/HDTV: 4K@60Hz/4k@30Hz/1080P/1080i/720P/576P/480P/576i/480i
Output Video HDMI2.0 and HDMI 1.4
Audio Format Supported DTS-HD、Dolby trueHD
Maximum Transmission Distance: 25 feet with HDMI 2.0 cables
Power Consumption 15wtts (Max.)
Weight (Main Unit): 2.4kg
4x4 HDMI Matrix Switcher Contents:
1 - Main unit
1 - 5VDC Power Supply
1 - Remote Control
1 - IR_RX (IR receiver) extension cable
1 - Operating Instructions
2 - Mounting Ears
To ensure 3D Blu-ray or 4K content is routed via the Matrix, High Speed HDMI cables must be used and any connected non-3D or non-4K compatible display must not have an "active" HDMI output (i.e. powered off or in standby mode). The 4K or 3D source player must not be able to "see" a 2D or non-4K only display connected to the Matrix.
This 4x4 HDMI Matrix Switcher with HDMI 2.0 & HDCP 2.2 & 4-SPDIF Audio Outs works with the following devices:
Any high definition Dish Network and DirecTV receiver with HDMI outputs
High definition TiVo's with HDMI outputs
Any high definition cable receiver with HDMI outputs
Canadian Rogers, Shaw, Bell ExpressVu and Star Choice receivers with HDMI out, or DVI out with a converter
Any "Over The Air" (OTA) high definition receiver with HDMI outputs
Sony PS3, HD DVD and Blu-ray DVD players
Any Xbox360 with HDMI outputs
Any upconverting DVD player with HDMI outputs
Any DVHS VCR with HDMI outputs
An APPLE TV with HDMI outputs
A VuDu with HDMI outputs
A Roku with HDMI outputs
Many PC video cards with HDMI outputs
Any high definition camcorder with an optional type C to standard HDMI cable or standard HDMI cable
Many A/V surround sound receivers with HDMI switching that include the proper chip set. Call your AV receiver supplier to discuss your application or us.
Any HDCP compliant HDTV, monitor and projector. If the source is HDCP compliant and your TV is not, you will not get a picture. Please check your TV manual or the manufacturers web site.
and other similar devices.
Why not buy this 4x4 HDMI Matrix Switcher with audio today?