Features
HDTV Supplys This is a WolfPack 4K
4X2 HDMI Matrix Switcher with digital audio and 3.5 mm stereo audio outputs
. It also has an HDMI input in the rear that can be used especially with a supplied MHL to HDMI Adapter so you can use your MHL equipped smart phone or tablet with it. It is designed to work as a switcher for multiple sources and displays and is HDMI 1.3 matrix switcher works with all HDMI 1.3 versions and below. Because it is a matrix switcher, it allows any input to be routed to any output; or the same input to be routed to all outputs, or any combination. The 4-in, 2-out HDMI matrix switcher switches HDMI signals in any of 16 combination's. It can switch or distribute the four HDMI sources to the two HDMI Displays easily. The matrix also can support an ARC function which can upstream the TV audio to the amplifier.
The dual purpose HDMI & MHL port supports the RCP function as it can do controlled with a smart phone and the switcher by the TV remote. When MHL/HDMI is working in the dual mode it can reduce the number of ports. This 4X2 HDMI Switcher with audio supports a maximum bandwidth of 10.2 Gbps, 48 bit color & provides a sharp & highly defined video in multiple resolutions up to 1080p. Because it is a matrix switcher, it allows any of the 4 inputs to be routed to either output; or the same input to be routed to both outputs. The remote control has 4 input buttons & 4 output buttons with 2 active as it is shared with our 4X4 matrix switcher. It completely eliminates the need to constantly move around video input & output cables.
This 4X2 HDMI Matrix Switcher supports the new Blu-ray DVD players that output 24 frames per second i.e. 1080p/24 as well as the new HDTV's that have the 1080p 120/240 option to support 24 FPS. You get an awesome picture with this technology and our 4X2 HDMI Matrix Switchers. The 4X2 matrix switcher splits the incoming HDMI signal into the standard HDMI audio / video signal as well as converts its associated stereo and optical audio to outputs that you then can route to your surround sound receiver.
What sets this 4X2 HDMI Matrix Switch with Audio From Others:
A Smartphone (MHL) input
3 - Separate switchblade audio output ports
Built-in ARC for using your TV remote control
4K and 3D compliant for this new technology
4X2 HDMI Matrix Switch with Audio Features:
Allows connection of up to 4 sources to up to 2 independent displays.
One HDMI Input support MHL/HDMI double mode input, the other three HDMI input support only HDMI single mode input.
MHL port supports the RCP function, it can do control to the smart phone and the switcher by the TV remote.
MHL/HDMI working in dual mode, can reduce the number of ports
The output A support extra audio output by SPDIF port and 3.5mm Headphone Port.
HDMI to achieve the synchronization of audio signal separation. There are ADV / 2.0CH / 5.1CH three kinds of audio mode options
The SPDIF audio output format can be chose by pressing the switch key or the remote.
It can come back to the default the input 1 status when restarted or reset.
Led Status Light allow the user to know the working status easily.
Supports Full HD 1080P, Full 3D
Supporst 4K*2K resolution
Supports deep color 30bit, 36bit, 48bit
Supports Blue-Ray 24/50/60fs/HD-DVD/xvYCC
Digital audio format, as DTS-HD/Dolby-trueHD/LPCM7.1/DTS/Dolby-AC3/DSD
Support signal retiming
Support input up to 15metres AWG24 HDMI standard cable length, output up to 25metres AWG24 cable length
Inputs can be switched with the IR remote control,also can be controlled by two switch buttons.
No loss of quality
Installs in minutes
Compatible with all HDMI sources and displays.
Supports high resolution input/output:
PC: VGA, SVGA, XGA, SXGA and UXGA (1600x1200) & HDTV: 480i, 576i, 480p, 576p, 1080i and 1080p and 4K at 30 Hz
IR remote control
4X2 HDMI Matrix Switch with Digital Audio Technical Specifications:
Frequency bandwidth: 1.65Gbps (single link)
Resolution: up to 1080p
Input/Output: HDMI female ports
Power Supply: 5V DC
This 4X2 HDMI Matrix switch with a separate audio section inherent in the HDMI 1.3 compliant signal is compliant with the following audio standards:
Dolby Digital
Dolby Digital Plus
Dolby TrueHD (2 CH)
DTS
DTS-HD
NOTE 2:
The Optical audio output are LPCM 2-channel, Dolby 5.1 or DTS 5.1.
Why not buy this 4X2 HDMI Matrix Switch with Audio today?
Specs
This 4x2 HDMI Matrix Router has 4 HDMI inputs and 2 HDMI outputs. It is a true HDMI matrix and can distribute any one of 4 sources to either of 2 displays and can work as a splitter to show the same source on 2 displays simultaneously or in any combination. It supports 3D HDMI and HDMI 1.4 (4kx2K).
4X2 HDMI Matrix Switch with Audio Features:
HDMI STANDARD: HDMI support 4K*2K input and 3D
HDMI resolution: 24/50/60fs/1080p/1080i/720p/576p/576i/480p/480i
Support video color format: 24bit/deep color 30bit,36bit, 48bit
Support audio format: DTS-HD/Dolby-trueHD/LPCM7.1/DTS/Dolby-AC3/DSD
Audio output: SPDIF and 3.5mm Stereo
Max transmission bandwidth: 340MHz
Max baud rate: 10.2Gbps
Input/Output TMDS signal: 0.5~1.5Volts p-p
Input/Output DDC signal: 5Volts p-p (TTL)
Input cable distance: ≤30 feet AWG24 or AWG22 (preferred) HDMI standard cable
Output cable distance: 50 feet AWG24 or AWG22 (preferred) HDMI standard cable
Max working current: 1300mA
Power adapter format: Input:AC (50HZ, 60HZ) 100V-240V; Output: DC5V/2A
Operating Temperature range: (-15 to +55℃)
Dimension (L x W x H): 250X27X75 (mm)
Weight: 380g
4X2 HDMI Matrix Switch with Audio Package Includes:
4X2 HDMI Matrix Switch
Remote Control
Male MHL to male HDMI adapter cable
Users Manual
5 VDC Power Supply Adapter
1 Year warranty
Compatibility
After In the TV menu settings with the MHL DEVICE synchronization, you can through the TV remote controller to control mobile device and switch signal source channel selection. But it requests the TV that can support the CEC function and mobile device can support RCP function. For details, please with TV or mobile device manufacturers to confirm. For example, the following mobile phone has passed the factory test, can support high-definition output and RCP function.
HTC sensation(G14) Samsung SII I9100
HTC sensation XE Samsung I9108
HTC EVO 3D Samsung Galaxy Note Phone
HTC One X Samsung SIII
HTC Flyer
Q/A
Q: Does this HDMI Matrix Switch support remote IR?
A:
No. We recommend using RF remote controls, see the ACCESSORIES Tab.
Q: I see the the HDMI extenders come with 2-remote IR cables, will the remote IR work with this matrix?
A:
No, the cables are used when the application has one source and one widescreen. They can't be used with this matrix and need to be set aside and not used.
Q: What is MHL?
A:
MHL is a technology standard developed by some of the top smartphone and consumer electronics manufacturers in the world Nokia, Samsung, Silicon Image, Sony and Toshiba. Smartphones and tablets with MHL can connect instantly to larger high-definition TVs to display streaming video, pictures and games all with surround sound. MHL means your content is larger than life so you can sit back, enjoy and experience.
MHL has other bonuses -- it charges your phone while its connected to the TV. And you can use the TV's remote to control the content coming from your phone on the big screen. MHL shares the same connector on your phone that you use to charge your phone. If you have an MHL TV, MHL shares the same connector as an HDMI port. Simply connect your MHL-enabled phone or tablet to your TV, monitor or projector to mirror everything on your phone to the larger screen display. TV not MHL-enabled? An MHL adapter makes any HDMI display an MHL display.
Q: What is the audio switch for?
A:
The button for the Audio output mode can choosen for 5.1CH ,2.0CH ADV [Advance Audio]. Three kinds of audio output modes can be circulated switching. When you switch to the 5.1CH audio mode output the Digital audio signal receiving terminal must support DTS/DOLBY-AC3 decode, or the input D audio signal receiving terminal will have no sound output. If you need stereo than switch to the 2CH audio mode.
When audio output switch to the ADV [Advance Audio] mode, the audio output format will be decided by the audio signal receiving machine audio decode ability. The splitter will output 7.1 channel audio signal while the output end connects the av amplifier with HDMI port that support 7.1 channel audio decode.(the HD Source signal itself is 7.1 channel)
Q: What is ARC?
A:
The (ARC) Audio Return Channel in HDMI 1.4 enables a TV, via a single HDMI cable, to send audio data ½upstream ½ to an A/V receiver or surround audio controller, increasing user flexibility and eliminating the need for any separate S/PDIF audio connection.
TVs have always been able to receive multi-channel audio through an HDMI connection, and this is still a typical use-case, with the TV positioned downstream from content sources and any connected audio equipment. However, if a user had a TV with a built-in tuner or DVD player, and wanted to send content upstreamfrom the TV back to the audio system, a separate connection had to be installed, typically an S/PDIF cable.
Warranty

HDTV Supply
includes a 1 Year Limited Warranty on this product. The warranty states that (a) its 4X2 HDMI Matrix Switch with Audio will perform substantially in accordance with the accompanying written materials for a period of 1 year from the date of receipt and (b) that the 4X2 HDMI Matrix Switch with Audio will be free from defects in materials & workmanship under normal use & service for a period of 3 years. In order to get a warranty replacement for a defective item, HDTV Supplys Support Team will verify the product is eligible for warranty. An RMA number will then be issued. Shipped replacements will be in like new conditions, tested and all components included.
HDTV Supply
also sells a 3 and 5 Year Extended Warranty for this 4X2 HDMI Matrix Switch with Audio. Please go to
Extended Warranties
or see the above Options to purchase it.
Ask a Question
Questions & Answers

Ask a question about the 4K 4X2 HDMI Matrix Switch with MHL Input, ARC & Audio Outs or Call 833-WOLFPACK (833-965-3722)


FAQ
To ensure 3D Blu-ray or 4K content is routed via the Matrix, High Speed HDMI cables must be used and any connected non-3D or non-4K compatible display must not have an "active" HDMI output (i.e. powered off or in standby mode). The 4K or 3D source player must not be able to "see" a 2D or non-4K only display connected to the Matrix.
Read more at
WHAT I NEED TO KNOW ABOUT EDID
Q: Does the HDMI extender send ARC to my AV receivers HDMI output?
A:
Yes.
Q: My picture is jumpy, what do I do?
A:
Try these
Set the source device resolution to the same resolution of the TV, like 1280x720p to 720p.
Set any EDID to it default.
Makes the CAT5e/6 cable per the above manual.
Use Cat5e/6 home runs and do not use internet hubs, wall plates and couplers.
See the above Q/A Tab.
Q: ARC doesn't seem to be working, can you help?
A:
Try this:
Make sure you are installing HDMI 1.4 cables that include ARC, see our specs at HDMI cables with ARC
The TV must support ARC and it must be turned ON ARC ON
The unique TVs HDMI input must say it supports ARC
Set the AV receivers or other device to ARC ON
Make sure CAT5e/6 STP connectors are put on "B"
Turn CEC ON
Leave EDID at its default.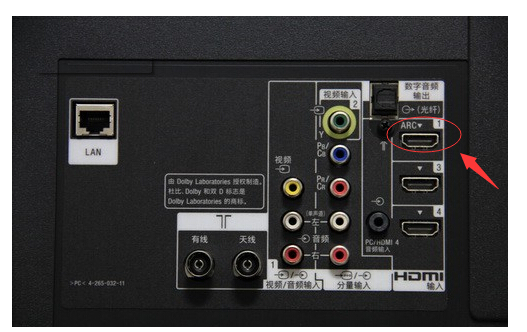 Government
This product may be eligible to be purchased through the United States Governments SEWP program, similar to their GSA program.
The NASA SEWP (Solutions for Enterprise-Wide Procurement) provides the latest in Information and Communications Technology (ICT) and Audio-Visual (AV) products and services for all Federal Agencies and their approved contractors.
If you are a government agency and want to see whether HDTV Supply has this product in the SEWP database go to our
our SEWP Contract Holder RedHawk IT Solutions, LLC
to allow you to maybe order this product from the United States Governments SEWP program. It is very easy to place your order, go to the link above and enter HDTV Supply and there you will see a list of part numbers of what we currently have. If you do not see it than give us a call at 833-WOLFPACK (833-965-3722) and we may be able to enter it.
Our SEWP Contract Holder RedHawk IT Solutions partner has the following credentials:
DUNS: 801957023
TIN: 260452583
CAGE: 4TBM6
Their SEWP Federal Contracts are:
SEWP Contract Number: NNG15SD38B
Group: Group B_SDVOSB
NAICS: 541519
and
SEWP Contract Number: NNG15SD88B
Group: Group C
NAICS: 541519
The SEWP Program Office manages a suite of government-wide IT products and services contracts that enable NASA and all Federal Agencies to achieve their missions and strategic initiatives by providing streamlined access to critical technologies and solutions. The Program provides best value for the Federal Government and American taxpayer through innovative procurement processes, premier customer service and outreach, acquisition insight, and partnership with Government entities and Industry.
For a complete listing of HDTV Supply products from us, or our other vendors, call 833-WOLFPACK (833-965-3722).
Catalog
HDTV Supply WolfPack Product Catalog (2020)