4K 180-Foot WolfPack AOC Fiber HDMI 2.0 Cable - HDCP 2.2




180-Foot AOC Fiber HDMI Cable

4K@60Hz 4:2:0 UHD Compatible

HDMI 1.4 & HDCP 2.2 Compliant

Powered by HDMI source port as it consumes only 0.25W

EMI and RFI Resistant

Active Optical Cable Technology (AOC)

Part # 4K60-AOC-180FT

Usually ships the same business day

Today's Price: $249.95
Features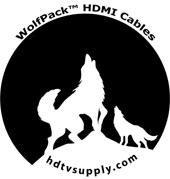 HDTV Supplys WolfPack 4K 98-Foot
AOC Fiber HDMI Cable
is a high performance, low power consumption and low cost HDMI cable. The WolfPack AOC Fiber HDMI Cable uses optical fiber to replace some of the copper wire as a high-speed signal transmission medium. This WolfPack AOC Fiber HDMI Cable can perfectly transmit a 4k@60HZ UHD image up to 30-meters or 98-feet. Compared with the traditional HDMI copper wire cables, these WolfPack AOC Fiber HDMI Cables go further, are smaller, have a better signal quality together with flawless perfect EMI/EMC immunity. Compared with other HDMI optical fiber transmission solutions our WolfPack AOC Fiber HDMI Cable is easy to use, has perfect HDCP 2.2 compatibility and doesn′t need an external power supply.
This 180-foot WolfPack AOC Fiber HDMI Cable is a little different with most other fiber optic cables. First, it′s slightly bigger than the optic cable. Second, the bend radius is 20mm. Third, the permissible tensile force is 100N for long-term and 200N for short-term. The WolfPack 98-FootAOC Fiber HDMI Cable is manufactured with both copper and fiber optic in the wire, so some call it hybrid fiber copper cable. We do this to keep the cost down and increase its performance. The AOC Fiber HDMI Cable draws a small amount of power from the HDMI source device so no external power source is required.
WolfPack 4K 180-Foot AOC Fiber HDMI Cable Features:
Fiber transmission for high speed clock and data channel which makes the received signal 100% the same as the transmitter even after a long distance.
The copper wire transmission for for the DDC signal and other side-band signals which can achieves perfect compatibility with all HDMI devices.
Video Resolution: 4K@60Hz 4:2:0 UHD, 4K @30Hz 4:4:4 8Bit, full HD and 3D Deep Color across all lengths.
High Data Transfer Rates: Up to 14Gbps.
Embedded Audio: PCM 8−channel, Dolby Digital True HD, DTS−HD Master Audio.
HDCP Support: HDCP2.2 with CEC and EDID pass-through.
No External Power Needed: HDMI +5V, consumes only 0.25W from the source and sink device.
Highly resistant of EMI and RFI interference
Dynamic synchronization of video and audio streams
ARC compatible
The WolfPack 4K 180-Foot AOC Fiber HDMI Cablecan support 4K60Hz UHD with a color space of 4:2:0 and a bandwidth of 10.2GBPS. This cable is HDMI 1.4 and supports HDCP 2.2, CEC and EDID.
Note that this does require a self-powered HDMI device on both ends. Both ends contain an optical transceiver that needs power. That said, even in power saving mode HDMI devices should power the AOC Fiber HDMI Cable. So you shouldn′t have issues with waking peripherals from sleep or similar.
Why not buy this AOC Fiber HDMI Cable today?
Ask a Question
Questions & Answers

Ask a question about the 4K 180-Foot WolfPack AOC Fiber HDMI 2.0 Cable - HDCP 2.2 or Call 833-WOLFPACK (833-965-3722)


4K 180-Foot WolfPack AOC Fiber HDMI 2.0 Cable - HDCP 2.2
Scroll Left & Right To See 20 Of Your Recently Viewed Items Below