4K 3X2 HDMI Matrix Switcher with HDMI & CAT5 Outputs





WolfPack 3X2 HDMI Matrix Switcher

Includes 1 - 1080p CAT5 out & 1 - 4K HDMI out

UHD 4K 30 Hz Compliant

1 - Coaxial audio output

5 Year Warranty

Free Lifetime U.S. Telephone Tech Support
Features
HDTV Supplys WolfPack™
3X2 HDMI Matrix Switcher
can send any of the 3-selected HDMI inputs to any of the 2-HDMI outputs. Because it is a matrix switcher, it allows any input to be routed to any output; or the same input to be routed to all outputs, or any combination. It can route HDMI signals from 3-video inputs and 2-video outputs and supports Dolby Digital-True HD and DTS-HD. It is compliant with High-bandwidth Digital Content Protection (HDCP), which uses DVI and HDMI 1.4 standards
This 3x2 HDMI matrix routes three Ultra HD sources to one 4K Ultra HD HDMI outputs and one UTP extender output. The UTP extension supports a 1080p@60Hz transmission up to 150 feet. Each source can be routed to any output, using the front-panel buttons or the IR Remote Control. With smart EDID management, make it compatible with most of the HDMI source and TVs.
WolfPack 3X2 HDMI Matrix Switcher Features:
3 - 4K HDMI inputs
1 - 4K HDMI outputs
1 - RJ45 CAT5 output
Color: Red
Compliant with HDCP 1.4
Max. resolution up to 3840*2160@30Hz
UTP extender supports resolution up to 1080p@60Hz
Each HDMI output can share same input or select standalone input
Supports PCM, Dolby AC3, DTS5.1, DTS7.1 and DSD audio format
Smart EDID management, make it compatible with most display devices
Matrix status could be memorized after power down, automatically restore previous matrix status after next power on
Easy control matrix via IR receiver, front keypad
S/PDIF audio output via coaxial
Supports DVI-D single link sources and displays with the use of HDMI-to-DVI adapters
Easy to Use: Install in seconds
HDCP compatible.
The 3X2 HDMI Matrix Switcher allows three HDTV HDMI devices to be switched easily into two HDMI compatible HDTV, monitors or projectors eliminating the inconvenience of disconnecting and reconnecting of different source with this all in one device.
Why not buy this 4K 3X2 HDMI Matrix Switcher today?
Specs
WolfPack 3X2 HDMI Matrix Switcher Specs:
Port selection: Front panel buttons and IR remote control
Smart EDID
Resolution: Up to 3840x2160@30Hz and 1080P@60Hz 3D
HDMI version: HDMI 1.4
HDCP version: HDCP 1.3
Data rate: 10.2 Gbps
Input: 3 - HDMI Type A , 24/26 AWG HDMI cable up to 10M (1080P@60Hz )
Output: 1*HDMI Type A , 24/26 AWG HDMI cable up to 20M (1080P@60Hz ) 1*RJ45 , CAT5E/6 UTP cable up to 50M (1080P@60Hz), 1*S/PDIF (Coaxial)
ESD protection: Human body model - 8KV +- (Air-gap discharge)
Material: Aluminum Alloy
Dimensions: 198 (L) x 82 (W) x 26 (H) mm
Weight: 255g
Power supply: DC 5V 1A
Operating/Storage temperature: 0 to 70 degrees / -40 to 85 degrees
Operating Humidity: 10 to 90% RH
WolfPack 3X2 HDMI Matrix Switcher Contents:
1 - 4K HDMI Matrix 3x2
1 - Learnable Remote Control
1 - HDMI Extender Receiver
1 - IR RX Cable
1 - IR TX Cable
2 - DC 5V Power Adapter
1 - User Manual
Why not buy this 3X2 HDMI Matrix Switcher today?
Compatibility
This 3X2 HDMI switcher works with the following devices:
Any high definition Dish Network and DirecTV receiver with HDMI outputs
High definition TiVo's with HDMI outputs
Any high definition cable receiver with HDMI outputs
Canadian Rogers, Shaw, Bell ExpressVu and Star Choice receivers with HDMI out, or DVI out with a converter
Any "Over The Air" (OTA) high definition receiver with HDMI outputs
Sony PS3, HD DVD and Blu-ray DVD players
Any Xbox360 with HDMI outputs
Any upconverting DVD player with HDMI outputs
Any DVHS VCR with HDMI outputs
Both APPLE-TV's with HDMI outputs
A Boxee with HDMI ouputs
A VuDu with HDMI outputs
A Roku with HDMI outputs
Many PC video cards with HDMI outputs
Any high definition camcorder with an optional type C to standard HDMI cable
Many A/V surround sound receivers with HDMI switching that include the proper chip set and output amp. Call your AV receiver supplier to discuss your application or us.
Any HDCP compliant HDTV, monitor and projector. If the source is HDCP compliant and your TV is not, you will not get a picture. Please check your TV manual or the manufacturers web site.
and other similar devices.
Similar
4-2 HDMI Matrix Switcher & Separate Optical & Stereo Outs

$199.95

4K WolfPack 4X2 HDMI Matrix Switcher & Audio Outputs - 5 Yr Warranty

Price: $299.95

Today's price:

$124.95

(You Save: 58%)
Warranty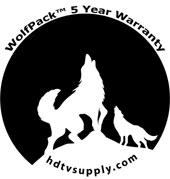 HDTV Supply
includes a 5 Year U.S. Limited Extended Warranty on this product. There are two bundled parts to this 5 year warranty. The 5 year warranty is only for the main device you purchased and does not include any product options or additional products you purchased at the same time.
FIRST YEAR:
The first year is direct with with HDTV Supply at 800-841-9238. The warranty states that the Product will perform substantially in accordance with the supplied written materials and Product information located on this Product web site page for a period of 1 year from the date of shipment of the Product and that the Product will be free from defects in materials & workmanship under normal use & service for a period of 1 year from date of shipment.
In order to get a warranty repair for a defective item within the first year call HDTV Supplys Tech Support Team with your order number at 800-841-9238 and they will verify the product is eligible for a warranty repair. An RMA number will then be issued via email. Shipped replacements will be in like new condition, tested and all components included. Please read
HDTV Supplys Warranty Terms and Conditions
for more.
2ND THROUGH 5TH YEAR:
The 2nd through 5th year are direct with
Consumer Priority Extended Warranty Service (CPS)
as they are HDTV Supplys extended warranty provider. They are a large 3rd party repair company with facilities throughout the U.S. and offer our U.S. customers unparalleled product coverage and repairs. If after calling HDTV Supply, at 800-841-9238, we find we can't fix the issue over the phone, and you need a repair, you will henceforth deal directly with CPS for the repairs via their toll free phone number (800) 905-0443 Option 3 during the 2nd through 5th year.
You can also
email CPS
and
email HDTV Supply
as well as call us a 800-841-9238 if you have any questions with this 5 year bundled warranty.
Why not buy this 8x8 HDMI Matrix Router today?
Ask a Question
Questions & Answers

Ask a question about the 4K 3X2 HDMI Matrix Switcher with HDMI & CAT5 Outputs or Call 800-841-9238


FAQ
HDTV Supply created our unique line of
WolfPack line of products
which are born from a hungry, circling pack of high performance video and audio HDMI that surround our competition to devour them. The WolfPack family is sleek, unique & swift & even the smallest configuration wolf can adapt himself to many hostile environments.
The Wolfpack family can roam long distances even some up to 300 feet over HDBaseT trails and howl 4K whereas those who try to trap the WolfPack fails & runs away to the older devices.
You can only get this one-of-a-kind WolfPack product from HDTV Supply.
Reasons To Buy an HDTV Supply WolfPack Product:
All WolfPack products have FREE HDTV Supply U.S. based Live Telephone Lifetime Tech support
HDTV Supply has a dedicated TEXT support line at 805-409-0208 to support you
HDTV Supply has a dedicated Product Manager for WolfPack products to assist with any special needs
If there is a WolfPack firmware update for your product you will find it at our site
Many times we will list lower refurbished WolfPack products at our site
All WolfPack products are usualy in stock and ship the same week day if the order comes in by 12PM PST
You can buy WolfPack products from us with most any credit card, your Amazon account and PayPal
HDTV Supply has many videos to show the features of WolfPack products
You will find all WolfPack User Manuals and other manuals at our site
From time-to-time HDTV Supply runs Factory Authorized sales on WolfPack products
All WolfPack products bought from HDTV Supply are brand new and in unopened boxes.
All WolfPack products bought from HDTV Supply are shipped in double carton boxing.
All WolfPack products bought from HDTV Supply have full value shipping insurance
All WolfPack products bought from HDTV Supply have a 30-day No-Hassle returns
All WolfPack products bought from HDTV Supply can be shipped blind to your customer
HDTV Supply has shipped >1,000 WolfPack products throughout the world
HDTV Supply ships all WolfPack products from here in the U.S.
HDTV Supply stocks extra WolfPack accessories in case you misplace your remote or other unit
HDTV pride ourselves on confidentiality and any personal information that you may share with us is kept absolutely private.
Why not buy one of HDTV Supplys WolfPack products today?
4K 3X2 HDMI Matrix Switcher with HDMI & CAT5 Outputs
Recently Viewed Items