WolfPack 1x8 SDI Distribution Amp with OFF/ON Switch - 5 Year Warranty




WolfPack 1x8 SDI Distribution Amp

Designed with an OFF/ON switch

Built-in Cable Equalizer, Re-clocker & Cable Driver

Excellent SDI signal jitter suppression

5 Year Warranty and Lifetime U.S. Telephone Tech Support

Part # HDTVPET018SD-5

Usually ships the same business day

Today's Price: $124.95
Features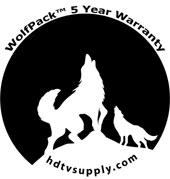 HDTV Supplys WolfPack
1x8 SDI Distribution Amp
with an OFF/ON Switch sends a single SDI video signal data to up to 8 - SDI TVs at the same time. This 1x8 SDI Distribution Amp is specially designed with an equalizer IC on its input and drive ICs on all of its outputs able to support long coaxial cable up to 600 feet without any signal loss in the splitting process.
The WolfPack 1x8 SDI Distribution Amp supports almost all video formats and is SMPTE compliant. The 1x8 SDI Distribution Amp can also achieve up to 1080p @ 60Hz for Full HD output performance. The 1x8 SDI Distribution Amp only supports video and does not support audio. 1x8 SDI Distribution Amp will not introduce any delay to the video signal and therefore perfect for professional broadcast applications.
WolfPack 1x8 SDI Distribution Amp Features
SDI inputs: One (1)
SDI outputs: Eight (8)
Features equalizer circuitry on the inputs and outputs, allowing it to support long cable runs
Support for multiple standard and high definition video resolutions:

SD 525i and 625i
HD 720p @ 24, 25, 30, 50, and 60 Hz
HD 1080i @ 50, 60 Hz
HD 1080p @ 24, 25, and Hz
3G 1080p @ 50, 60 Hz

Support for multiple color spaces:

RGB or YCbCr 4:4:4 sampled
YCbCr 4:2:2 sampled

Supports data rates: 270Mbps~2.97Gbps
Supports 8-bit, 10-bit, and 12-bit Deep Color
Compatible with the HDcctv 1.0, HD-SDI (ST 292), 3G-SDI (ST 424), and SD-SDI (ST 259) standards
Supports SD-SDI (270Mbps), HD-SDI (1.485Gbps) & 3G-SDI (2.97Gbps)
Full HD video format
Built-in Cable Equalizer, Re-clocker & Cable Driver
Max. cable length using Belden 1694A:

SD-SDI (480i): up to 656 ft or 200M
HD-SDI (720p @ 60Hz): up to 400 ft or 120M
3G-SDI (1080p @ 60Hz: up to 262 ft or 80M

Excellent SDI signal jitter suppression
You pay a lot more from Brand AJ... and Brand BL.. when you can get the professional 1x8 SDI Distribution Amp for <$150 with its outstanding specs.
Why not buy this 1x8 SDI Distribution Amp with OFF/ON Switch today?
Specs
WolfPack 1x8 SDI Distribution Amp Specs:
Input Interface: 1x BNC SDI, HD-SDI, 3G-SDI
Input Signal Type: SD-SDI (270Mbps), HD-SDI (1.485Gbps), 3G-SDI
Supported Input Format: SD-SDI: 480i and 576i HD-SDI: 720p24/25/30/50/59.94/60 all frame rate; 1080i all frame rate 1035i all frame
Video Standards: SMPTE 424M, SMPTE 292M and SMPTE 259M
SDI Signal Range: 0.8V
SDI Impedance: 75 ohms
SDI Coupling Type: AC
SDI Output Interface: 8 - BNC SD-SDI, HD-SDI, 3G-SDI
Re-clocking Auto Support: 270Mbps/1.485Gbps/2.97Gbps
Why not buy this 1x8 SDI Distribution Amp today?
Similar
1x8 SDI Splitter - Broadcast Quality
Price: $1,500.00


Today's price:

$99.95

(You Save: 93%)
Warranty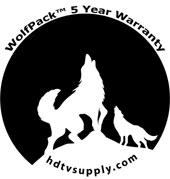 HDTV Supply
includes a 5 Year U.S. Limited Warranty on this product. There are two bundled parts to this 5 year warranty. The 5 year warranty is only for the main device you purchased and does not include any product options or additional products you purchased at the same time.
FIRST YEAR:
The first year is direct with HDTV Supply at 800-841-9238. The warranty states that the Product will perform substantially in accordance with the supplied written materials and Product information located on this Product web site page for a period of 1 year from the date of shipment of the Product and that the Product will be free from defects in materials & workmanship under normal use & service for a period of 1 year from date of shipment.
In order to get a warranty replacement for a defective item within the first year call HDTV Supplys Tech Support Team with your order number at 800-841-9238 and they will verify the product is eligible for a warranty repair. An RMA number will then be issued via email. Shipped replacements will be in like new condition, tested and all components included. Please read
HDTV Supplys Warranty Terms and Conditions
for more.
2ND THROUGH 5TH YEAR:
The 2nd through 5th year are direct with
Consumer Priority Extended Warranty Service (CPS)
as they are HDTV Supplys extended warranty provider. They are a large 3rd party repair company with facilities throughout the U.S. and offer our U.S. customers unparalleled product coverage and repairs. If after calling HDTV Supply, at 800-841-9238, we find we can't fix the issue over the phone, and you need a repair, you will henceforth deal directly with CPS for the repairs via their toll free phone number (800) 905-0443 Option 3 during the 2nd through 5th year.
You can also
email CPS
and
email HDTV Supply
as well as call us a 800-841-9238 if you have any questions with this 5 year bundled warranty.
Ask a Question
Questions & Answers

Ask a question about the WolfPack 1x8 SDI Distribution Amp with OFF/ON Switch - 5 Year Warranty or Call 833-WOLFPACK (833-965-3722)


WolfPack 1x8 SDI Distribution Amp with OFF/ON Switch - 5 Year Warranty
Scroll Left & Right To See 20 Of Your Recently Viewed Items Below