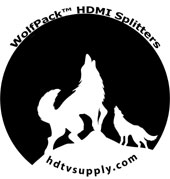 HDTV Supplys WolfPack
1x4 HDMI 2.0 Splitter
with Built-in Booster uses a single HDMI source and send it to 4-widescreens showing the same picture on all 4-TVs. The 1x4 HDMI 2.0 Splitter with Built-in Booster allows one HDMI device to be split easily to four HDMI compatible monitors or projectors. The resolution of this hdmi splitter can be up to 3840x2160 @ 60Hz.
The WolfPack 1x4 HDMI Splitter audio chip-set includes chips to makes sure the sound and the picture are in sync and no delays occur between them using the video and the optical or stereo outputs. The multiple EDID settings solves issues with mismatched resolution TVs & older TVs. Embedded audio extractors extract the HDMI audio and output via L/R and optical audio.
Our WolfPack 1x4 HDMI 2.0 Splitter can also be placed at the end of a long 4K HDMI cable or one of our 4K HDMI extenders to regenerate the HDMI signal based upon the below specs:
1080p: Input up to 30 feet with our AWG24 HDMI cables & 40 feet output with our AWG22 HDMI cables
4K - 3840x2160/60Hz: 4K input up to 25 feet with our 4K AWG24 HDMI cable and 4K output to 25 feet with our 4K AWG24 HDMI cable
WolfPack 1x4 HDMI 2.0 Splitter Features:
Supports HDTV resolutions up to 4K2K including 38402160@24/25/30Hz, 38402160@50/60Hz (YUV420), 40962160@24/25/30Hz, 40962160@50/60Hz (YUV420)
Supports HDMI 2.0 ,HDCP2.2
Supports 3D video format
Supports CEC(only HDMI Output 1
Supports high resolution up to 3840X2160/60Hz
Supports highest rate of 6G and ™DS clock can be up to 600 MHz
Supports 8/10/12 bit deep color
Includes a 5V/1.5A power adapter
Our 1x4 HDMI 2.0 Splitter supports the latest 4K TVs, the NVidia Shield and the latest graphics cards with HDMI 2.0. To enjoy 4K 60Hz video be sure to use the TV′s HDMI port labeled with HDMI 2.0. HDMI 1.4 ports only support 4K at 30Hz.
Why not buy this WolfPack 1x4 HDMI 2.0 Splitter today?
To ensure 3D or 4K content is routed via the splitter, High Speed 4K HDMI cables must be used and any connected non-3D or non-4K compatible display must not have an "active" HDMI output (i.e. powered off or in standby mode). The 4K or 3D source player must not be able to "see" a 2D or non-4K only display connected to the Matrix.
Read more about EDID at WHAT I NEED TO KNOW ABOUT EDID
Q: Will this WolfPack 4K 1x4 HDMI 2.0 Splitter with only one display turned ON?
A:
Yes, the two outputs are independent and the 1-2 HDMI Splitter works even when only one display is turned ON. Many HDMI splitters have synchronized outputs which require all displays to be turned ON at the same time for those splitters to work.
The WolfPack 4K 1x4 HDMI 2.0 Splitter will mix the EDID data of all connected sink devices like a widescreen and send this mixed EDID to the HDMI source device. EDID mixing allows all all the connected sink device to have video and audio they can display or output.
Example: One TV is 1080p and stereo, another is 1080i and 5.1 audio. The mixed EDID will be 1080i and stereo audio.