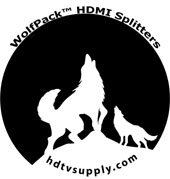 HDTV Supplys WolfPack
1x2 HDMI Splitter Scaler
is designed to downscale a 4K2K at 30 Hz signal to 1080p@60/50Hz or upscale a lower resolution HDMI signal to 1080p@60/50Hz. The 1x2 HDMI Splitter Scaler features a single HDMI input and two simultaneous HDMI outputs, a "Bypass" output and a "Scaling" output.
The Bypass output will always bypass the original signal, while the Scaling output will always downscale or upscale the original signal to 1080p. The HDMI 4K2K Splitter Scaler is an ideal solution for integrating a 4K2K source into a 1080p HD system.
NOTE 1:
Other splitter/scalers upscale to 4K2K and downscale to 1080p@24/25/30Hz and we support up scaling or down scaling to 1080p@24/25/30 and
50 and 60Hz
.
NOTE 2:
This 4K at 30 Hz 1x2 HDMI Splitter Scaler supports HDCP 1.4 and if your devices are HDCP 2.2 you will need to convert them with our
WolfPack HDCP 2.2 to HDCP 1.4 Converter
. See more in the above Q/A Tab.
WolfPack 1x2 HDMI Splitter Scaler Features:
Supports HDMI signal down scaling from 4K2K to 1080p or upscaling from HDMI lower resolutions to 1080p
Supports HD resolutions of 1080p@60/50Hz
Supports 4K2K resolutions of 40962160p@24Hz and 38402160p@24/25/30Hz
Supports audio extraction for both SPDIF and L/R outputs.
Supports 16-modes of EDID management
Simultaneous HDMI output
HDMI 1.4 compliant
HDCP 1.4 compliant
1 Year Warranty & Free Lifetime U.S. Telephone Tech Support
Another unique feature of this 1x2 HDMI Splitter Scaler is that it has a 4-position EDID DIP switch that has 16-user adjustable modes to override the EDID from the displays so it will work with both output TVs if a problem comes up with long cables. This 1x2 HDMI Splitter Scaler allows you to select the EDID to prevent HDCP or EDID issues.
Why not buy this WolfPack 1x2 HDMI Splitter Scaler today?