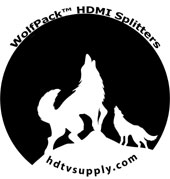 HDTV Supplys WolfPack 1X2 HDMI Splitter over CAT5 can display a single source on up to 2 displays using a Single CAT5 cable for each display. 2-HDMI receivers are bundled so you do not have to buy any.
This 1X2 HDMI Splitter over CAT5 is an HDMI splitter with 2-RJ45 outputs. It distributes the input of the HDMI signal into the two identical outputs simultaneously. Two HDMI Extender Receivers via a CAT5 cable receive the distributed signal from the splitter and transmit to displays individually. Each receiver works with the splitter as a full functional module. Only by the most inexpensive CAT5e cable the full functional module extend the HDTV display up to 125 feet for 1080p.
1X2 HDMI Splitter over CAT5 Features:
Allows 1 HDMI Source to be Connected to 2-HDMI Displays Devices over a single Cat5e/Cat6 Cables
Transmission Range: Extends 1080p resolutions up to 125 ft over Cat5e/6 Cables
High Speed Chip Set that Supports to 1080p at 60 Hz
HDCP Compliant
Supports Digital Audio Format, DTS-HD/Dolby-True HD/LPCM7.1/AC3/DTS/DSD
Tested for Compatibility with all leading HD Video brands
Tested with Dolby 7.1 Home Theater Systems
HDMI V1.3 & HDCP 1.2 protocol compliant.
Support HDMI digital audio format: LPCM/Dolby-AC3/DTS7.1/DSD/Dolby true HD/DTS-HD master Audio.
Built-in Amplifier and Equalizer enables the 1x2 splitter to support long HDMI cable lengths
Perfect compatibility with any HDMI application.
Great working stability.
Power supplies included
The 1X2 HDMI Splitter over CAT5 set has 2 x RJ45 (Cat6) connectors, one for each display and 1-HDMI output to be used for local monitoring or a loop-out for cascading multiple splitters. The 1X2 HDMI Splitter over CAT5 Set is capable of HDTV resolutions up to 1080p @ >100 feet. this HDMI Splitter over CAT5 Set today?
1x4 HDMI splitter over CAT5/6 Specs:
Support resolution: 1080p/1080i/720p/576p/480p/576i/480i
Support audio format : LPCM, Dolby-AC3, DTS7.1, DSD/Dolby TrueHD/DTS-HD master Audio
Support signal of hdmi1.3 with hdcp1.0/1.2 input
Support deep color up to 36bit
Support input video signal: 0.5 volts p-p
Support DDC input volts:5Vp-p
Support signal of hdmi1.3 output
Wide Frequency Range: 25MHz-225MHz
Output Video: HDMI 1.3 and HDCP 1.0/1.2/1.3
This HDMI Splitter over CAT5/6 will work with the below with the appropriate outputs:
Any high definition Dish Network and DirecTV receiver
High definition TiVo's
Any high definition cable receiver
Canadian Rogers, Shaw, Bell ExpressVu and Star Choice receivers
Any "Over The Air" (OTA) high definition receiver
Sony PS3, HD DVD and Blu-ray DVD players
Any Xbox360
Any upconverting DVD player
Any standard VCR or DVHS VCR
An Roku
A Vudu
An APPLE TV
Many PC video cards
Any high definition camcorder
Many A/V surround sound receivers with HDMI switching that include the proper chip set. Call your AV receiver supplier to discuss your application or us.
Any HDCP compliant HDTV, monitor and projector
and other similar devices.