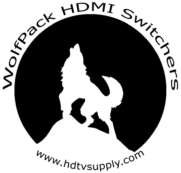 HDTV Supplys WolfPack
16x32 HDMI Matrix HDBaseT Switcher
is a preconfigured integrated HDMI video and HDMI audio modular HDMI matrix router. The 36x36 chassis′s back plane allows HDMI technologies to be converted and switched eliminating external converters and it allows any input to be routed to any output, or the same input to be routed to all outputs. The 16x32 HDMI Matrix HDBaseT Router is 4K at 30 Hz compliant.
The core of the WolfPack 16x32 HDBaseT HDMI Video Matrix Switcher consist of an 36x36 Modular Matrix chassis and its highly configurable WolfPack backplane that supports 36 input cards and 36 output cards. You can control the 16x32 HDMI Matrix HDBaseT Router via front Touch Screen, WEB GUI control, the RS-232 serial port & the supplied iOS/Android App. The matrix does not have IR nor a remote control.
NOTE: You will need to buy a quantity of the above of HDBaseT receivers that supports the number of the TVs you have as we made them optional so you can pick the quantity you need and not have to pay for 32 when you need only, say, 25. See the below configuration example...
WolfPack 4K 16x32 HDBaseT HDMI Video Matrix Switcher with 16-HDBaseT Receivers Configuration:
1 - 36-card in and 36 card out 4K card cage
16 - 1-port 4K HDMI input cards = 16-HDMI inputs
32 - 1-port 4K HDMI HDBaseT output cards = 32-RJ45 outputs
As Req′d - Unbundled HDMI HDBaseT receivers - Pick the quantity you need above
20 - Spare input slots for adding 20-more inputs
4 - Spare output slots for adding 4-more outputs
By having 1-port slide in cards the matrix is very reliable as in the unlikely even there is a loss of signal you just replace the card with a spare you have purchased or order another from us. The complete matrix doesn′t have to be sent to us for a repair.
Free Android and iOS App: The IOS App for this WolfPack card cage matrix is in the Apple Application Store and when you SEARCH the key words "MCS" or "Matrix Control System" you can download and install it to your iPad or iPhone. Also from your iPad or iPhone click the following link...MCS-matrix control system to install it directly.
For the Android App click the following link and download it. Go to Android App for control of this HDMI matrix switch.
The WolfPack 16x32 HDMI Matrix HDBaseT Router manages HDMI input signals for the inputs and HDBaseT CATx cabling for the output. This 16x32 HDMI Matrix HDBaseT Router support long haul transmission, maintains power reliability in the event of failure and offer the best flexible solutions for an AV system deployment. Our 16x32 HDMI Matrix HDBaseT Router also can support high-resolution HDMI sources routed to HDMI displays, monitors, projectors, or audio receivers, etc. The EDID can be selected between seven different modes or copied from the attached displays.
4K 16x32 HDBaseT HDMI Video Matrix Switcher Features:
Chassis size: 36 input and 36 outputs cards
Input Cards Supported:

16 - 4K female HDMI single port cards = 16 - HDMI inputs

Output Cards:

32 - HDBaseT HDMI single port cards = 132 - RJ45 outputs
Up to HDBaseT Receivers to support 220 feet at 1080p or 115 feet with CAT5e/6/7 at 4K/30

Input HDMI cable distance: Up to ~12 feet with an AWG22 HDMI 1.4 high speed cable
Flexible card type design supporting 36 input cards and 36 output cards
Hot Swappable with easy plug n play
RS232 serial control port, using serial commands
TCP/IP control via Ethernet
Global presets to save and recall the function
Advanced EDID management for rapid integration of sources and displays
Front-panel push buttons for local switching
IP controlled via built-in web server and LAN
RS-232 Serial interface for remote control
Supports seamless switching, no black/ blue/ split screen while switching
Supports resolution exchanges with several resolutions can be chosen and used
Uses a dual control system
Control via Web / RS232 and Front Buttons control (no remote control)
Rack-mountable
The heart of the 16x32 HDMI Matrix HDBaseT Router is the WolfPack chassis backplane which allows customization of the configuration for input and output cards to match every need of the system and application. The matrix support hot-plugs and you can change the cards while the equipment are still working.
EDID Explained: The 16x32 HDMI Matrix HDBaseT Routers EDID provides for optimal source-to-screen performance. EDID will optimize the video card output for the capabilities of the end display. The EDID ghost unit enables the copying, emulating, cloning, and "learning" of EDID data from a display. Our EDID Emulator and repeater comes with predefined presets, user programmable banks, Sink EDID sniffing bank and more. Our EDID Emulator ensures proper operation, for the best performing HDMI audio and video signal between any source and display Resolves loss of video, intermittent (flashing) video, snow, or color-space (purple or red) issues.
Why not buy buy this 16x32 HDMI Video Matrix Switcher today?
NOTE:
HDTV Supplys implementation of the HDBaseT technology and this product adds virtually zero latency to the signal, less than 7 microseconds over 220 feet of CATx cable. At 100 feet you are talking about 3 microseconds. This means for example, in a church or auditorium, the speakers lips are in synch with the image on all the TVs and projectors.
16x32 HDMI Matrix HDBaseT Router Specs:
Chassis Input: 16 - HDMI Input Cards
Chassis Output: 32 - HDMI Output Cards
Input/ output impedance: 75 ohms
Gain: 0 dB
Maximum delay: 5nS (+/- 1nS)
Maximum pixel clock: 165 MHz
Control: RS-232, 9-pin female D connector
Pin Configurations: 2 = TX, 3 = RX, 5 = GND
Modular Configuration: Up to 40 inputs & 40 outputs
Input cable distance: ~25 feet AWG22 HDMI 1.4 high speed cable
Supported Input & Outputs Signals:

HDMI and Display Port: up to 4K at 30 Hz
CATx: HDBaseT technology, 70/100m Extension (work with extenders)

Control: TCP/IP, RS232 and front buttons
Power Consumption 50W 70W
Operating Temperature -10℃ to 50℃
Storage Temperature -25℃ to 55℃
The 40x40 is 16U high
Why not buy buy this 16x32 HDMI Video Matrix Switcher today?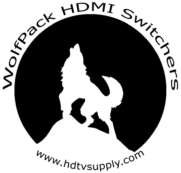 HDTV Supply created our unique line of
WolfPack line of products
which are born from a hungry, circling pack of high performance video and audio HDMI that surround our competition to devour them. The WolfPack family is sleek, unique & swift & even the smallest configuration wolf can adapt himself to many hostile environments.
The Wolfpack family can roam long distances even some up to 300 feet over HDBaseT trails and howl 4K whereas those who try to trap the WolfPack fails & runs away to the older devices.
You can only get this one-of-a-kind WolfPack product from HDTV Supply.


Reasons To Buy an HDTV Supply WolfPack Product:
All WolfPack products have FREE HDTV Supply U.S. based Live Telephone Lifetime Tech support
HDTV Supply has a dedicated TEXT support line at 805-409-0208 to support you
HDTV Supply has a dedicated Product Manager for WolfPack products to assist with any special needs
If there is a WolfPack firmware update for your product you will find it at our site
Many times we will list lower refurbished WolfPack products at our site
All WolfPack products are usually in stock and ship the same week day if the order comes in by 12PM PST
You can buy WolfPack products from us with most any credit card, your Amazon account and PayPal
HDTV Supply has many videos to show the features of WolfPack products
You will find all WolfPack User Manuals and other manuals at our site
From time-to-time HDTV Supply runs Factory Authorized sales on WolfPack products
All WolfPack products bought from HDTV Supply are brand new and in unopened boxes.
All WolfPack products bought from HDTV Supply are shipped in double carton boxing.
All WolfPack products bought from HDTV Supply have full value shipping insurance
All WolfPack products bought from HDTV Supply have a 30-day No-Hassle returns
All WolfPack products bought from HDTV Supply can be shipped blind to your customer
HDTV Supply has shipped >1,000 WolfPack products throughout the world
HDTV Supply ships all WolfPack products from here in the U.S.
HDTV Supply stocks extra WolfPack accessories in case you misplace your remote or other unit
HDTV pride ourselves on confidentiality and any personal information that you may share with us is kept absolutely private.
Why not buy buy this 16x32 HDMI Video Matrix Switcher today?
Q: How is HDBaseT technology different than others?
A:
Unlike other HD distribution technologies, HDBaseT is the only technology which enables CAT5/6/7 connectivity from 70 meters to 100 meters, depending upon the specific product, for uncompressed full HD multimedia content and up to 100 watts of charging power via a single cable. HDBaseT is optimized for video applications and can connect all HDBaseT enabled home entertainment devices. Also, HDBaseT technology has the capacity to deliver double the resolution available today to future 2K and 4K formats. Other existing solutions also require a specific cable and/or a new proprietary connector while HDBaseT utilizes the existing Ethernet infrastructure.
HDMI HDbaseT Extender Helpful Tips & Recommendations:
Keep cables away from any equipment with an electromagnetic wave, e.g., mobile phone, microwave, radio equipment, fluorescent lamp, high voltage power lines, etc.
CAT5/6 cables should not exceed 220 feet or (70m).
Please adhere to the TIA/EIA568B standards when terminating network cables in the field.
Shielded CAT5/6 with metal RJ-45 connectors are recommended to safeguard against random video flashes caused by electromagnetic interference (EMI).
Q: What is the HDMI and HDCP compliantcy of the matrix?
A:
It supports HDMI 1.4 and HDCP 1.4 which works with all HDMI products.
Q: What resolutions does it support?
A: It supports high-definition resolutions of 480i, 480p, 720p, 1080i, 1080p and 4K at 30 Hz.
Q: Does the matrix have a WEB GUI controlled from a browser?
A: No, it can easily controlled via Front panel buttons on both 16x16 HDMI matrix switchers.
Q: Does the matrix have an OFF/ON switch?
A: No, it should remain ON to store the EDID and HDCP information. If you need to turn it off you will need to pull the AC plug or buy a remote control automated ON/OFF AC receptacle
Q: Does this HDMI Matrix Switch have a remote control?
A: No.
Q: I see the the HDMI extenders come with 2-remote IR cables, will the remote IR work with this matrix?
A: No, the cables are used when the application has one source and one widescreen. They can't be used with this matrix and need to be set aside and not used.
Q: Can I use unpowered HDMI over CAT5/6 extenders with this matrix?
A: We don't recommend them with our matrices, or anyone elses, due to them consuming power from the matrix and the matrices are not designed to power many external devices.
Consider the example of 9 - HDMI balun transmitters that need 0.5a amp each to power it times 9 or 4.5 amps the matrix would have to supply. The power supply of this matrix is rated at 12v at 3.5 amp so in that example the matrix would probably break down and your warranty may be voided. See the companion powered HDMI extenders in the above OPTIONS that have 2-AC adapters.
HDMI cables with built-in boosters also consume power also and we don't recommend more than 2, if at all. You must use our low power ones, also.
Q: Do the HDMI receivers support Remote IR?
A: No, they send perfect audio and video but do not have remote IR.
Why not buy this on a WolfPack™ 16x32 HDMI Matrix Switch over CAT5 today?
HDTV Supply's WolfPack Family of Matrix Switchers can be created however you wish. Just SCROLL DOWN and fill out the below and press SUBMIT and we will send you a quotation based upon your needs within an hour.
If it doesn't meet your needs just call us right now at 833-WOLFPACK or 833-965-3722 or email us at support@hdtvsupply.com
HDTV Supply includes a
2 Year WolfPackCare™ Advance Replace
Limited Warranty on this matrix system. The warranty states that the Modular HDMI Matrix Router will perform substantially in accordance with the accompanying written materials for a period of 2 years from the date of the receipt of the order & that the Modular Matrix Router will be free from defects in materials & workmanship under normal use.
Slide-in Boards & HDBaseT Extenders: If a board or extender goes bad in the first 2-years and HDTV Supplys Tech Support team verifys the problem after a telephone call, HDTV Supply will send a new or like-new unit usually within 24-hours by USPS Air Priority at HDTV Supplys expense. We will ask for a credit card for payment in case the bad devcie is not sent back to us within 5-business days. You will need to provide us the tracking number as we will to you and you will need to pay for the devices return.
Chassis or Power Supply: If the chassis or power supply goes bad and HDTV Supplys tech support team verifys it HDTV Supply will send a new or like-new chassis usually within 24-hours by UPS ground at HDTV Supplys expense. We will ask for a credit card for payment in case the bad chassis is not sent back to us within 5-business days. You will need to provide us the tracking number as we will to you and you will need to pay for the chassis return.
In order to get a warranty replacement for a defective item HDTV Supplys Support Team will verify the product is eligible for a warranty. An RMA number will then be issued. Shipped replacements will be in like new conditions, tested and all components included.
HDTV Supply also sells a 3 or 5 Year warranty for this product. Please call us for a quote.
Why not buy this Modular HDMI Matrix Router today?