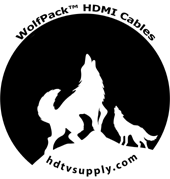 This WolfPack 1.5 Foot HDMI 2.0b Cable Features:
Huge 24 AWG (gauge) internal pure copper wires
Signal bandwidth: 18 Gbps
Nominal impedance: 100Ω
Nominal capacitance: 115.9pF/m
Insulation resistance: 10MΩ
Nominal attenuation: 300KHz-825MHz at 8dB, 825MHz-2.475GHz at 21dB, 2.475GHz-4.125GHz at 30dB
HDMI (3D, Deep Color, x.v.Color, Dolby True HD, and DTS-HD Master Audio), Full 1080p resolution
4K@50/60, (2160p), which is 4 times the clarity of 1080p/60 video resolution
3D video, Deep Color and x.v. Color
Dolby True HD, DTS-HD Master Audio, Atmos and up to 32 audio channels for a multi-dimensional immersive audio experience
Up to 1536kHz audio sample frequency for the highest audio fidelity
High bandwidth for high speed data transfer
HDMI-CEC system control compatibility
HDMI Ethernet Channel (when used with HDMI Ethernet channel supported source and sync equipment)
ATC Certified
Temperature rating - 80˚C
Operating temperature - -20˚C - 80˚C
Storage temperature - -20˚C - 80˚C
Packaging - Polybag
Conductor 1 (5 pair):

Conductor Type - 24AWG (7/0.127), Copper
Insulation - Foamed PE SKIN, Red/White, Brown/White, Blue/White, Green/White, Black/White
O.D. - 1.05mm
Drain Wire - 24AWG (7/0.127), Copper
Shield - Aluminum Foil, 125% Coverage

Conductor 2 (4 conductors):

Conductor Type - 24AWG (7/0.127), Tinned Copper
Insulation - HDPE, Yellow, Red, Green, Purple, O.D. - 0.7

Overall Cable:

Foil Shield - Aluminum Foil, 125% Coverage
Braided Shield - 16/10/0.12, CCAM
Jacket - PVC, black and white braided, O.D. - 7.3 0.2mm

Connectors (2)

Connector Type - HDMI - Type A
Plating - 1c– Gold
Dimensions (HxWxL) - 13.0 x 21.0 x 39.0mm
Why not buy this WolfPack 1.5 Foot HDMI Cable today?
DirecTV Controller
WolfPack 1.5 Foot HDMI 2.0b Cable Works With These New Devices:
Samsung UHD DVD Player
Roku 4 media player
4K DirecTV Genie receivers
4K Sony FMP-X10 UHD players
4K NVidia Shield UHD Netflix devices
4K Amazon Fire Players
4K Surround Sound AV Receivers
and more 4K HD HDCP 2.2 devices
This HDMI cable also can be used with:
Any high definition Dish Network and DirecTV receiver with HDMI outputs
High definition TiVo's with HDMI outputs
Any high definition cable receiver with HDMI outputs
Canadian Rogers, Shaw, Bell ExpressVu and Star Choice receivers with HDMI out, or DVI out with a converter
Any "Over The Air" (OTA) high definition receiver with HDMI outputs
Sony PS3, HD DVD and Blu-ray DVD players
Any Xbox360 with HDMI outputs
Any upconverting DVD player with HDMI outputs
Any DVHS VCR with HDMI outputs
An APPLE TV with HDMI outputs
An Roku with HDMI outputs
An VuduTV with HDMI outputs
Many PC video cards with HDMI outputs
Any high definition camcorder with an optional type C to standard HDMI cable
Many A/V surround sound receivers with HDMI switching that include the proper chip set. Call your AV receiver supplier to discuss your application or us.
Any HDCP compliant HDTV, monitor and projector. If the source is HDCP compliant and your TV is not, you will not get a picture. Please check your TV manual or the manufacturers web site.
and other similar devices.
Why not buy this 1.5 Foot HDMI cable today?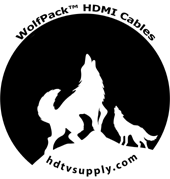 Q: Do you need new HDMI cables for HDR?
A:
Upgrading to a new HDR TV? Think you might need new HDMI cables for it to work? You may. Here's the deal. The latest TV technology is high dynamic range, or HDR. If you want to take advantage of this latest and greatest, you need an HDR TV (of course), an HDR-capable source (either a streaming app on your TV or a media streamer/UHD BD player) and HDR video to watch. But do you need new HDMI cables? Surely those many-years-old, dust-covered, ultracheap cables you bought at Dollar World can't handle this new TV technology?
What you DO need is HDMI 2.0 and in every step in your AV chain (the expensive devices into which you plug the cables) generally must be HDMI 2.0a for HDR to work. As in, your TV, receiver and source all have to be HDMI 2.0a, and usually require HDCP 2.2 copy protection too. If your TV is HDR, it almost certainly has at least one HDMI input with 2.0a/2.2. If your receiver/sound bar is a few years old, it almost certainly does not.
If you're not getting 4K HDR, check all your settings. That's the most likely culprit. That said, it's possible for the cable to work fine with 1080p, and not give you a signal with 4K (giving you a black or flickering screen). It's possible for you to set 4K on all your gear, have it try to work and then default back to 1080p. If you've double-checked all your settings and it's still not working, or you get an image but it cuts out, then you might need a new cable. You don't, however, need to spend huge amounts of money as just get this HDR-Ready 24-gauge HDMI 2.0b and HDCP 2.2 HDMI cable here at HDTV Supply.

HDTV Supplys HDMI 2.0b Cable is designed and built to the higher standards for your home theater or business use. To demonstrate that HDTV Supply products offers world-class quality HDTV Supply offers the original purchaser a full lifetime hardware warranty on this HDTV Supply product. This means that as long as a customer owns this product and can show original proof of purchase, HDTV Supply, or its supplier, will replace it if it malfunctions. A 30-day RETURN also comes with this warranty as well as Free Lifetime Tech Support.
In order to get a warranty replacement for a defective item, HDTV Supplys Support Team will verify the product is eligible for warranty. An RMA number will then be issued. Shipped replacements will be in like new conditions, tested and all components included.
Why not buy this WolfPack™ HDMI 2.0b Cable today?