8x8 Component HDTV Video (w/o audio) Video Matrix Routing Switcher






8x8 Component HDTV Video (w/o audio) Video Matrix Routing Switcher

Free Shipping & 3 Year Shinybow Warranty Upgraded to 5 Years

Lifetime USA Telephone Tech Support
8x8 Component HDTV Video (w/o audio) Video Matrix Routing Switcher
The SB-8802LCM: 8x8 Component HDTV Video (without audio) Video Matrix Routing Switcher is compatible with component video signals which are without audio (YPbPr or RGB). Supporting HD resolutions like 480p, 720p and 1080i/p, it comes with eight individual inputs and eight individual outputs of component video. Since, it happens to be a matrix router, therefore, it can route any input to any output, or one single input can be routed with multiple outputs, and other combinations as well as completely eliminating the need of moving along with the output and input cables. The device is very useful for the matrix signals coming from source component-video YPbPr/RGB devices like Blu-Ray, Gaming stations, Camcorders, VCRs, Satellite Receivers, DVDs, CAT5 Set Top Boxes, etc. to component video destination devices YpbPr/RGB like LCD TVs, Plasma displays, HDTV, Projectors, etc. The input selection is done through the push buttons provided on the front panel with either RS-232 control or Infrared Remote-control by the computer. It also comes with GUI switching programs based on Windows. For the storage of preset matrices, eight memory locations are provided in this switcher.
8x8 Component HDTV Video (w/o audio) Video Matrix Routing Switcher Features
Switcher for Component HDTV Video, between multiple displays and sources
Resolution-support: 408p, 576i/p, 720p, 1080i/1080p
IR extender remote port extends IR to 1,000 feet
Supports all Component Video devices like HDTV and Plasma TV display
RS-232 serial interface uses easy ASCII commands
RS-232 Driver, supports Windows (all OS)
Controls for User interface:
Windows-based Desktop control software, RS-232 port for NB control
Front Panel buttons for manual control
Infra Red remote-control
Includes Desktop, rack-mount 19 inch, 1RU rack-mount bracket
Power supply: DC12Volt, Universal Type Switch: 100~230VAC, 50/60Hz
325Mhz per channel Video Bandwidth
Why not buy this 8x8 Component HDTV Video (w/o audio) Video Matrix Routing Switcher today?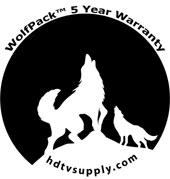 HDTV Supply
includes a
WolfPackCare
5 Year U.S. Limited Extended Warranty on this product. There are two bundled parts to this 5 year warranty. The 5 year warranty is only for the main device you purchased and does not include any product options or additional products you purchased at the same time.
FIRST YEAR THROUGH THIRD YEAR WARRANTY:
The first three years are direct with Shinybow at
RMA Request
. The 3-year warranty states that the Product will perform substantially in accordance with the supplied written materials and Product information located on this Product web site page for a period of 3 years from the date of shipment of the Product and that the Product will be free from defects in materials & workmanship under normal use & service.
4TH THROUGH 5TH YEAR WARRANTY:
The 4th through the 5th year are direct with
Consumer Priority Extended Warranty Service (CPS)
as they are HDTV Supplys extended warranty provider. They are a large 3rd party repair company with facilities throughout the U.S. and offer our U.S. customers unparalleled product coverage and repairs. If after calling HDTV Supply, at 800-841-9238, we find we can't fix the issue over the phone, and you need a repair, you will henceforth deal directly with CPS for the repairs via their toll free phone number (800) 905-0443 Option 3 during the 4th and 5th year.
You can also
email CPS
and
email HDTV Supply
as well as call us a 800-841-9238 if you have any questions with this 5 year bundled warranty.
Questions & Answers

Ask a question about the 8x8 Component HDTV Video (w/o audio) Video Matrix Routing Switcher or Call 800-841-9238


8x8 Component HDTV Video (w/o audio) Video Matrix Routing Switcher
Recently Viewed Items