Features
HDTV Supplys WolfPack™ 4K Modular
SDI Matrix Routers
are integrated SDI video modular matrix switchers. The chassis back plane allows any SDI input to be routed to any SDI output, or the same SDI input to be routed to all SDI outputs, or any combination. It also supports HDMI in and out allowing you to cross convert between HDMI and SDI sources and output devices, like TVs with HDMI inputs. The SDI output card includes an internal DIP switch for resolution adjustment for times when the auto-adoption cannot detect an unusual display video resolution. These SDI Matrix switchers supports SDI (SMTP 259M), HD-SDI (SMTP 292M) and 3G-SDI (SMTP 424M).
The core of these Modular SDI Matrix Routers consist of either a 9x9, 18x18, 36x36 Modular Matrix chassis and its highly configurable backplane that supports either 9, 18 & 36 SDI input cards and either 9, 18 & 36 SDI output cards. You can even convert between HDMI and SDI sources and output devices, like TVs with HDMI inputs.You can control the switch via its IOS or Android app, 2-button fast switch from the front buttons, a WEB GUI control or the RS-232 serial port. The matrix does not have IR nor a remote control but can be controlled with its iOS and Android App as well as above.
Reasons that sets our WolfPack™ SDI Matrix Routers apart from others:
Supports SDI (SMTP 259M), HD-SDI (SMTP 292M) and 3G-SDI (SMTP 424M) in and out cards
Supports HDMI in and out cards w/SDI Conversion
Supports HDBaseT CAT5 extenders to 220 feet in and out
Supports a 3G-SDI loopout on the input and output SDI cards
Supports 3.5 mm analog pass-through audio on the input and output SDI cards
Seamless (100ms) SDI Switching
Card cages to 160x160 HDMI ins and outs
Control via an iPad, Android, Web Browser, RS232 & Front Buttons
2-Power Supplys with larger matrices w/automatic switch-over if a problem occurs
2-Year WolfPackCare™ Advance Replace Warranty
Free Lifetime Telephone, CHAT, TEXT and Email Tech Support
Other in & out cards available like HDMI, VGA, DVI, Fiber, CVBS, YPbPr and Audio
The WolfPack™ Modular 3G-SDI Matrix Router allows switching between inputs with a clean video cut (frame-to-frame switching with no glitches). The WolfPack™ Modular 3G-SDI Matrix Routers advanced processor allows it to process up to 36-live signals simultaneously that means it can seamlessly and instantly switch (~100ms) between 40-HDMI inputs and 36-outputs. Most non-seamless matrix switchers require a delay of several seconds before they can switch between devices but with this WolfPack family that wait time is completely eliminated.
WolfPack™ 16x32 SDI Matrix Switch Configuration Example:
1 - 36-card in and 36 card out card cage
16 - 1-port SDI input cards = 16 SDI inputs
32 - 1-port SDI output cards = 32 SDI outputs
20 additional SDI input slots for future card expansion to 36-inputs
4 additional SDI output slots for future card expansion to 36-ouputs
By having 1-port slide in cards the matrix is very reliable as in the unlikely even there is a loss of signal you just replace the card with a spare you have purchased or order another from us. The complete matrix doesn't have to be sent to us for a repair.
Our Modular SDI Matrix Routers also can support high-resolution SDI sources routed to SDI or HDMI displays, monitors, projectors, or audio receivers, etc. The EDID can be selected between seven different modes or copied from the attached displays.
These Modular SDI Matrix Routers Feature:
Auto adapts with 3G/HD/SD-SDI
Supports SDI (SMTP 259M), HD-SDI (SMTP 292M) and 3G-SDI (SMTP 424M)
Supports 2 - SDI outputs with the same video. Use one as a loopout for a local monitor.
3.5mm audio de-embeds
DIP switch for resolution adjustment
Protocol: SMPTE and ITU
Color Space: RGB444, YUV444 and YUV422
Resolution: 1920x1080p@60Hz
Seamless switching speed of 100ms (0.1 sec)
No latency
Controllable via the matrices front panel buttons, RS232, WEB GUI and iOS/Android App
Plug & play
3 - chassis sizes: From 9 input and 9 outputs cards to 36 input and 36 output cards
Input Cards Supported:
Output Cards Supported:
Advanced EDID management for rapid integration of sources and displays
Front-panel LCD display for status feedback
Front-panel push buttons for local switching
IP controlled via built-in web server and LAN
RS-232 Serial interface for remote control via an automation control system
Supports resolution exchanges with several resolutions can be chosen and used
Hot-pluggable
Uses a dual control system
Control via Web / RS232 and Front Buttons control (no remote control)
Rack-mountable
The heart of the Modular SDI Matrix Routers are the WolfPack chassis backplane which allows customization of the configuration for input and output cards to match every need of the system and application. The matrix support hot-plugs and you can change the cards while the equipment are still working.
EDID Explained:
The Modular SDI Matrix Routers EDID provides for optimal source-to-screen performance. EDID will optimize the video card output for the capabilities of the end display. The EDID ghost unit enables the copying, emulating, cloning, and "learning" of EDID data from a display. Our EDID Emulator and repeater comes with pre-defined presets, user programmable banks, Sink EDID sniffing bank and more. Our SDI Emulator ensures proper operation, for the best performing SDI video signal between any source and display Resolves loss of video, intermittent (flashing) video, snow, or color-space (purple or red) issues.
Why not buy buy one of our SDI Matrix Routers today?
Specs
SwiftSwitch™ SEAMLESS SWITCHING:
Our WolfPack™ Modular 3G-SDI Matrix Router can be configured with instantaneous video switching which delivers full 3G-SDI video powered by our WolfPack engine implemented at each output port. This high-performance engine processes 3G-SDI signals by executing EDID hops and HDCP handshakes simultaneously at both the source input and the display outputs and scaling inputs for the best output resolution while setting the output clock timing and using a frame buffer to retain the input signal information for the fastest output.
Modular 3G-SDI HDMI Matrix Routers Specs:
Modular Configuration: 9, 18 & 36 inputs and 9, 18 & 36 outputs
Resolution support: 3G-SDI
Supported Input & Outputs Signals:
Control TCP/IP, RS232 and front buttons
Power Supply 100 to 240VAC, 50-60Hz
Power Consumption 50W 70W
Operating Temperature -10℃ to 50℃
Storage Temperature -25℃ to 55℃
Why not buy one of these Modular 3G-SDI Matrix Routers today?
Compatibility
HDTV Supply has successfully installed our WolfPack, WolfPackLite and our other SDI Matrix Switchers in Sports Bars, Restaurants, Bowling Alleys, Fitness Centers, Malls, Places of Worship, Data Centers, Gaming Rooms, Nail Salons, County Clubs, Casinos, Factories, Conference Rooms, Schools, Home Theaters or many other installations requiring SDI matrix switching. The reason, we are told by the users, is the number of features we offer compared to other companies they looked at.
This card used with our modular SDI matrix switchers can usually be integrated with many third party control systems using the RS232 port on the back of the matrix.
For experienced AV hardware and software professionals who want to write their own drivers for 3rd party control systems from:
AMX™
Control4™
Creston™
RTI™
DTVGameControl™
Elan g!™
Media Switcher™
OnControls™
Savant™
SimpleControl™
SwitchItUp™
SAVI Control™
URC Control™
...and we have created a simple and very easy to use RS232 script to write your own drivers.
EXAMPLE:
If you want to switch input 8 to output 1, 8, 16, the RS232 command would be
x1&8&16.
and notice the command has a period (.) at the end of the string. The matrix even replies "OK" when the right command is received and "Failed" when receiving a wrong command. Here is the
RS232 User Manual
if you want to write your own drivers.
How to use the info:
END USER:
If you are an end user and want to have a whole-house control system from any of the above 3rd party control houses but your budget can't support the price you were quoted, do the following:
Call us for a quote
Once you get our quote call a 3rd party control reseller or installer in your area and tell them "Here is the hardware I want to use, please give me a quote on writing the software and installing all of the hardware at my location." You usually can save $1,000s on larger systems.
CAVEAT:
We are not certified by any of the above 3rd party control systems companies nor have the necessary hardware to verify, troubleshoot and support the 3rd party writing of the code. We do warranty, though, that the RS232 script in the above RS232 Users Manual has and will work to control the matrix directly.
Also, CLICK HERE for our
DirecTV™ & SDI Matrix Control Software for Bars & Restaurants
Q/A
Q: How do the 2-power supplies work with the matrix?
A:
For the 2 power supply system on the card cage matrix, it's a redundant system. We can have two power supply system on at the same time (if one's down, it can hop to another, it guarantees the matrix won't shut down). It also can operate with just one power supply on and the other one is for back-up
Q: What are the dimensions of the chassis?
A:
They are:
10x10: 4.5U - 482*390*200mm(L/W/H) - 18.97*15.35*7.87 inches
20x20: 9U - 482*390*400mm(L/W/H) - 18.97*15.35*15.75 inches
40x40: 16U - 482*390*711mm(L/W/H) - 18.97*15.35*27.99 inches
Q: Do you have any tips in the unlikely event the unit fails?
A:
Turn it OFF and then disconnect the matrix from the AC power and all cables. Pull out each board from the rear and push back in. Plug all cables back in and turn it on.
Warranty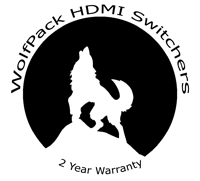 HDTV Supply includes a
2 Year WolfPackCare™ Advance Replace
Limited Warranty on this matrix system. The warranty states that the Modular HDMI Matrix Router will perform substantially in accordance with the accompanying written materials for a period of 2 years from the date of the receipt of the order & that the Modular Matrix Router will be free from defects in materials & workmanship under normal use.
Slide-in Boards & HDBaseT Extenders:
If a board or extender goes bad in the first 2-years and HDTV Supplys Tech Support team verifys the problem after a telephone call, HDTV Supply will send a new or like-new unit usually within 24-hours by USPS Air Priority at HDTV Supplys expense. We will ask for a credit card for payment in case the bad devcie is not sent back to us within 5-business days. You will need to provide us the tracking number as we will to you and you will need to pay for the devices return.
Chassis or Power Supply:
If the chassis or power supply goes bad and HDTV Supplys tech support team verifys it HDTV Supply will send a new or like-new chassis usually within 24-hours by UPS ground at HDTV Supplys expense. We will ask for a credit card for payment in case the bad chassis is not sent back to us within 5-business days. You will need to provide us the tracking number as we will to you and you will need to pay for the chassis return.
In order to get a warranty replacement for a defective item HDTV Supplys Support Team will verify the product is eligible for a warranty. An RMA number will then be issued. Shipped replacements will be in like new conditions, tested and all components included.
HDTV Supply
also sells a 3 or 5 Year warranty for this product. Please call us for a quote.
Why not buy this Modular 3G-SDI Matrix Router today?
Ask a Question
Questions & Answers

Ask a question about the WolfPack SDI Matrix Switchers w/iPad & Android App - You Design It or Call 833-WOLFPACK (833-965-3722)


Software
Free Android and iOS App:
The
IOS App
for this WolfPack card cage matrix is in the Apple Application Store and when you SEARCH the key words "MCS" or "Matrix Control System" you can download and install it to your iPad or iPhone. Also from your iPad or iPhone click the following link...
MCS-matrix control system
to install it directly.
For the
Android App
click the following link and download it. Go to
Android App for control of this HDMI matrix switch
.
FAQ
HDTV Supply created our unique line of
WolfPack™ line of products
which are born from a hungry, circling pack of high performance video and audio HDMI that surround our competition to devour them. The WolfPack family is sleek, unique & swift & even the smallest configuration wolf can adapt himself to many hostile environments.
You can only get this one-of-a-kind WolfPack product from HDTV Supply.
Reasons To Buy an HDTV Supply WolfPack™ Product:
All WolfPack products have FREE HDTV Supply U.S. based Live Telephone Lifetime Tech support
HDTV Supply has a dedicated TEXT support line at 805-409-0208 to support you
HDTV Supply has a dedicated Product Manager for WolfPack products to assist with any special needs
If there is a WolfPack firmware update for your product you will find it at our site
Many times we will list lower refurbished WolfPack products at our site
All WolfPack products are usually in stock and ship the same week day if the order comes in by 12PM PST
You can buy WolfPack products from us with most any credit card, your Amazon account and PayPal
HDTV Supply has many videos to show the features of WolfPack products
You will find all WolfPack User Manuals and other manuals at our site
From time-to-time HDTV Supply runs Factory Authorized sales on WolfPack products
All WolfPack products bought from HDTV Supply are brand new and in unopened boxes.
All WolfPack products bought from HDTV Supply are shipped in double carton boxing.
All WolfPack products bought from HDTV Supply have full value shipping insurance
All WolfPack products bought from HDTV Supply have a 30-day No-Hassle returns
All WolfPack products bought from HDTV Supply can be shipped blind to your customer
HDTV Supply has shipped >1,000 WolfPack products throughout the world
HDTV Supply ships all WolfPack products from here in the U.S.
HDTV Supply stocks extra WolfPack accessories in case you misplace your remote or other unit
HDTV pride ourselves on confidentiality and any personal information that you may share with us is kept absolutely private.
Why not buy one of HDTV Supplys WolfPack™ products today?