Rotate TV Controller
The HDTV Supply WolfPack Rotate TV Controller is a new vertical screen signal conversion processor. It adopts a unique embedded structure design and can be connected to HDMI high-definition image signal source input. The processing process is completely in hardware and does not require computer software to control operations. The operation is amazingly simple.
The WolfPack Rotate TV Controller picture rotator uses innovative processing techniques such as motion detection and compensation, interpolation, edge smoothing and clutter suppression. 3D video bright color separation circuit unit, 3D progressive processing and frame rate normalization. The conversion circuit unit, the 3D digital signal noise reduction unit, converts ordinary PAL/NTSC interlaced video signal acquisition into progressive high-resolution, high-resolution high-definition image signals. There is no delay in the picture, no tailing phenomenon, natural smoothness, fine picture quality and good color reproduction.
The WolfPack TV Rotate Controller picture rotator supports direct conversion of HDMI input signals to support 90°, 180° & 270° manual image rotation and flips the HDMI signal output, up to 1920x1080 resolution input and output at 1080p.
NOTE: Please see all the pictures that we have put up and notice in the 90 degree and 270 degree the format may be different from you want.
This Rotate TV adapter supports automatic signal detection. When a signal input is detected, it will automatically switch to the video source without manual operation. It has a no-brainer operation with full hardware architecture and no CPU and operating system.
Rotate TV Controller Features:
Pure hardware structure, plug and play, no need to set up, easy to operate.
Supports 1080p HD signal input\output.
Supports 90°, 180° & 270° image rotation.
Supports HDMI input and output.
Low power consumption
Why not buy this Rotate TV Controller today?
Rotate TV Controller Specifications:
HDMI input:

Protocol: HDMI1.4 (HDCP1.3)
Resolution: Supports 1920X1080,480I~1080P
Color space: 24bit, 1677

HDMI output:

Resolution: 1920x1080P/60HZ
Color space: 24bit,1677

Others"

Power supply: DC12V 1A power adapter
Working Temp: 0-65˚C
Working Humidity: 5~95%RH
Power Consumption: 3W
Dimensions: 122 mm x80 mm x30 mm
Weight: 309g
Why not buy this Rotate TV Controller today?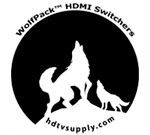 Reasons To Buy an HDTV Supply WolfPack Platinum Product
Why not buy this Rotate TV Controller today?