Features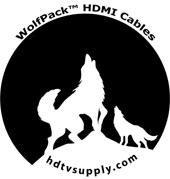 These
Plenum HDMI Cables
are a must have for any system integrator or installer performing an installation in any School, University, Hospital, Government or other commercial buildings. These Plenum HDMI Cables are built to last and perform to the highest expectations. The Plenum Rated HDMI cables are featured with 24AWG oxygen free pure copper conductors, triple shielding to reject EMI and RFI, and gold plated connectors. CMP certified jacket and Teflon inner insulators provide the fire protection to run these cables in the walls or Air Plenums without a conduit.
These Plenum HDMI Cables support the new Blu-ray and HD-DVD players that output 24 frames per second i.e. 1080p/24 as well as the new HDTV's that have the 1080p/120 and 180p/200 option to support 24 FPS that many Blu-ray DVD players output. You get an awesome picture with this technology and our Plenum HDMI cables. All of our Plenum HDMI Cables are compatible to the latest HDMI standard and will pass all resolutions up to 1080p or 1920x1200.
The plenum space above dropped ceilings and under raised floors is the optimal place for routing communication and A/V cables. Plenum Rated HDMI cables are used for connecting video projectors, LCD and plasma displays. With the variety of Digital Equipment being available to everyone now, these Plenum HDMI Cables would be the best interconnects to use to get the highest video and audio quality.
Plenum HDMI Cables Specs:
Plenum HDMI Cables come in eight multiple lengths
HDMI 1.3 Rated
In wall rated
UL Listed, CMP certified cable jacket (UL # E326062)
Low Smoke PVC outer jacket and FEP, Teflon inner insulator
Supported Resolutions: HDTV (all resolutions up to 1080p) Computer: (all resolutions up to 1920x1200)
Single-link bandwidth: 340 MHz (over 10.2 Gbit/s)
Digital Audio: supports all digital audio formats including Dolby TrueHD and DTS-HD Master Audio
24k Gold plated connectors
24AWG High-Purity Oxygen Free Copper conductors
High-Density triple shielding for maximum rejection of EMI and RFI
ROHS Rated
UL CL2P, CL3P and CMP Certified
Supports DVI with a DVI to HDMI adapter.
Supports both HDMI audio and HDMI video
Image shown for representation only. Actual shape may vary
Note 1:
Some plenum HDMI cables are 1ATC Certified to 2.25 Gbps / 1080p24 and all Audio formats and supports Audio Return Channel (ARC) and Ethernet. They support CEC, 4K x 2K and all Audio formats also.
Note 2:
Beware of purchasing Plenum HDMI Cables from other companies that may also claim they have CMP certification. We have tested those cables and found they have a standard PVC jacket and cannot pass the UL Flame test.
How it works:
The 50, 75 and 100 foot plenum HDMI cables are featured with a built-in HDMI booster which will guarantee a solid 1080p signal transfer. A small repeater is built into the TV end of the cable to amplify the HDMI signal and results in a powerful signal transmission. The amplifier does not require an external power source, since it is using a 5 volt HDMI line on pin 18 which is present in every HDMI connection. The booster end of the cable goes at the END, near the HDTV
Tip:
It's always a good practice when using long HDMI cables that are installed in walls to test your plenum HDMI cables and system chain out first by laying the plenum HDMI cables on the ground and plugging them into you source devices and HDTV before installing them. It's far easier to diagnose problems this way then when the plenum HDMI cables are in the wall.
Why not buy one of these Plenum HDMI Cables today?
Q/A
Our plenum HDMI cables have 19 copper wires in them and those wires are wave soldered to 19 very small connectors at each end. These cables have been tested at the factory and right before they go directly into your shipping container so you can be assured they will work for you.
Here are some tips to install the cable(s) to have a successful installation:
1. DO NOT, REPEAT, DO NOT PULL THE CABLE BY ITS CONNECTORS TO INSTALL IT AS YOU MAY PULL THE CONNECTOR(S) OFF. Cables that are pulled this way are not returnable and your warranty is voided.
2. Lay the plenum HDMI cable on the floor first and install a test set up of your equipment. This may mean moving equipment closer than the actual installation but problems will be easier to diagnose if the cable is not installed in the wall.
3. Wrap the HDMI connectors with a freezer bag tied tight when installing the cable in the wall. REMEMBER DO NOT PULL THE CABLE BY ITS CONNECTORS TO INSTALL IT AS YOU MAY DAMAGE THE CONNECTOR(S) and void your warranty.
4. If you bought a plenum HDMI cable with a built in booster, either check the writing on the cable connector for where to install it, or put the BOOSTER END at the TV, not the source, like a DVD player. These HDMI cables that have boosters work only when the booster is placed at the end, or near the HDTV, not at the source device. The HDMI booster is placed near the display to remove any noise that has been generated by a long HDMI cable.
5. If you don't get a picture, or sound, and have other devices in series with the cable put them aside and connect the HDMI cable directly between the source device and the HDTV. If you still don't get a picture try another source device like a cable/sat receiver.
6. If an outside installer is doing work for you please print this out, give to him and remind him not to pull the HDMI cables by their ends to install it.
7. If you use staples to install the long cable YOU WILL VOID YOUR WARRANTY and it cannot be returned. Staples will harm the 19 copper wires inside the cable, along with the shield that surrounds them.
8. Cables that are installed in the wall are not returnable so check the cable of the floor first.
If you follow the above instruction and have a question call us at 800-841-9238.
Why not buy one of these Plenum HDMI Cables today?