HDTV Supply's WolfPackMax Modular Video Wall Processors are high performance video processing matrix switchers with a hardware architecture for spectacular video wall displaying. Our Modular Video Wall Processors can be employed in fields including education, research, government, information publishing, exhibition and shows, controlling and commanding center, security monitoring, etc. The sizes of the video walls and number of them is only limited by the number of outputs you have.
These WolfPackMax Modular Video Wall Processors use advanced image processing technologies such as high definition video signal collecting, real time and high resolution digital image processing. They also employs large-capacity, high-speed FPGA and CrossPoint switching to ensure the real-time processing of all input signal and the consistency of the data, leading to no image delay, discretization, frame loss, which guarantee excellent video displaying.
What does a RJ45 preview card do? By adding this card in the system, you can preview the sources and contents from the display & Video Wall in real time.
What does signal crop mean? It means that you can cut part of the input source as a new source to an output.
What does cross screen mean? A: It's actually the same meaning as open screen as you can have open a window to show the source across 2 screens and each screen only show half of the window.
What does background image that needs an optional function card mean? The background image means that of there isn't any input sources connected, it still can have a customized image output to the Video Wall or screens. It will need to add the additional card as it is actually not a physical output card, but just a function that needs the extra card.
These WolfPackMax Modular Video Wall Processors Feature:
FPGA pure hardware architecture with modular chassis
Supports to open 4 windows on screen
Supports PIP, cross-screen, and IP input
Supports up to Video wall groups(up to 4 groups) management
Supports the PC software/ APP/ RS232 control
Supports scrolling text and background image(*need optional function card)
Supports the multiple users with different level rights login
What sets our Modular Video Wall Processors apart from others:
Seamless 100ms (0.1 sec) Switching
Chassis supports any 1080p input & output card in any slot
Any combinations for the inputs and outputs
Preset Scenes To Choose From
Incorporates a Video Wall function
3 - Year WolfPack Warranty
Free Lifetime Telephone, CHAT, TEXT and Email Tech Support
HDTV Supplys implementation of the HDBaseT technology and this product adds virtually no latency to the signal, less than 10 microseconds over 330 feet of CATx cable. At 100 feet you are taking about 3 microseconds. This means, for example, in a church or auditorium, the speakers lips are in synch with the image on all the screens.
Why not buy a WolfPackMax Modular Video Wall Processor today?
WolfPackMax Modular Video Wall Processors Features:
Seamless switching of 1080p HDMI input and HDMI output cards
Supports HDMI Video Wall installations
3.5mm Audio in and output on each card
Auto adapts to HDMI video resolutions as well as manually selection on the video cards
HDMI Input Resolutions:

480i@60Hz/576i@50Hz,
720@50Hz/720p@60Hz,
1080i@50Hz/1080i@60Hz
1080p@24@25@30@50@60Hz

HDMI Output Resolutions:

480i@60Hz/576i@50Hz
720@50Hz/720p@60Hz
1080i@50Hz/1080i@60Hz
1080p@24@25@30@50@60Hz

HDMI: Output range 800mVp-p
Flexible card type design supporting up to many 4-port HDMI input or seamless 4-port HDMI output cards
Mix-N-Match many different types of cards in any slot
Advanced EDID management for rapid integration of sources and displays
Front-panel LCD display for status feedback
Front-panel push buttons for local switching
IP controlled via built-in web server and LAN
RS-232 Serial interface for remote control via an automated control system (not supplied)
Supports resolution exchanges with several resolutions
Hot-pluggable
HDMI 1.3 and HDCP 1.3 compliant
Control with a few button taps from the front panel buttons, a WEB GUI Browser control, Apps or the RS-232 serial port
Rack-mountable
Seamless 100ms Switching
Adjustable outputs resolution
Multiple control methods: TCP/IP, RS232 and IR control.
Modular designing, hot-plug
Supports flexible inputs and outputs configurations
By having 4-port slide in cards the matrix is very reliable as in the unlikely even there is a loss of signal you just replace the card with a spare you have purchased or order another from us. The complete matrix does not have to be sent to us for a repair.
The Modular Video Wall Processor allows switching between inputs with a clean video cut (frame-to-frame switching with no glitches). The WolfPack Modular HDMI Matrix Routers advanced processor allows it to process live signals simultaneously which means it can seamlessly and instantly switch (~100ms) between HDMI inputs and outputs. Most non-seamless matrix switchers require a delay of several seconds before they can switch between devices but with this WolfPack family that wait time is completely eliminated.
Why not buy a WolfPackMax Modular Video Wall Processor today?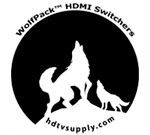 Reasons To Buy an HDTV Supply WolfPack Product
Why not buy a WolfPackMax Modular Video Wall Processor today?
HDTV Supply has successfully installed our Modular Video Wall Processors in Sports Bars, Restaurants, Bowling Alleys, Fitness Centers, Malls, Places of Worship, Data Centers, Gaming Rooms, Nail Salons, County Clubs, Casinos, Factories, Conference Rooms, Schools, Home Theaters or many other installations requiring HDMI matrix switching. The reason, we are told by the users, is the number of features we offer compared to other companies they looked at.
These modular HDMI matrix switchers can usually be integrated with many third party control systems using the RS232 port on the back of the matrix.
For experienced AV hardware and software professionals who want to write their own drivers for 3rd party control systems from:
AMX™
Control4™
Creston™
RTI™
DTVGameControl™
Elan g!™
Media Switcher™
OnControls™
Savant™
SimpleControl™
SwitchItUp™
SAVI Control™
URC Control™
...and we have created a simple and very easy to use RS232 script to write your own drivers, just see the user manual herein.
How to use the info:
END USER: If you are an end user and want to have a whole-house control system from any of the above 3rd party control houses but your budget can't support the price you were quoted, do the following:
Call us for a quote
Once you get our quote call a 3rd party control reseller or installer in your area and tell them "Here is the hardware I want to use, please give me a quote on writing the software and installing all of the hardware at my location." You usually can save $1,000s on larger systems.
CAVEAT:
We are not certified by any of the above 3rd party control systems companies nor have the necessary hardware to verify, troubleshoot and support the 3rd party writing of the code. We do warranty, though, that the RS232 script in the above RS232 Users Manual has and will work to control the matrix directly.
Also, CLICK HERE for our DirecTV™ & HDMI Matrix Control Software for Bars & Restaurants
Why not buy a WolfPackMax Modular Video Wall Processor today?
Q: Do I need a video preview card with every HDMI input if they want to see the source video preview on a tablet?
A: For the 1-PORT RJ45 preview card, it can support to preview 8 channels with 30Hz or 64 channels with 10Hz.
HDTV Supply's WolfPack Family of Matrix Switchers can be created however you wish. Just SCROLL DOWN and fill out the below and press SUBMIT and we will send you a quotation based upon your needs within an hour.
If it doesn't meet your needs just call us right now at 833-WOLFPACK or 833-965-3722 or email us at support@hdtvsupply.com