WolfPack 1X2 HDMI Splitter Over Single CAT-5 Cables to ~125 Feet




Send 1-HDMI signal to 2-TV′s over one CAT5/6 cable to 125 feet

2 - HDMI receivers & their power supplies included

Cascadeable to 4 - layers & 8 - TVs w/add′l Receivers

Wideband 38 to 56 KHz Bi-directional IR

8 - EDID settings for mismatched and older TVs

Control a source from both TVs or the TVs from the source
Features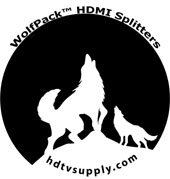 HDTV Supplys WolfPack
1X2 HDMI to CAT5 Splitter
allows you to send both an HDMI audio and an HDMI video signal from one end of a room to the other or one floor to another with standard, inexpensive and reliable CAT5e or CAT6 cables and distribute out to different rooms. See the above 1X2 HDMI to CAT-5 Splitter front and back pictures.
This WolfPack 1X2 HDMI to CAT5 Splitter is an HDMI splitter with two RJ45 outputs. It distributes the input of the HDMI signal into the two identical outputs simultaneously. Two supplied HDMI Receivers by Cat5 receive the distributed signal from the splitter and transmit to displays individually. Also, the transmission distance is 125 feet even for a 1920x1200 resolution and also 125 feet for 5.1CH or 7.1CH audio. Straight cable runs with no electrical interference, bends, kinks, patch panels need to provided.
WolfPack 1X2 HDMI to CAT5 Splitter Features:
Allows you to send 1 HDMI audio and video source device to 2 HDMI equipped devices. The picture will be the same on both HDTV′s.
Distribute 1 HDMI signal to 2 identical UTP outputs synchronously and with one looping HDMI output
Transmits over 50m single Cat5e/6 cable
Can be cascaded for 4 layers
Wide-band Bi-Direction IR control (38 ~ 56 kHz) (IR extension from Sender to Receiver or from Receiver to Sender)
Support Full HD 1080p, VESA resolution: 1920x1200
Supports Dolby TrueHD, DTS-HD Master Audio
Supports 3D
Supports HD resolutions up to 1080p at a range of ~100 feet.
Supports 1080p TV′s at 24/30/60/100/200/240 Hz and above as well as Blu-rays at 24 FPS
Compact chassis for easy installation.
Supports both HDMI audio and HDMI video
Easy to Use: Installs in seconds, no settings.
One pair as a full functional modules,
One CAT-5e/6 cable can substitute for an HDMI cable to achieve long distance transmission
Follows the standard of IEEE-568B.
Transmission distance can be up to 125 feet for 1080p using a CAT6 Cable.
Supports HDMI 1.3
Supports DVI with a DVI to HDMI cable or adapter.
HDCP compliant
Supports highest video resolution 1080p.
Supports 165MHz/1.65Gbps per channel (4.95Gbps all channel) bandwidth.
Supports 8bit per channel (24bit all channel) deep color.
Supports uncompressed audio such as LPCM
NOTE 1:
The two CAT-5 to HDMI receivers are included that install at the TV end. AC adapters come with them that must be plugged in to an AC outlet.
The expense of running thick, heavy, obtrusive HDMI cables over extended runs can also blow your budget. This 1X2 HDMI to CAT-5 Splitter allows you to connect all your displays back to a central system using reliable, cost effective CAT 5 or 6 cabling and keep HDMI connections to the hub short saving you money and increasing reliability. This 1X2 HDMI splitter over one CAT5 cable can be cascaded to achieve more outputs.
NOTE 2:
We recommend strongly that you use good CAT5 / 6 cables with any CAT5 / 6 converting products like this one. Most of our "no picture" support calls are due to poor quality and cheap or poorly made cables.
Since it is high definition video we only recommend CAT5/6 cables with specs like our CAT-5 /6 cables either bought from us or another high quality supplier. We also recommend, if possible, pre-made cables that are factory tested vs. field made cables due to the advanced testing methods used.
The WolfPack 1X2 HDMI to CAT5 Splitter is HDCP compatible; however, you must verify your source and destination devices support (or don′t support) HDCP encryption. Essentially, HDCP compliant devices will only transmit to or receive from other devices with HDCP coding. This HDMI splitter will also work if neither device is HDCP compatible. This 1X2 HDMI to CAT-5 Splitter includes 2 - CAT5 to HDMI receivers to be placed remotely at the HDTV′s, etc.
Why not buy this 1X2 HDMI to CAT5 Splitter today?
Specs
NOTE:
The unique feature of the WolfPack 1x2 HDMI Splitter Over CAT5/6 w/Bidirectional IR is:
You can control the source device from both destinations via IR or
Control the TVs from where the source is via IR.
1X2 HDMI Splitter Over 2-Single CAT-5 Cables Specs:
| | |
| --- | --- |
| Signal Inputs/Output | |
| Input DDC Signal | 5 volts p-p (TTL) |
| Maximum Single Link Range | 1920X1080p |
| Output Video | HDMI 1.2a |
| Operating Frequency | |
| Video Amplifier Bandwidth | 1.65Gpbs/165MHz |
| Vertical Frequency Range | 50/60Hz |
| Resolutions(HDTV) | |
| Interlaced(50&60Hz) | 480i,576i,1080i |
| Progressive(50&60Hz) | 480p,576p,720p,1080p |
| Mechanical | |
| Size of HDMI 2 Port Splitter Amplifier (L-W-H) | 100X102X25CM |
| Weight of HDMI 2 Port Splitter Amplifier (Net) | 285G |
| Size of Receiver (L-W-H) | 100x65x25.5MM |
| Weight of Receiver (Net) | 385G |
| Warranty | |
| Limited Warranty | 1 Year Parts and Labor |
| Environmental | |
| Operating Temperature | 0℃ to +70℃ |
| Operating Humidity | 10% to 85 % RH (no condensation) |
| Storage Temperature | -10℃ to +80℃ |
| Storage Humidity | 5% to 90 % RH (no condensation) |
| Power Requirement | |
| Power Supply for HDMI 2 Port Splitter Amplifier | 5V DC@ 2A,10W |
| Power Supply for Receiver | 5V DC@ 2A, 5W |
| Regulatory Approvals | |
| Converter Unit | FCC,CE,UL |
| Power Supply | UL,CE,FCC |
| Accessories Adapter | |
| AC Power Adapter | US standard, UK standard and so on |
| User Manual | English Version |
Compatibility
This 1X2 HDMI to CAT-5 Splitter can be used with:
Any high definition Dish Network and DirecTV receiver with HDMI outputs
High definition TiVo's with HDMI outputs
Any high definition cable receiver with HDMI outputs
Canadian Rogers, Shaw, Bell ExpressVu and Star Choice receivers with HDMI out, or DVI out with a converter
Any "Over The Air" (OTA) high definition receiver with HDMI outputs
Sony PS3, HD DVD and Blu-ray DVD players (2D)
Any Xbox360 with HDMI outputs
Any upconverting DVD player with HDMI outputs
Any DVHS VCR with HDMI outputs
An APPLE TV with HDMI outputs
Many PC video card with HDMI outputs
Any high definition camcorder with an optional type C to standard HDMI cable
Many A/V surround sound receivers with HDMI switching that include the proper chip set. Call your AV receiver supplier to discuss your application or us.
Any HDCP compliant HDTV, monitor and projector. If the source is HDCP compliant and your TV is not, you will not get a picture. Please check your TV manual or the manufacturers web site.
and other similar devices.
Videos
HDTV Supply has this WolfPack in stock in our California warehouse so place your order at the above ADD TO CART button by 11AM PST and it can ship today or call us at 800-841-9238 to place your order.
3D

HDTV Supply is a leader in supplying 3D equipment for this new, fast growing 3DTV market. Our test lab includes the latest equipment for designing, testing and supporting 3D video equipment. The chips sets we use support many of our 4K, HDMI 1.3 and HDMI 1.4 compliant devices. The 3D viewing results were awesome in our lab and did not have any picture or audio degradation. The normal and standard (2D) results equally exhibited a superb picture quality.
We not only test this device with lab equipment we also test many of our 3D devices with 3D products you are likely to use. The products used for the test are:
Sony PS3 with the 3D 3.41 firmware
Samsung model PN50C7000YF 3DTV
Samsung model BD-C6900 3D Blu-ray player FORCED to 1080p
Samsung model SSG-P2100T 3D glasses
DirecTV models HR21-100 and the HR24 high definition receiver.
It works with all HDMI devices including the new 3D units.
Why not buy this product that supports 3D today?
Q/A
Q: Can I use this HDMI extender to patch through a patch panel & wall plates to connect to a remote TV?
A:
No. The Cat5e/6 connection between the HDMI Transmitter and Receiver has to be a single, home run, point-to-point patch cable with CAT6 solid being the best cable for new installations. CAT5e will also work well. Patching through patch panels, couplers, wall jacks and poor conductor patch cables create multiple points of signal attenuation (loss), causing the HDMI signal to degrade to the point where the Receiver may not recognize it.
Warranty

HDTV Supply
includes a 1 Year Limited Warranty on this 1X2 HDMI to CAT-5 Splitter. The warranty states that (a) its products will perform substantially in accordance with the accompanying written materials for a period of 1 year from the date of receipt and (b) that the 1X2 HDMI to CAT-5 Splitter will be free from defects in materials & workmanship under normal use & service for a period of 1 year. In order to get a warranty replacement for a defective item, HDTV Supplys Support Team will verify the product is eligible for warranty. An RMA number will then be issued. Shipped replacements will be in like new conditions, tested and all components included.
HDTV Supply
also sells a 3 and 5 Year Extended Warranty for this 1X2 HDMI to CAT-5 Splitter. Please go to
Extended Warranties
or see the above Options to purchase it.
Ask a Question
Questions & Answers

Ask a question about the WolfPack 1X2 HDMI Splitter Over Single CAT-5 Cables to ~125 Feet or Call 800-841-9238


WolfPack 1X2 HDMI Splitter Over Single CAT-5 Cables to ~125 Feet
Recently Viewed Items