4K 8X1 HDMI Switcher with Timer




4K WolfPack 8x1 HDMI Switcher with Timer

Auto scan time interval settings between inputs...

...For minutes Press MIN button to loop between 0~59 minutes

...For seconds press SEC button to loop between 0~59 seconds

Automatic Input Source Detection

5 Year Warranty & Free Lifetime Telephone Tech Support
HDTV Supplys WolfPack™
HDMI Switcher with Timer
allows up to 8 - 4K Ultra HD sources to be routed to one Ultra HD display. It supports resolutions up to 4K (3840 x 2160 @ 30Hz). Deep Color, 3DTV pass-through, and lossless audio formats such as LPCM 7.1, Dolby TrueHD, and DTS-HD Master Audio.
This 8x1 HDMI Switcher with Timer can be set in up to 60 minute intervals to start or stop input 1 to input 8. The interval time can be set by buttons. The HDMI Switcher with Timer also supports automatic input source detection so when a new input device becomes hot to the switch, the switch will switch to last plugged in source automatically.
The HDMI Switcher with Timer has EDID emulators on every input port keep PCs always have correct display information and preventing display settings being changed while switching input ports.
HDMI Switcher with Timer Features:
8 - 4K HDMI inputs
1 - 4K HDMI output
19" rack mount ears included
With EDID emulators in every input ports keeps PCs, etc. always have correct display information
Support hot plug, connect or disconnect devices to the HDMI switch in any time and without turn off devices
Supports auto switching to monitor computers in a specified time interval
Supports front panel buttons, IR signals, RS232 serial commands or IP commands to control HDMI switch
Supports resolution up to 3840*2160@30Hz
Auto input detect and switch
Using our 4K HDMI 24 AWG cables the 4K input cable length up to 15 feet and the output up to 35 feet
Using our 4K HDMI 24 AWG cables the 1080p input cable length can be up to 35 feet and the output up to 50 feet
Supports DVI-D single link sources and displays when used with HDMI-to-DVI adapters
The HDMI Switcher with Timer switches between any of eight DVI or HDMI audio/video sources to one HDTV display, supporting 1080p Full HD and up to 4K@30Hz UHD along with multichannel digital audio formats such as Dolby®.
Auto-Switching function:
The 4K 8X1 HDMI Switcher with Timer has an auto-switching mode and a manual-switching mode. When the user select auto-switching mode, as once a new input signal is detected, the scaler switcher will switch to this new signal automatically.
NOTE:
A few devices like some DVR′s, cable and satellite receivers are "always ON" so if you have 2 devices that are always ON you′ll need to use the buttons and / or remote control to switch inputs.
Why not buy this HDMI Switcher with Timer today?
HDMI Switcher with Timer Specs:
Auto Scan: Yes
Port selection: Front panel buttons, IR remote control, RS232 & IP
Max. Resolution: 3840x2160@30Hz
HDMI version: 1.4
Auto capture of EDID
Data rate: 10.2 Gbps
Auto scan interval: 5~3600 Seconds
Beep Sound: On/Off
Console ports: RS232 - 1 - 3 Pin jack
LAN (TCP/IP): RJ45
IR extension input: AUX
Input: 8 - HDMI Type A
Output: 1 * HDMI Type A
ESD protection: Human body model - + - 8kV (Air-gap discharge)
Material: Metal
Product Dimensions: 440 (L) x 150 (W) x 44.5 (H) mm
Item Weight: 1480g
HDMI Switcher with Timer Contents:
1 - 8x1 HDMI Switch
1 - DC 12V 2A Power Adapter
1 - IR Remote Control
1 - IR Receiver Cable
1 - 3 Pins Connector(For RS232)
2 - Small Rack-ears
1 - Quick-Start Guide
Why not buy this HDMI Switcher with Timer today?
WOLFPACK 4K HDMI CABLES



4K WolfPack HDMI HDBaseT Extender to 220 Feet with IR & POC

Price: $299.95

Today's price:

$149.95

(You Save: 50%)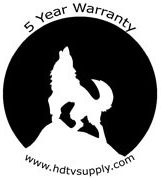 WolfPackCare
5 Year U.S. Limited Extended Warranty on this HDMI Switcher with Timer. There are two bundled parts to this 5 year warranty. The 5 year warranty is only for the main device you purchased and does not include any product options or additional products you purchased at the same time.
FIRST YEAR:
The first year is direct with with HDTV Supply at 800-841-9238. The warranty states that the HDMI Switcher with Timer will perform substantially in accordance with the supplied written materials and Product information located on this Product web site page for a period of 1 year from the date of shipment of the Product and that the Product will be free from defects in materials & workmanship under normal use & service for a period of 1 year from date of shipment.
In order to get a warranty replacement for a defective item within the first year call HDTV Supplys Tech Support Team with your order number at 800-841-9238 and they will verify the product is eligible for a warranty repair. An RMA number will then be issued via email. Shipped replacements will be in like new condition, tested and all components included. Please read
HDTV Supplys Warranty Terms and Conditions
for more.
2ND THROUGH 5TH YEAR:
The 2nd through 5th year are direct with
Consumer Priority Extended Warranty Service (CPS)
as they are HDTV Supplys extended warranty provider. They are a large 3rd party repair company with facilities throughout the U.S. and offer our U.S. customers unparalleled product coverage and repairs. If after calling HDTV Supply, at 800-841-9238, we find we can't fix the issue over the phone, and you need a repair, you will henceforth deal directly with CPS for the repairs via their toll free phone number (800) 905-0443 Option 3 during the 2nd through 5th year.
Why not buy this HDMI Switcher with Timer today?
Questions & Answers

Ask a question about the 4K 8X1 HDMI Switcher with Timer or Call 800-841-9238


This WolfPack product is part of HDTV Supplys WolfPack International OEM (Original Equipment Manufacturer) program that allows buyers who buy 5 or more products at once to get a discount larger then we already give.
What you get with our WolfPack International OEM Program:
5-year extended warranty to your customer starting when you ship the device to them, not when we ship it to you, less options
Permission to modify a generic users manual to make your own
Permission to put your own logo on a generic matrix
Lifetime U.S. Telephone Tech Support to you
An additional discount when you pay for 5 plus shipping and take delivery immediately
How you can participate in the WolfPack International OEM Program:
You support the end user with our behind the scenes support to you
You will never sell on-line below the discounted price on this site
You have experience installing complex HDMI matrix systems
You have an AV website that we can review
You have a Tax Resale document you can send us
If you are interested, send us an email at support @ hdtvsupply . com on your company, the area you support and your experience. Based upon a successful review, we will send you the additional discounts you can get by taking 5 or more of this product at one time.
REFERENCE: 515-1020
4K 8X1 HDMI Switcher with Timer
Recently Viewed Items