Build Your Own HDMI Over IP Extender Matrix Switch w/Remote IR




Send HDMI over a managed LAN to 400'

Control the source via remote IR hardware

Many-to-Many Design

Numerical Display & Web GUI Control

Need help? Call 833-965-3722

Part # HDTVSXEX36

Usually ships the same business day

Today's Price: $100.00
Features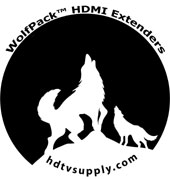 HDTV Supply's WolfPack™
HDMI Over IP Extender
sends an HDMI 1.3 Signal 400' to one or more TV's using one CAT5/6/7 cable over a managed Ethernet network. It also returns an IR control signal to the source to control it. The HDMI extender applies H.264 technology to transmit a lossless HDMI signal from the source up to 400 feet to your HD display over single CAT5/5e/6 cable. Our HDMI Over IP Extender supports the highest resolutions up to 1080p@60Hz. The HDMI Over IP Extender connects via an Ethernet switch to distribute & Extend an HDMI signal with the lowest bandwidth consumption (10Mbps/RX) so to minimize picture quality. It is controlled by a Web GUI Browser.
The WolfPack HDMI Over IP Extender uses H.264 technology to provide high-definition & most vivid output image quality. This HDMI Over IP Extender includes a SEND and a RECEIVE unit plus AC adapters. One converts HDMI to the LAN and the another converts the LAN back to HDMI. The units also come with one set of IR send and receive control cables. The supplied remote control allows you to choose the source and the LED shows the group ID. Multiple receivers can simultaneously connect to many transmitters to form a WolfPack virtual matrix of up to 64 HDMI inputs with up to 253 HDMI receivers (widescreens).
EXAMPLE: 8x32 Network HDMI Matrix Switch:
Let′s say you have an application where you need a 8-1080p sources sent to 32-TVs in any combination. The sources are 6 feet away from the switch and the TVs are 200 feet away from the switch. This is an 8x32 Network HDMI switch and here is what you need to buy from above:
8 - 1080p HDMI Transmitters (TX)
32 - 1080p HDMI Receivers (RX)
1 - 48-port IGMP 10-Gigabit Ethernet Switch
Field expandable by simply buying more TVs, sources and RXs and TXs
HDMI Over IP Extender Features:
Using H.264 compression encoding supporting resolutions up to 1080p@60hz
Complies with TCP/IP protocol and streaming bit rate of 15Mbps
Transmits up to 400 feet over single Cat5e/6 cable with 1 - looping HDMI output in the Transmitter
Includes 1 - looping HDMI output
Supports LPCM audio format
Supports Dynamic Host Configuration Protocol (DHCP)
Wide-band IR control (38KHz to 56KHz)
Choose the source with an LED to show the Group ID with the included IR Remote
Includes bypass 2 way UART/RS232 (Up to 115200) and uses a remote control to select 8 group Baud rate
Supports one to one, one to many, many to one, many to many modes with large cascade
Supports PC tool control
Compatible with Video Player such as VLC etc
HDMI 1.3 version, HDCP 1.2 version;
Supports the highest video resolution up to 1080p@60Hz;
Supports IR signal transmission;
Low bandwidth occupation - 10Mbps.
High compatibility as it can auto-match source and display device;
Good anti-interference performance, strong adaptive ability for long time operating and use in high temperature.
Built-in automatic adjustment system, make the image smooth, clear and stable;
Simple to install i.e. plug and play.
IR control signal included
Embedded infra-red (IR) control path allows user to control HDMI sources remotely from the displays up to 400 feet away.
Supports DVI with a DVI to HDMI cable or adapter.
Supports both HDMI audio and HDMI video
Maximum 3 layers of Ethernet switches that are can be passed through
Easy to be used to build large scale HDMI video & audio network
Universal power supplies at 100 to 240 VAC, 50/60 HZ to 5VDC, 2 prong.
NOTE:
All of these HDMI Over IP Extender Matrix Switch systems, unless otherwise noted, require a dedicated HDMI video system with its own Ethernet switch and not attached to your existing LAN system due to the unknown bandwidth impact on the HDMI video from your network. The design needs to meet these specs:
One Dedicated VLAN for the below devices
No other network appliances in the VLAN
Not the same as an existing "Multicast VLAN"
Unique subnet
No other network appliances in the subnet
Using a single dedicated VLAN to keeps them from interfering with the rest of your VLAN. With all devices in a single VLAN, switching sources involves modifying the IP of the Receiver rather than actively manipulating the VLAN configuration of the managed switch. See hundreds below if you can create a dedicated HDMI Video system over a VLAN based upon the above criteria..
Each device is installed using 1 twisted pair cable. AV signals are transmitted digitally over the solid CAT5/6/7 cable without any signal loss. Internal JPEG video compression adapts to the available network bandwidth if needed. The integrated Scaler function allows different input and output resolutions (different displays can be at different resolutions). The IR TX / RX function can be used remotely to control the HDMI source device from any receiver location. The 2 cables are included that support it.
NOTE:
This HDMI Over IP Extender Set w/Remote IR is not an HDMI Balun, but an HDMI over IP system. This means you can create your own A/V Ethernet network and all of the receivers will find the transmitter automatically. It may even be used over smaller existing house networks and low cost LAN switches and routers.
Why not buy this HDMI Over IP Extender System today?
Specs
The
HDMI Over IP Extender
allows you to simultaneously send out an HDMI 1.3 signal with 1080p video and 5.1 audio to one or more HDMI video projectors or widescreens and return an IR control signal to the source using a CAT5/6/7 Cable over a standard Ethernet infrastructure.
HDMI Over IP Extender Set Specs:
Performance

Protocol: H.264 encoder over TCP/IP
Support Video format: 480i/480p/576i/576p/720p/1080i/1080p@60HZ
Support Audio format: LPCM, Audio sampling rate 48KHZ
Streaming Bit Rate: 15Mbps
HDCP: Compliant
IR Frequency: 38 -56 KHZ
RS232 Baud rate: Default 2400bps, total 8 kinds optional

IP setting & Group ID setting

Default IP: TX: 192.168.1.11 ; RX: 192.168.1.12
Group ID: Group00-Group 99 (use remote controller)
Request for Switch/Router: Support IGMP, support DHCP

Connectors on Transmitter

Input: 1xHDMI Female port
Output: 1x RJ45 output , 1x HDMI looping output
RS232: Phoenix RS232 port
IR: TX port (Support 38K-56KHz), IR Ext port (Support 38KHz)

Connectors on Receiver

Input: 1xRJ45 input
Output: 1x HDMI Female port looping output
RS232: Phoenix RS232 port
IR: RX port (Support 38K-56KHz), IR Ext port (Support 38KHz)

Environmental & Power Requirements

Operating temperature: -5 to +35 DegC (+23 to +95DegF)
Operating Humidity Range: 5 to 90%RH (No Condensation)
Power supply: DC 5V 1A
Power consumption: Max 3 watt

Physical

Dimension TX: 119x79.5x28mm ; RX: 119x79.5x28mm
Net Weight TX: 0.28KG ; RX:0.28KG
Supported input resolution
50Hz

576i
576P
720P
1080P
1080i

60Hz/59.94Hz
30Hz/29.97Hz: 1080P
24Hz: 1080P
25Hz: 1080P
Accessories

CAT6 Shielded Cable for HDMI Converters
$29.95


CAT6 Cable for HD Installs - CAT6 Made For HD
See Sale Price


CAT5E Shielded Cable for HDTV Installs - All Lengths
Price: $24.95


Today's price:

$19.95

(You Save: 20%)
Compatibility
This HDMI Over IP Extender Set Works With:
Any high definition Dish Network and DirecTV receiver with HDMI outputs
High definition TiVo's with HDMI outputs
Any high definition cable receiver with HDMI outputs
Canadian Rogers, Shaw, Bell ExpressVu and Star Choice receivers with HDMI out, or DVI out with a converter
Any "Over The Air" (OTA) high definition receiver with HDMI outputs
Sony PS3, HD DVD and Blu-ray DVD players
Any Xbox360 with HDMI outputs
Any upconverting DVD player with HDMI outputs
Any DVHS VCR with HDMI outputs
A Roku with HDMI outputs
A Vudu with HDMI outputs
An APPLE TV with HDMI outputs
Many PC video cards with HDMI outputs
Any high definition camcorder with a standard HDMI out or an optional type C to standard HDMI cable
Many A/V surround sound receivers with HDMI switching that include the proper chip set. Call your AV receiver supplier to discuss your application or us.
Any HDCP compliant HDTV, monitor and projector. If the source is HDCP compliant and your TV is not, you will not get a picture. Please check your TV manual or the manufacturers web site.
and other similar devices.
Q/A
Q: What is a managed network?
A:
In typical SNMP use, one or more administrative computers called managers have the task of monitoring or managing a group of hosts or devices on a computer network. Each managed system executes, at all times, a software component called an agent which reports information via SNMP to the manager.
Warranty

HDTV Supply
includes a 1 Year Limited Warranty on this HDMI Over IP Extender system. The warranty states that (a) its products will perform substantially in accordance with the accompanying written materials for a period of 1 year from the date of receipt and (b) that the HDMI Over IP Extender will be free from defects in materials & workmanship under normal use & service for a period of 1 year. In order to get a warranty replacement for a defective item, HDTV Supplys Support Team will verify the product is eligible for warranty. An RMA number will then be issued. Shipped replacements will be in like new conditions, tested and all components included. A 30-day RETURN also comes with this warranty.
HDTV Supply
also sells a 3 and 5 Year Extended Warranty for this HDMI Over IP Extender. Please go to
Extended Warranties
or see the above Options to purchase it.
Ask a Question
Questions & Answers

Ask a question about the Build Your Own HDMI Over IP Extender Matrix Switch w/Remote IR or Call 833-WOLFPACK (833-965-3722)


FAQ
For 50-400 IP devices see these Ethernet switch families...
Cisco SG500X series
Luxul AMS-4424P
Luxul XMS-7048P
Government
This product may be eligible to be purchased through the United States Governments SEWP program, similar to their GSA program.
The NASA SEWP (Solutions for Enterprise-Wide Procurement) provides the latest in Information and Communications Technology (ICT) and Audio-Visual (AV) products and services for all Federal Agencies and their approved contractors.
If you are a government agency and want to see whether HDTV Supply has this product in the SEWP database go to our
our SEWP Contract Holder RedHawk IT Solutions, LLC
to allow you to maybe order this product from the United States Governments SEWP program. It is very easy to place your order, go to the link above and enter HDTV Supply and there you will see a list of part numbers of what we currently have. If you do not see it than give us a call at 833-WOLFPACK (833-965-3722) and we may be able to enter it.
Our SEWP Contract Holder RedHawk IT Solutions partner has the following credentials:
DUNS: 801957023
TIN: 260452583
CAGE: 4TBM6
Their SEWP Federal Contracts are:
SEWP Contract Number: NNG15SD38B
Group: Group B_SDVOSB
NAICS: 541519
and
SEWP Contract Number: NNG15SD88B
Group: Group C
NAICS: 541519
The SEWP Program Office manages a suite of government-wide IT products and services contracts that enable NASA and all Federal Agencies to achieve their missions and strategic initiatives by providing streamlined access to critical technologies and solutions. The Program provides best value for the Federal Government and American taxpayer through innovative procurement processes, premier customer service and outreach, acquisition insight, and partnership with Government entities and Industry.
For a complete listing of HDTV Supply products from us, or our other vendors, call 833-WOLFPACK (833-965-3722).
Build Your Own HDMI Over IP Extender Matrix Switch w/Remote IR
Scroll Left & Right To See 20 Of Your Recently Viewed Items Below