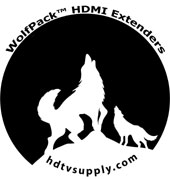 HDTV Supply's WolfPack™
HDMI Over IP Extender
sends an HDMI 1.3 Signal 400' to one or more TV's using one CAT5/6/7 cable over a managed Ethernet network. It also returns an IR control signal to the source to control it. The HDMI extender applies H.264 technology to transmit a lossless HDMI signal from the source up to 400 feet to your HD display over single CAT5/5e/6 cable. Our HDMI Over IP Extender supports the highest resolutions up to 1080p@60Hz. The HDMI Over IP Extender connects via an Ethernet switch to distribute & Extend an HDMI signal with the lowest bandwidth consumption (10Mbps/RX) so to minimize picture quality. It is controlled by a Web GUI Browser.
The WolfPack HDMI Over IP Extender uses H.264 technology to provide high-definition & most vivid output image quality. This HDMI Over IP Extender includes a SEND and a RECEIVE unit plus AC adapters. One converts HDMI to the LAN and the another converts the LAN back to HDMI. The units also come with one set of IR send and receive control cables. The supplied remote control allows you to choose the source and the LED shows the group ID. Multiple receivers can simultaneously connect to many transmitters to form a WolfPack virtual matrix of up to 64 HDMI inputs with up to 253 HDMI receivers (widescreens).
EXAMPLE: 8x32 Network HDMI Matrix Switch:
Let′s say you have an application where you need a 8-1080p sources sent to 32-TVs in any combination. The sources are 6 feet away from the switch and the TVs are 200 feet away from the switch. This is an 8x32 Network HDMI switch and here is what you need to buy from above:
8 - 1080p HDMI Transmitters (TX)
32 - 1080p HDMI Receivers (RX)
1 - 48-port IGMP 10-Gigabit Ethernet Switch
Field expandable by simply buying more TVs, sources and RXs and TXs
HDMI Over IP Extender Features:
Using H.264 compression encoding supporting resolutions up to 1080p@60hz
Complies with TCP/IP protocol and streaming bit rate of 15Mbps
Transmits up to 400 feet over single Cat5e/6 cable with 1 - looping HDMI output in the Transmitter
Includes 1 - looping HDMI output
Supports LPCM audio format
Supports Dynamic Host Configuration Protocol (DHCP)
Wide-band IR control (38KHz to 56KHz)
Choose the source with an LED to show the Group ID with the included IR Remote
Includes bypass 2 way UART/RS232 (Up to 115200) and uses a remote control to select 8 group Baud rate
Supports one to one, one to many, many to one, many to many modes with large cascade
Supports PC tool control
Compatible with Video Player such as VLC etc
HDMI 1.3 version, HDCP 1.2 version;
Supports the highest video resolution up to 1080p@60Hz;
Supports IR signal transmission;
Low bandwidth occupation - 10Mbps.
High compatibility as it can auto-match source and display device;
Good anti-interference performance, strong adaptive ability for long time operating and use in high temperature.
Built-in automatic adjustment system, make the image smooth, clear and stable;
Simple to install i.e. plug and play.
IR control signal included
Embedded infra-red (IR) control path allows user to control HDMI sources remotely from the displays up to 400 feet away.
Supports DVI with a DVI to HDMI cable or adapter.
Supports both HDMI audio and HDMI video
Maximum 3 layers of Ethernet switches that are can be passed through
Easy to be used to build large scale HDMI video & audio network
Universal power supplies at 100 to 240 VAC, 50/60 HZ to 5VDC, 2 prong.
NOTE:
All of these HDMI Over IP Extender Matrix Switch systems, unless otherwise noted, require a dedicated HDMI video system with its own Ethernet switch and not attached to your existing LAN system due to the unknown bandwidth impact on the HDMI video from your network. The design needs to meet these specs:
One Dedicated VLAN for the below devices
No other network appliances in the VLAN
Not the same as an existing "Multicast VLAN"
Unique subnet
No other network appliances in the subnet
Using a single dedicated VLAN to keeps them from interfering with the rest of your VLAN. With all devices in a single VLAN, switching sources involves modifying the IP of the Receiver rather than actively manipulating the VLAN configuration of the managed switch. See hundreds below if you can create a dedicated HDMI Video system over a VLAN based upon the above criteria..
Each device is installed using 1 twisted pair cable. AV signals are transmitted digitally over the solid CAT5/6/7 cable without any signal loss. Internal JPEG video compression adapts to the available network bandwidth if needed. The integrated Scaler function allows different input and output resolutions (different displays can be at different resolutions). The IR TX / RX function can be used remotely to control the HDMI source device from any receiver location. The 2 cables are included that support it.
NOTE:
This HDMI Over IP Extender Set w/Remote IR is not an HDMI Balun, but an HDMI over IP system. This means you can create your own A/V Ethernet network and all of the receivers will find the transmitter automatically. It may even be used over smaller existing house networks and low cost LAN switches and routers.
Why not buy this HDMI Over IP Extender System today?