HDMI Over IP Extender w/Remote IR & HDMI Loopout






Send HDMI video & audio over a managed LAN to 600 feet

Control the source device via the built-in remote IR hardware

Comes with 1 - SEND & 1 - RECEIVE unit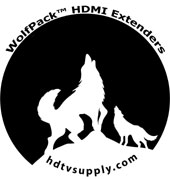 HDTV Supplys WolfPack
HDMI Over IP Extender
sends an HDMI 1.3 Signal 600' to one or more TV's using one CAT5/6/7 cable over a managed Ethernet network. It also returns an IR control signal to the source to control it. The HDMI extender applies H.264 technology to transmit a lossless HDMI signal from the source up to 600 feet to your HD display over single CAT5/5e/6 cable. Our HDMI Over IP Extender supports the highest resolutions up to 1080p@60Hz. The HDMI Over IP Extender connects via an Ethernet switch to distribute & Extend an HDMI signal with the lowest bandwidth consumption (10Mbps/RX) so to minimize picture quality.
The WolfPack HDMI Over IP Extender uses H.264 technology to provide high-definition & most vivid output image quality. This HDMI Over IP Extender includes a SEND and a RECEIVE unit plus AC adapters. One converts HDMI to the LAN and the another converts the LAN back to HDMI. The units also come with one set of IR send and receive control cables. The IR Pass through Control function is best suited for a Point-To-Point application, and may be of limited value in some Point-To-Many environments.
HDMI Over IP Extender Features:
HDMI 1.3 version, HDCP 1.2 version;
Support highest video resolution up to 1080P@60Hz;
Transmits HDMI video and audio signals up to 200m over a single CAT6 cable or 150m over single CAT5E cable or 120m over single CAT5 cable;
Support IR signal transmission;
Low bandwidth occupation - 10Mbps.
High compatibility, can auto-match source and display device;
Good anti-interference performance, strong adaptive ability for long time operating and use in high temperature.
Built-in automatic adjustment system, make the image smooth, clear and stable;
Built-in ESD protection system;
Simple to install, plug and play.
This set includes a SEND and a RECEIVE unit plus AC Adapters. One converts HDMI to IP and the another converts IP back to HDMI
Pairs to be used. One Converts HDMI to IP, another converts IP to HDMI
IR control signal included
Embedded infra-red (IR) control path allows user to control HDMI sources remotely.
HDMI 1.3 compliant (2D)
Supports DVI with a DVI to HDMI cable or adapter.
Supports both HDMI audio and HDMI video
Maximum 3 layers of Ethernet switches can be passed through
Extends the transmission distance to at least 100 meters from the sources
Easy to be used to build large scale HDMI video & audio network
HDCP compliant
Universal power supplies at 100 to 240 VAC, 50/60 HZ to 5VDC, 2 prong.
HDMI Over IP Extender Set Supported Resolutions:
640X480 @ 85fps
800X600 @ 85fps
1024X768 @ 75fps
1280X1024 @ 30fps
1600X1200 @ 30fps
1440X900 @ 30fps
1680X1050 @ 30fps
1920X1080 @ 30fps
You can distribute HD digital content from multiple Sources to up 200 displays on a LAN by cascading Managed Ethernet switches up to 3 levels, allowing the display to be very far away from the source device while sustaining picture & sound quality.
Each device is installed using 1 twisted pair cable. AV signals are transmitted digitally over the solid CAT5/6/7 cable without any signal loss. Internal JPEG video compression adapts to the available network bandwidth if needed. The integrated Scaler function allows different input and output resolutions (different displays can be at different resolutions). The IR TX / RX function can be used remotely to control the HDMI source device from any receiver location. The 2 cables are included that support it.
NOTE:
This HDMI Over IP Extender Set w/Remote IR is not an HDMI Balun, but an HDMI over IP system. This means you can create your own A/V Ethernet network and all of the receivers will find the transmitter automatically. It may even be used over smaller existing house networks and low cost LAN switches and routers.
Why not buy this HDMI Over IP Extender Set today?
The
HDMI Over IP Extender
allows you to simultaneously send out an HDMI 1.3 signal with 1080p video and 5.1 audio to one or more HDMI video projectors or widescreens and return an IR control signal to the source using a CAT5/6/7 Cable over a standard Ethernet infrastructure.
HDMI Over IP Extender Set Specs:
Latency: 200 ms
Compression type: H.264
Standard: IEEE-568B
Cable: CAT5E/6 Shielded or Unshielded
Bandwidth: 10Mbps per receiver
HDMI Version: 1.3 (3D not supported)
HDCP Version: 1.2
Maximum cable length: 200m (656 ft) CAT5e: 150m between ethernet devices CAT6: 200m between ethernet devices
Maximum resolution: 1080p@50/60Hz (1920 x 1080)
Operating temperature range: -5℃ ~ +70℃
Operating humidity range: 5%~90%
Max Power Consumption
Transmitter: 4 Watts
Receiver:4 Watts
Input TMDS signal: 1.2 volts (peak-to-peak)
Input DDC signal: 5 volts (peak-to-peak)
HDMI Connector: 19 pin type female connector
Power Supply: 5V / 2A
RJ-45 Connector
HDMI Over IP Extender Set Supported Resolutions:
640X480 @ 85fps
800X600 @ 85fps
1024X768 @ 75fps
1280X1024 @ 30fps
1600X1200 @ 30fps
1440X900 @ 30fps
1680X1050 @ 30fps
1920X1080 @ 30fps
CAT6 Shielded Cable for HDMI Converters

$29.95

CAT6 Cable for HD Installs - CAT6 Made For HD

See Sale Price

CAT5E Shielded Cable for HDTV Installs - All Lengths

Price: $24.95

Today's price:

$19.95

(You Save: 20%)
This HDMI Over IP Extender Set Works With:
Any high definition Dish Network and DirecTV receiver with HDMI outputs
High definition TiVo's with HDMI outputs
Any high definition cable receiver with HDMI outputs
Canadian Rogers, Shaw, Bell ExpressVu and Star Choice receivers with HDMI out, or DVI out with a converter
Any "Over The Air" (OTA) high definition receiver with HDMI outputs
Sony PS3, HD DVD and Blu-ray DVD players
Any Xbox360 with HDMI outputs
Any upconverting DVD player with HDMI outputs
Any DVHS VCR with HDMI outputs
A Roku with HDMI outputs
A Vudu with HDMI outputs
An APPLE TV with HDMI outputs
Many PC video cards with HDMI outputs
Any high definition camcorder with a standard HDMI out or an optional type C to standard HDMI cable
Many A/V surround sound receivers with HDMI switching that include the proper chip set. Call your AV receiver supplier to discuss your application or us.
Any HDCP compliant HDTV, monitor and projector. If the source is HDCP compliant and your TV is not, you will not get a picture. Please check your TV manual or the manufacturers web site.
and other similar devices.

Q: What is a managed network?
A: In typical SNMP use, one or more administrative computers called managers have the task of monitoring or managing a group of hosts or devices on a computer network. Each managed system executes, at all times, a software component called an agent which reports information via SNMP to the manager.

HDTV Supply
includes a 1 Year Limited Warranty on this HDMI Over IP Extender. The warranty states that (a) its products will perform substantially in accordance with the accompanying written materials for a period of 1 year from the date of receipt and (b) that the HDMI Over IP Extender will be free from defects in materials & workmanship under normal use & service for a period of 1 year. In order to get a warranty replacement for a defective item, HDTV Supplys Support Team will verify the product is eligible for warranty. An RMA number will then be issued. Shipped replacements will be in like new conditions, tested and all components included. A 30-day RETURN also comes with this warranty.
HDTV Supply
also sells a 3 and 5 Year Extended Warranty for this HDMI Over IP Extender. Please go to
Extended Warranties
or see the above Options to purchase it.
Questions & Answers

Ask a question about the HDMI Over IP Extender w/Remote IR & HDMI Loopout or Call 800-841-9238


HDMI Over IP Extender w/Remote IR & HDMI Loopout
Recently Viewed Items