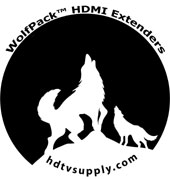 HDTV Supplys WolfPack
HDMI Over Coax Extender
sends an HDMI audio and video signals Over just one 75Ohm RG-6 Coaxial cable up to 300 feet way. The HDMI Over Coax Extender includes two units...an HDMI to coax transmitter and a coax to receiver. Two AC adapters are included also. The TVs must have HDMI inputs and source device send the signal must have an HDMI connector.
The transmitting unit is used to capture the HDMI input with IR signals and carries the signals via one coaxial cable. The receiving unit is responsible for equalizing the transmitted HDMI signal and reconstructing IR and serial control signals. The Extender offers the most convenient solution for HDMI extension over a single coaxial cable with long distance capability, and is the perfect solution for HDMI video and stereo audio signals over coax applications.
HDMI Over Coax Extender Features:
Flexible extension of high-bandwidth HDMI due to the performance and reliability of 75 Ohm RG-6U Coax cables.
Audio and video are transmitted digitally over the 75 Ohm RG-6U Coax cable with zero signal loss.
Single Link Range: 1080p/60, 12 bit color depth.
Compliant with HDMI 1.3 and HDCP 1.1 standards.
Supports digital video formats in Deep Color Mode at up to 12bits/color.
Supports PCM 48KHz audio.
Supports a Cascade function in Transmitter and Receiver and is easy to build a network system.
Lip-Sync Pass Through.
Bi-directional IR system allowing for control of source or display (IR accessories included).
This HDMI Extender carries a full HD 1080p HDMI signal plus PCM 48kHz audio up to 7.1ch. A switch on the side of the transmitter allows you to select the appropriate EDID ranging from 1080i with 2 channel audio up to 1080p with 7.1 channel audio.
NOTE:
This HDMI Coax Extender includes a SEND unit and its AC adapter and a RECEIVE unit and its AC adapter and both must be used. It cannot work with only one box and needs both boxes and must be used in pairs. It cannot be used to convert an incoming coax signal to an HDMI signal. Think of it as a long HDMI cable.
Our HDMI Over Coax Extender supports HDMI 1.3 and HDCP 1.1 with features such as Deep Color and 1080p. By using standard and widely available 75Ohm RG-6U cables the HDMI Over Single Coax Extender makes HDMI signal extensions far easier than using heavy and expensive copper HDMI cable and with this method is more robust than using optical fiber.
Why not buy this HDMI Over Coax Extender today?