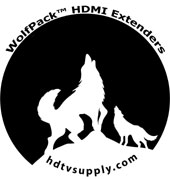 HDTV Supplys WolfPack™
HDMI Over Coax Adapter with IR
extends an HDMI signal and its IR signal over a point-to-point coax cable up to 1,500 feet with RG59/RG6 coaxial cabling. The HDMI Over Coax Adapter with IR also allows you to split to multiple receivers, or combine multiple transmitters set to different channels, using simple passive coax splitters. It could be widely applied in CCTV, CATV, outer large screen, shopping mall advertisement, media education or replacing new HDMI devices instead of old analog system over existing coaxial cable. TVs must have HDMI inputs!
HDMI Over Coax Adapter with IR Applications:
Existing homes with coax cables installer, hotels, hospitals, schools, video conference room, supermarket, malls, shops where need meeting video distribution, digital signage, student training broadcasting, DVD Blue Ray players video distribution, security monitoring system, etc.
The HDMI Over Coax Adapter with IR supports HDMI 1.3 and HDCP 1.2 and features such as Deep Color and 1080p. By using standard and widely available 75Ohm RG-6U cables, the HDMI Over Coax Adapter with IR extends your HDMI signal easier than using heavy and expensive copper cable and more robust than using optical fiber cable.
HDMI Over Coax Adapter with IR Features:
Extends a 1080p HDMI signal over coax up to 1,500 feet.
Sends the HDMI signal over DVB-T RF Modulator technology
Supports point to point, multiple source devices to multi-display connections via CATV RF splitter/DTV Mixer.
Supports an HDMI matrix solution over existing coax cables.
Video encoding: H.264 that supportd up to 1080P@30fps
Audio encoding: MPEG2
Transmission distance up to 1,500 feet over coax cable.
Support resolution up to 1080p@60Hz.
Supports up to 99 channel for both of TX/RX with a frequency range 142-950 Mhz
TX/RX built in LCD display with edit channel setting.
The HDTVHE05CT transmitter has a built in HDMI loop out and channel ID setting by the front panel buttons.
The HDTVHE05CR receiver input source selection could be from front panel button or IR remote controller.
HDMI 1.3, HDCP 1.4, DVI 1.0 compliant.
HE05CR Option Model: IR01: IR remote controller , IR-CR01 IR receiver cable TPN002U: 1U 19" Rack Mounting Panel (Allow fix two unit of HE05CT/HE05CR)
The HDMI Over Coax Adapter with IR system consists of a Transmitter (TX) and a Receiver (X). The HDMI source (set-top box, DVD player, gaming console, etc) connects to the Transmitter box with a HDMI cable. The Receiver (RX) connects to the HDTV display up to 1,500 feet away. One 75Ohm RG-6U Coax cable links the Transmitter and Receiver. Power is applied to the Transmitter and Receiver with the included AC adapters.
Why not buy this HDMI Over Coax Adapter with IR today?