WolfPack HDMI Over Coax Adapter with IR to 1,500 Feet




WolfPack HDMI Over Coax Adapter

Includes far away control via IR

HDMI Loopout for Local Monitor

5 Year Warranty

Free Lifetime U.S. Telephone Tech Support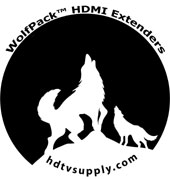 HDTV Supplys WolfPack™
HDMI Over Coax Adapter with IR
extends an HDMI signal and its IR signal over a point-to-point coax cable up to 1,500 feet with RG59/RG6 coaxial cabling. The HDMI Over Coax Adapter with IR also allows you to split to multiple receivers, or combine multiple transmitters set to different channels, using simple passive coax splitters. It could be widely applied in CCTV, CATV, outer large screen, shopping mall advertisement, media education or replacing new HDMI devices instead of old analog system over existing coaxial cable. TVs must have HDMI inputs!
HDMI Over Coax Adapter with IR Applications:
Existing homes with coax cables installer, hotels, hospitals, schools, video conference room, supermarket, malls, shops where need meeting video distribution, digital signage, student training broadcasting, DVD Blue Ray players video distribution, security monitoring system, etc.
HDMI Over Coax Adapter with IR Features:
Extends a 1080p HDMI signal over coax up to 1,500 feet.
Sends the HDMI signal over DVB-T RF Modulator technology
Supports point to point, multiple source devices to multi-display connections via CATV RF splitter/DTV Mixer.
Supports an HDMI matrix solution over existing coax cables.
Video encoding: H.264 that supportd up to 1080P@30fps
Audio encoding: MPEG2
Transmission distance up to 1,500 feet over coax cable.
Support resolution up to 1080p@60Hz.
Supports up to 99 channel for both of TX/RX with a frequency range 142-950 Mhz
TX/RX built in LCD display with edit channel setting.
The HDTVHE05CT transmitter has a built in HDMI loop out and channel ID setting by the front panel buttons.
The HDTVHE05CR receiver input source selection could be from front panel button or IR remote controller.
HDMI 1.3, HDCP 1.4, DVI 1.0 compliant.
HE05CR Option Model: IR01: IR remote controller , IR-CR01 IR receiver cable TPN002U: 1U 19" Rack Mounting Panel (Allow fix two unit of HE05CT/HE05CR)
The HDMI Over Coax Adapter with IR supports HDMI 1.3 and HDCP 1.2 and features such as Deep Color and 1080p. By using standard and widely available 75Ohm RG-6U cables, the HDMI Over Coax Adapter with IR extends your HDMI signal easier than using heavy and expensive copper cable and more robust than using optical fiber cable. The HDMI Over Coax Adapter with IR system consists of a Transmitter (TX) and a Receiver (X). The HDMI source (set-top box, DVD player, gaming console, etc) connects to the Transmitter box with a HDMI cable. The Receiver (RX) connects to the HDTV display up to 1,500 feet away. One 75Ohm RG-6U Coax cable links the Transmitter and Receiver. Power is applied to the Transmitter and Receiver with the included AC adapters.
Why not buy this HDMI Over Coax Adapter with IR today?
What this WolfPack HDMI to Coax Converter Can & Cannot Do:
CAN DO:

Convert an HDMI signal (like from a DVD player) to a coax or single RCA cable AND CONVERT THE CABLE BACK TO HDMI TO GO TO A TVs HDMI INPUT.
It will do nothing else.
Think of it as a long HDMI cable with HDMI connectors on both ends.
Both the Transmitter and Receiver MUST be used and each has an AC adapter.
Send a signal through a direct coax or RCA cable without splitters

WHAT IT CANNOT DO:

Convert an HDMI signal to a coax signal to go into the coax input of a TV.
Convert a coax signal from the cable company to an HDMI signal.
Convert a coax signal from an antenna to an HDMI signal.
Send a signal through a coax cable that has splitters
WolfPack HDMI to Coax Splitter to Many HDMI TVs Up To 1,500' - You Design It

$100.00

WolfPack HDMI over CAT6 Extender to 700 Feet w/IR

Price: $499.95

Today's price:

$299.95

(You Save: 40%)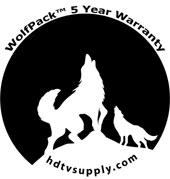 HDTV Supply
includes a 5 Year U.S. Limited Extended Warranty on this product. There are two bundled parts to this 5 year warranty. The 5 year warranty is only for the main device you purchased and does not include any product options or additional products you purchased at the same time.
FIRST YEAR:
The first year is direct with with HDTV Supply at 800-841-9238. The warranty states that the Product will perform substantially in accordance with the supplied written materials and Product information located on this Product web site page for a period of 1 year from the date of shipment of the Product and that the Product will be free from defects in materials & workmanship under normal use & service for a period of 1 year from date of shipment.
In order to get a warranty replacement for a defective item within the first year call HDTV Supplys Tech Support Team with your order number at 800-841-9238 and they will verify the product is eligible for a warranty repair. An RMA number will then be issued via email. Shipped replacements will be in like new condition, tested and all components included. Please read
HDTV Supplys Warranty Terms and Conditions
for more.
2ND THROUGH 5TH YEAR:
The 2nd through 5th year are direct with
Consumer Priority Extended Warranty Service (CPS)
as they are HDTV Supplys extended warranty provider. They are a large 3rd party repair company with facilities throughout the U.S. and offer our U.S. customers unparalleled product coverage and repairs. If after calling HDTV Supply, at 800-841-9238, we find we can't fix the issue over the phone, and you need a repair, you will henceforth deal directly with CPS for the repairs via their toll free phone number (800) 905-0443 Option 3 during the 2nd through 5th year.
You can also
email CPS
and
email HDTV Supply
as well as call us a 800-841-9238 if you have any questions with this 5 year bundled warranty.
Questions & Answers

Ask a question about the WolfPack HDMI Over Coax Adapter with IR to 1,500 Feet or Call 800-841-9238



NOTE 1: This HDMI to coax set includes a SEND unit and a RECEIVE unit and 2-AC adapters and all must be used. It cannot work with only one box and needs both boxes. Think of it as a long HDMI cable going to a TV with an HDMI input. Existing passive splitters drop the signal strength in half, or more, so delete all of the splitters and wire directly. It does not work any other way. Our HDMI to Coax Adapter does not convert a coax cable coming out of the wall from a cable box company.

NOTE 2: In-house and existing passive splitters drop the signal strength in half, or more, so delete all of the splitters and wire this device directly as it won't work with coax splitters. They should NOT be used in conjunction with connector adapters, signal processors, switches or amplifiers between the Source and Display device. This HDMI Coax Adapter sends only one HDMI signal to a TV with the receive unit at the TV. It does not work any other way. If you are trying to send one coax signal to a TV with an HDMI input it won't work. One set includes a transmitter and a receiver set and 2-AC adapters.
WolfPack HDMI Over Coax Adapter with IR to 1,500 Feet
Recently Viewed Items