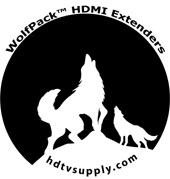 HDTV Supplys WolfPack 4K
HDMI over One CAT5 Cable Converter
supports audio & video up to 4K at 30 Hz to ~100 feet to your projector, flat screen or HDTV. This HDMI over One CAT5 Cable Converter is suitable for applications where only one CAT5 cable in already installed.
NOTE: This product has been discontinued. See the above SIMILAR Tab for equivalent products or, if not there, call us at 833-WOLFPACK (833-965-3722) right now to discuss your needs.
The 4K HDMI over One CAT5 Cable Converter set includes one transmitter, one receiver and 2 - 117VAC, 60 Hz to 5VDC AC adapters. This combo helps with more HDMI devices like PC video cards and surround sound receivers who are not designed to drive long HDMI cable lengths.
4K HDMI over One CAT5 Cable Extender Features:
Supported transmission distances:

When the input is 1080p or lower the maximum distance is ~200 feet
When the input is 4K at 30 Hz the maximum distance is ~100 feet

Supports IR extension so you can use your sources IR remote control to control it from the TV
Power input: DC5V/1A
Supports both HDMI audio and HDMI video
The set includes 1 - transmitter and 1 - receiver and 2 - AC adapters.
Supports HDMI 1.4 version
HDCP 1.4
Supports all 3D Video formats
Supports the highest resolution of up to 3840x2160/30Hz, 1080p/60Hz, 1080i, 720p and 480p
Supports sound sampling frequency:44.1KHz ,48KHz,96KHz, etc.
Supports 36 bit deep color
DTV/HDTV Video format supported: 480 / 576i / 480p / 576p / 720p / 1080i / 1080p
Uses a single STP/UTP LAN cable(Cat5E/6) to substitute for an HDMI cable to achieve long distances.
UTP cable termination follows the standard of IEEE-568B.
Transmission distance reach up to 50 meters under the video format of 1080p.
Auto-adjus™ent of feedback, equalization and amplification and you do not need to care about the length of the cable.
HDCP compliant.
2 - 117VAC, 60 Hz AC adapters included
For optimal video performance use our
WolfPack HDMI 2.0b and HDCP 2.2 cables
with this product.
NOTE: We recommend strongly that you use good solid CAT5e / 6 cables with any CAT5 / 6 converting products like this one. Most of our "no picture" support calls are due to poor quality and cheap CAT5 cables. Since it is high definition video we only recommend CAT5/6 cables with specs like our CAT-5 /6 cables either bought from us or another high quality supplier.
Why not buy this HDMI over One CAT5 Cable Converter today?
For optimal video performance use our
WolfPack HDMI 2.0b and HDCP 2.2 cables
with this product.
4K HDMI over One CAT5 Extender Contents:
HDMI Transmitter x1pc
HDMI Receiver x1pc
Power adapter 5V/1A x2pcs
IR cable x1 pair
User manual x1pc
TIP:
Because the quality of the LAN cables has a major effect in transmission distance always use high quality cables. For 4K resolutions, CAT6 solid wire cables are highly recommended.
The transmission length is largely affected by the type of LAN cables, the type of video sources and the type of HDMI display. Our testing results show solid LAN cables (usually in bulk cable 300m or 1000 foot form) can transmit a longer signal than stranded LAN cables (usually in patch cord form).
Shielded (STP) cables are better suited than unshielded (UTP) cables. A solid UTP CAT5E cable allows a longer transmission length than a stranded STP CAT6 cable. For long extension users, solid LAN cables should be your only choice. To reduce the interference among the unshielded twisted pairs of wires in a LAN cable, you can use shielded LAN cables to reduce EMI problems, which is worse when you have long transmission distances.
This HDMI over One CAT5 Cable Converter solves the most often encountered problems, delivering high quality video and audio to the destination over long range STP/UTP cable with just a single cable.
This 4K HDMI over One CAT5 Cable Converter Can Be Used With:
Any high definition Dish Network and DirecTV receiver with HDMI outputs
High definition TiVo's with HDMI outputs
Any high definition cable receiver with HDMI outputs
Canadian Rogers, Shaw, Bell ExpressVu and Star Choice receivers with HDMI out, or DVI out with a converter
Any "Over The Air" (OTA) high definition receiver with HDMI outputs
Sony PS3, HD DVD and Blu-ray DVD players
Any Xbox360 with HDMI outputs
Any upconverting DVD player with HDMI outputs
Any DVHS VCR with HDMI outputs
An APPLE TV with HDMI outputs
An Roku with HDMI outputs
An Vudu with HDMI outputs
Many PC video card with HDMI outputs
Any high definition camcorder with an optional type C to standard HDMI cable
Many A/V surround sound receivers with HDMI switching that include the proper chip set. Call your AV receiver supplier to discuss your application or us.
Any HDCP compliant HDTV, monitor and projector. If the source is HDCP compliant and your TV is not, you will not get a picture. Please check your TV manual or the manufacturers web site.
All HDMI 1.3b compliant devices as well as with older 1.0, 1.1, 1.2 and 1.3 versions
and other similar devices.
Q: Will this work at 75 feet with DirecTV's new 4K box?
A: Yes, we tested it in our lab using a CAT6 shielded cable and the HDMI video and audio were perfect.