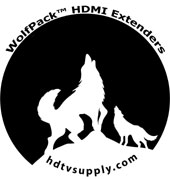 HDTV Supplys WolfPack™
HDMI over CAT5 Extender
is a great solution for extending HDMI signal over one Cat5 cable up to 330 feet. Cascadeable to 100 Displays at up to ~2 Miles by adding additional transmitters and receivers. The receiver has an HDMI output and 2 x CAT6 outputs to chain to more receivers for longer distance and multiple displays.
The WolfPack HDMI over CAT5 Extender can handle any resolution up to 1080p. The installation of the HDMI over CAT5 Extender is quick and easy, simply place Sender unit next to your HDTV source such as a DVD player, place the Receiver unit next to your display, then connect one Cat5/6 cable and you are done, the signal will be sent over the Cat5 cable with perfect video quality.
WolfPack HDMI over CAT5 Extender Features:
Extends HDMI signal over one CAT5/5e/6 cable.
Including 1 - HDTVHE03LT transmitter and 1-HDTVHE03LR receiver unit plus power supplies/
Receiver built in 1 x HDMI output and 2 x CAT5 output for chainable to another receiver for longer distance and multiple displays.
HE03LR receiver could be chainable up to 31 layers with distance 1.8 miles. It also could be cascaded to up to 100 displays
HDMI 1.3 compliant.
HDCP compatible.
Transmission range up to 300 feet at 1080p.
Plug and play for easy operation.
Supports CAT-5/CAT-5E/CAT-6 cables of variable types.
Supports high definition resolutions up to 1080P
Easy to install and simple to operate.
NOTE:
We recommend strongly that you use good solid 6 cables with any CAT5 / 6 converting products like this one. Most of our "no picture" support calls are due to poor quality and cheap or poorly made cables.
Since it is high definition video we only recommend CAT5/6 cables with specs like our CAT-5 /6 cables either bought from us or another high quality supplier. We also recommend, if possible, pre-made cables that are factory tested vs. field made cables due to the advanced testing methods used.
Why not buy this WolfPack HDMI over CAT5 Extender today?