WolfPack HDMI to CAT5 Extender to 300' w/Chainable Receivers to 2 Miles & 100 Displays




Send 1080p HDMI over one CAT6 cable to 300 feet with this HDMI extender

Cascadeable to 100 Displays at up to ~2 Miles

Part # HDTVHE03L

Today's Price: $299.95
Features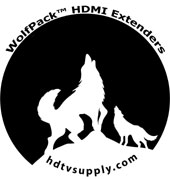 HDTV Supplys WolfPack™
HDMI over CAT5 Extender
is a great solution for extending HDMI signal over one Cat5 cable up to 330 feet. Cascadeable to 100 Displays at up to ~2 Miles by adding additional transmitters and receivers. The receiver has an HDMI output and 2 x CAT6 outputs to chain to more receivers for longer distance and multiple displays.
The WolfPack HDMI over CAT5 Extender can handle any resolution up to 1080p. The installation of the HDMI over CAT5 Extender is quick and easy, simply place Sender unit next to your HDTV source such as a DVD player, place the Receiver unit next to your display, then connect one Cat5/6 cable and you are done, the signal will be sent over the Cat5 cable with perfect video quality.
WolfPack HDMI over CAT5 Extender Features:
Extends HDMI signal over one CAT5/5e/6 cable.
Including 1 - HDTVHE03LT transmitter and 1-HDTVHE03LR receiver unit plus power supplies/
Receiver built in 1 x HDMI output and 2 x CAT5 output for chainable to another receiver for longer distance and multiple displays.
HE03LR receiver could be chainable up to 31 layers with distance 1.8 miles. It also could be cascaded to up to 100 displays
HDMI 1.3 compliant.
HDCP compatible.
Transmission range up to 300 feet at 1080p.
Plug and play for easy operation.
Supports CAT-5/CAT-5E/CAT-6 cables of variable types.
Supports high definition resolutions up to 1080P
Easy to install and simple to operate.
NOTE:
We recommend strongly that you use good solid 6 cables with any CAT5 / 6 converting products like this one. Most of our "no picture" support calls are due to poor quality and cheap or poorly made cables.
Since it is high definition video we only recommend CAT5/6 cables with specs like our CAT-5 /6 cables either bought from us or another high quality supplier. We also recommend, if possible, pre-made cables that are factory tested vs. field made cables due to the advanced testing methods used.
Why not buy this WolfPack HDMI over CAT5 Extender today?
Specs
HDMI over CAT5 Extender Technical Specifications:
Extends HDMI signal over one CAT5/5e/6 cables
Supports resolution up to 1920 x 1080 at 50/60Hz
Transmission range up to 100 meters at 1080p resolution
The included HE03LR receiver has 2 x RJ45 outputs to repeat the signal to another receiver for extra long range distance and multiple displays
The HE03LR receiver can be linked up to 31 times providing 3.1km distance from the transmitter
Cascade up to 5 layers transmitting signal to up to 100 displays
HDCP and HDMI 1.3 compliance
Supported Resolutions: Up to 1920 x 1080
Transmission Distance: 100M or 330 feet (Max)
HDMI Connector: Sender is A-Type x 1 and receiver is A-Type x 1
RJ45 Connector: Sender is RJ45 x 1 and receiver is RJ45 x 3
Power Supply: Sender is DC5V 2Amp and receiver is DC5V 2Amp
Power Consumption: Sender is 860mA and receiver is 950mA
Temperature Operation: 0 to 55℃, Storage: -20 TO 85℃,
Humidity: up to 95%
Dimensions in W x H x D mm: Sender is 67*140*27 (mm) 67*155*27 (mm)
Video Bandwidth: 1.65 GHz
Supports Resolutions: 480i/480p, 576i/576p, 720p 50/60Hz, 1080i 50/60Hz, 1080p 50/60Hz
Power Supply: 5V DC (universal power supply 110/220v)
Dimensions: 4.8 (W) x 4.9 (D) x 1.4 (H) - (inch) (same dimensions for both units)
Shipping Weight: ~4 Lbs.
HDMI over CAT5 Extender Package Includes:
One HDMI over CAT5 Extender sender and receiver units
Two - 5v power supplies
One Users manual
Warranty: 1 year warranty (parts&labor)
Accessories

4K HDMI CABLES



CAT6 Shielded Cable for HDMI Converters
$29.95


CAT6 Cable for HD Installs - CAT6 Made For HD
See Sale Price


CAT5E Shielded Cable for HDTV Installs - All Lengths
Price: $24.95


Today's price:

$19.95

(You Save: 20%)
Compatibility
This HDMI over CAT5 Extender will extend the following devices over 300 feet and further when chanined:
Any high definition Dish Network and DirecTV receiver with HDMI outputs
High definition TiVo's with HDMI outputs
Any high definition cable receiver with HDMI outputs
Canadian Rogers, Shaw, Bell ExpressVu and Star Choice receivers with HDMI out, or DVI out with a converter
Any "Over The Air" (OTA) high definition receiver with HDMI outputs
Sony PS3, HD DVD and Blu-ray DVD players
Any Xbox360 with HDMI outputs
Any upconverting DVD player with HDMI outputs
Any DVHS VCR with HDMI outputs
An APPLE TV with HDMI outputs
A VuDu with HDMI outputs
Many PC video cards with HDMI outputs
Any high definition camcorder with an optional type C to standard HDMI cable
Many A/V surround sound receivers with HDMI switching that include the proper chip set. Call your AV receiver supplier to discuss your application or us.
Any HDCP compliant HDTV, monitor and projector. If the source is HDCP compliant and your TV is not, you will not get a picture. Please check your TV manual or the manufacturers web site.
and other similar devices.
Warranty

HDTV Supply
includes a 1 Year Limited U.S. Warranty on this product. The U.S. warranty states that (a) its products will perform substantially in accordance with the accompanying written materials for a period of 1 year from the date of receipt and (b) that the Product will be free from defects in materials & workmanship under normal use & service for a period of 1 year. In order to get a warranty replacement for a defective item, HDTV Supplys Support Team will verify the product is eligible for warranty. An RMA number will then be issued. Shipped replacements will be in like new conditions, tested and all components included. A 30-day RETURN also comes with this warranty as well as Free Lifetime Tech Support.
HDTV Supply
also sells a 3 and 5 Year Extended U.S. Warranty for this product. Please go to
Extended Warranties
or see the above Options to purchase it.
Ask a Question
Questions & Answers

Ask a question about the WolfPack HDMI to CAT5 Extender to 300' w/Chainable Receivers to 2 Miles & 100 Displays or Call 833-WOLFPACK (833-965-3722)


Government
This product may be eligible to be purchased through the United States Governments SEWP program, similar to their GSA program.
The NASA SEWP (Solutions for Enterprise-Wide Procurement) provides the latest in Information and Communications Technology (ICT) and Audio-Visual (AV) products and services for all Federal Agencies and their approved contractors.
If you are a government agency and want to see whether HDTV Supply has this product in the SEWP database go to our
our SEWP Contract Holder RedHawk IT Solutions, LLC
to allow you to maybe order this product from the United States Governments SEWP program. It is very easy to place your order, go to the link above and enter HDTV Supply and there you will see a list of part numbers of what we currently have. If you do not see it than give us a call at 833-WOLFPACK (833-965-3722) and we may be able to enter it.
Our SEWP Contract Holder RedHawk IT Solutions partner has the following credentials:
DUNS: 801957023
TIN: 260452583
CAGE: 4TBM6
Their SEWP Federal Contracts are:
SEWP Contract Number: NNG15SD38B
Group: Group B_SDVOSB
NAICS: 541519
and
SEWP Contract Number: NNG15SD88B
Group: Group C
NAICS: 541519
The SEWP Program Office manages a suite of government-wide IT products and services contracts that enable NASA and all Federal Agencies to achieve their missions and strategic initiatives by providing streamlined access to critical technologies and solutions. The Program provides best value for the Federal Government and American taxpayer through innovative procurement processes, premier customer service and outreach, acquisition insight, and partnership with Government entities and Industry.
For a complete listing of HDTV Supply products from us, or our other vendors, call 833-WOLFPACK (833-965-3722).
WolfPack HDMI to CAT5 Extender to 300' w/Chainable Receivers to 2 Miles & 100 Displays
Scroll Left & Right To See 20 Of Your Recently Viewed Items Below