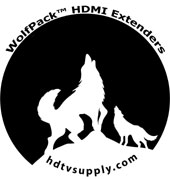 HDTV Supplys WolfPack HDR
4K HDBaseT Extender with 18 GBPS Bandwidth
over Single CAT5e/6 employs HDBaseT technology to route high-resolution HDMI signals with uncompressed HD 1080p to 330 feet and 4K at 60 Hz to 200 feet.
The WolfPack 4K HDBaseT Extender with 18 GBPS Bandwidth is designed to convert an HDMI signal to a standard HDBaseT signal which can then be transmitted by a single Ethernet LAN cable and also supports Bidirectional Infrared control signal together with the HDMI signal so you can control the Source at the Sink side which can be 100s of feet away. It also can control the Sink in the Source side.
NOTE:
HDTV Supplys implementation of the HDBaseT technology and this HDBaseT Extender with 18 GBPS Bandwidth adds virtually zero latency to the signal, less than 7 microseconds over 220 feet of CATx cable. At 100 feet you are talking about 3 microseconds. This means for example, in a church or auditorium, the speakers lips are in synch with the image on all the TVs and projectors.
HDBaseT Extender with 18 GBPS Bandwidth Features:
HDMI 2.0b (18Gbps), HDCP 2.2 and DVI compliant
Video resolutions up to 4K2K@50/60Hz (YUV 4:4:4)
10bits HDR (High Dynamic Range) pass through
Transmission distance:

Over CAT6 cable to 330 feet: 1080p @60Hz 36bit and 3D at 1080p@30Hz 36bit
Over CAT6 cable to 220 feet: 1080p @60Hz 48bit; 1080p @120Hz 24bit; 3D 1080p@60Hz 36bit; 4Kx2K@30Hz 24bit. 4K2K@50/60Hz (YUV420), 4K2K@50/60Hz (YUV444)

HDR, MR240, OLED, UHD, SUHD, HDMI 1.4, HDMI 2.0, HDMI 2.0a, HDMI 2.0b and HDCP 2.2
18 GBPS Transmission Rate - The Fastest You can get
Supports 4K Ultra HD (UHD) up to 60 Hz & TVs to 240 Hz
All Versions of HDR, Dolby Vision & Atmos Compliant
Supports HDMI High Bit Rate(HBR) audio pass through
Supports the Power over HDBaseT feature allowing the transmitter or receiver to be powered by the other device over the Ethernet cable
Supports CEC bypass
Optical audio supports LPCM 2CH, Dobly Digital 2/5.1CH, DTS 2/5.1CH
HDMI Compliance: HDMI 2.0b
HDCP Compliance : HDCP 2.2 and HDCP 1.4
Video Bandwidth: 18 Gbps
Video Resolutions up to 4K2K@50/60Hz(YUV4:4:4), 4K2K@30Hz, 1080P@120Hz and 1080P 3D@60Hz
Color Space: RGB, YCbCr 4:4:4, YCbCr 4:2:2
Color Depth: 10-bit and 12-bit
HDMI Audio Formats (Pass-through): LPCM 2/5.1/7.1CH, Dolby Digital, DTS 5.1, Dolby Digital+, Dolby TrueHD, DTS-HD Master Audio, Dolby Atmos and DTS:X
Optical Audio Formats: LPCM 2CH, LPCM 5.1, Dolby Digital 2/5.1CH, DTS 2/5.1CH
Flexible Bidirectional IR control
Front panel Power and Link status LEDs
Rear panel I/O connectors
Field updateable firmware
ESD Protection: Human body model - 8kV+- (air-gap discharge) & 4kV+- (contact discharge)
Includes mounting ears
20~60kHz Wideband Bi-Directional IR:
Over the same CAT5e/6/7 cable you can send commands from a control system to the TV as well as simultaneously control DVD players, cable boxes and other source equipment from the TV location. The IR works in only stand alone applications with one source and one TV
Our WolfPack 4K HDBaseT Extender with 18 GBPS Bandwidth has virtually a lossless high bandwidth 4K HDR signal. Deep Color and HDR Metadata remain intact making the transmission free of artifacts like banding. Other similar devices will deliver a sub-par image that has very visible.
Why not buy this HDBaseT Extender with 18 GBPS Bandwidth today?