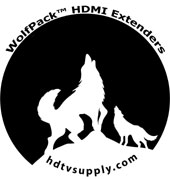 When you need to add a SEND or RECEIVE unit to our HDTV Supplys WolfPack
HDMI to Coax
set you can buy them here. These HDMI to Coax adapters allows HDMI audio and video signals to be transmitted using one coaxial cable used with the HDTVECHS10021.
This adapter can only to be used with HDTV Supply part number HDTVECHS10021 and will not work as a standalone product. It will not change a coax cable to HDMI or an HDMI connection into coax!
The HDTVECHS10021 complete transmitter and receiver set allows you to use the coax wire rather than tearing out your walls to replace them with a long HDMI cable or an HDMI over CAT5 set.
The HDTVECHS10021 complete set of HDMI to Coax Adapters lets you extend HDMI audio/video signal by up to 100 meters (328 feet) over single coaxial cable. The extender kit includes both the local transmitter and remote receiver units, ideal for point-to-point digital signage applications that require high quality HDMI video. The extender allows you to run the connection over an existing coaxial cable, with little to no modification required, making it a perfect solution for a broad range of applications.
NOTE 1:
This HDMI to coax includes either a SEND unit or a RECEIVE unit and an AC adapter and all must be used with either a transmitter or receiver. It cannot work with only one box and needs both boxes. Think of it as 1/2 of a long HDMI cable going to a TV with an HDMI input. Existing passive splitters drop the signal strength in half, or more, so delete all of the splitters and wire directly. It does not work any other way. Our HDMI to Coax Adapter does not convert a coax cable coming out of the wall from a cable box company. Also the connectors are female BNC so if you are using a cable with a male coax connector you will need the optional BNC to F adapters shown in the above options.