Atlona 5 Input 4K HDMI Switcher w/2 HDMI & HDBaseT Ouputs




4K Dual Mirrored HDMI outputs

4K at 60 Hz Rated

Auto-switching

GUI, TCP/IP, RS-232, and IR control

EDID & HDCP management

10 Year Warranty

Atlona AT-UHD-SW-52ED 4K/UHD 5 Input HDMI Switcher w/Mirrored HDMI and HDBaseT Outputs and PoE
The AT-UHD-SW-52ED from Atlona is a 5x1 HDMI switcher that supports 4K/UHD videos @ 60 Hz. It features mirrored HDMI and HDBaseT outputs, auto-switching, balanced audio outputs and advanced control capability. It also offers a bandwidth of 10.2Gbps for 3D pass-through. The front panel buttons and IR remote control allow it to be used a standalone switcher.

The AT-UHD-SW-52ED is part of the SW-5 Series, Atlona抯first line of HDMI switchers that support 4K/UHD video at 60Hz. The series, consisting of three switchers, have five inputs and offer 10.2 Gbps bandwidth with a web server enabling GUI control over EDID, HDCP, and audio settings. All models in the series are equipped for auto-switching and remote control via IR, IP, and RS-232 formats. The switchers support multi-channel digital audio formats up to Dolby Atmos and DTS-HD Master Audio. And all allow HDCP management for use with compliant and non-compliant devices and are equipped with USB and LAN ports for firmware updating.

Mirrored, dual HDMI outputs
Supports dual room display environments or primary room display and presenter抯confidence monitor
Eliminates cost associated with extra gear; simplifies installation
4K/UHD capability
Compatible with Ultra High Definition PCs and other sources and displays
Supports high resolution applications such as CAD, desktop publishing, and detailed finance reporting
Supports up to HDCP 1.4 (Does not support HDCP 2.2 devices)
Auto-switching
Reduces complexity or eliminates control system completely
Simplifies user operation
TCP/IP, RS-232, and IR control
Flexible control options compatible with 3rd-party control systems
Reduces integration time and costs
EDID management
Manages EDID communications between source and display; allows integrators to force sources to preferred resolution
Ensures desired audio formats and video resolutions are provided to the AV system; eliminates the need for EDID management device
HDCP management
Allows non-protected material from PCs to pass to non-compliant displays and teleconference systems while protected content is not transmitted
HDCP compliance can be switched on/off from control systems for use with non-compliant displays, streaming devices, and codecs
Easy, GUI-based configuration using integrated web server
Offers menu-based configuration of network settings, RS-232 settings, input switching, EDID, and HDCP management and audio
Allows fast configuration of internal product settings and troubleshooting from a tablet, smart phone, or PC in the field
Volume controls
Volume Up and Volume Down button adjust output level to sound system
Provides quick level adjustment
Volume indicator
Displays volume level of the switcher
Provides quick indication of level during setup
Balanced, line level output
Reduces noise and requirement for external components
Matches requirements of commercial sound systems
Multi-channel audio compliant
Supports PCM, Dolby Digital, Dolby Digital Plus, Dolby TrueHD, Dolby Atmos, DTS Digital Surround, and DTS-HD Master Audio
Allows any multi-channel audio stream to be used within a professional audio system
Rack-mountable, 1U, half rack width enclosure
Installs easily in rack-mounted systems with optional 19 rack-mount brackets
Simplifies installations; allows two units to be mounted together
Included accessories
User guide, desktop power supply, detachable power cable, IR hand held remote control, rack mount bracket kit
Award-winning 10 year limited product warranty
Ensures long-term product reliability and performance in residential and commercial systems
Specify, purchase, and install with confidence
It supports transmission of AV signals accompanied by Ethernet, power and control signals using a single cable to displays connected at a maximum distance of 328 feet. It aids transmission from the switcher to PoE-powered HDBaseT receivers or HDBaseT displays. Further control options like auto-switching, front panel buttons and compatibility with IR, RS-232 or TCP/IP-based control systems are also provided. This switcher also supports audio features like pass-through of Dolby TrueHD and DTS-HD Master Audio; de-embedding of PCM audio over HDMI to either S/PDIF or two-channel analog audio outputs and an Audio Return Channel feed to the S/PDIF output from the HDMI display. The web-based GUI provided with this switcher makes it a cost effective solution for easy set-up and efficient management of EDID and HDCP signals. This 1U high and half-rack wide switcher can be easily installed in rack mounted systems.
Why not buy Atlona AT-UHD-SW-52ED 4K/UHD 5 Input HDMI Switcher with Mirrored HDMI and HDBaseT Outputs and PoE this?
Atlona AT-UHD-SW-52 4K/UHD 5 Input HDMI Switcher with Mirrored HDMI Outputs Specifications:
Resolution

Video: 4096x2160@24/25/30/50*/60Hz*, 3840x2160@24/25/30/50*/60Hz*, 2048x1080p,1080p@23.98/24/25/29.97/30/50/59.94/60Hz, 1080i@50/59.94/60Hz, 720p@50/59.94/60Hz, 576p, 576i, 480p, 480i
VESA: 2560x2048, 2560x1600, 2048x1536, 1920x1200, 1680x1050, 1600x1200, 1600x900, 1440x900, 1400x1050, 1366x768, 1360x768, 1280x1024, 1280x800 1280x768, 1152x768, 1024x768, 800x600, 640x480
Colorspace: YUV, RGB
Chroma Subsampling: 4:4:4, 4:2:2, 4:2:0
Color depth: 8-bit, 10-bit, 12-bit

Audio

HDMI IN/OUT: PCM 2Ch, LPCM 5.1, LPCM 7.1, Dolby Digital, DTS 5.1, Dolby Digital+, Dolby TrueHD, DTS-HD Master Audio
S/PDIF: PCM 2Ch, LPCM 5.1, LPCM 7.1, Dolby Digital, DTS 5.1, Dolby Digital+
L/R Audio:maximum analog output: balanced +18dBu @ 0dBfs, 2Ch PCM only
Sample Rate: 32kHz, 44.1kHz, 48kHz, 88.2kHz, 96kHz, 176.4kHz, 192kHz

Distance

HDMI IN/OUT @ 4K: up to 5 meters: up to 15 feet
HDMI IN/OUT @ 1080p: up to 10 meters: up to 30 feet

Signal

Bandwidth: 10.2 Gbps
CEC: Pass through
HDCP: Switchable - Compliant/Non compliant

Connector

Firmware: Mini-B USB
HDMI: Type A
Digital Audio: S/PDIF
Analog Audio: 5-pin captive screw
LAN: RJ45 (8P8C), TCP/IP control
RS-232: 3-pin captive screw
Power: 2-pin, 5V captive screw

Temperature

Operating: 0癈to 50癈: 32癋to 122癋
Storage: -20癈to 60癈: -4癋to 140癋
Humidity: 20 to 90% non-condensing

Power

Consumption: 7.5W
Idle Consumption: 1.7W

Supply

Input: AC100~240V 50/60Hz
Output: DC 5V/3.6A

Dimension

H x W x D: 44 x 222.25 x 261 (mm): 1.73 x 8.75 x 10.28 (inch)
Rack Unit: 1/2 rack, 1RU

Weight
Certification

Power Supply: CE, FCC, cULus, RCM
Unit: CE, FCC
The AT-UHD-SW-52 is ideal for use in applications where:
Two displays are needed to cover presentations in large rooms or where a confidence monitor is needed at the presenter抯podium along with the primary room display.
Installers need an easy-to-integrate, five-input HDMI switcher with 4K/UHD capability to support multiple sources and mirrored displays to work with any control system.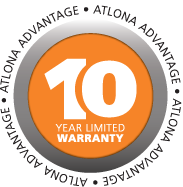 HDTV Supply and Atlona have teamed up and offers a 10 Year Warranty on all Atlona Electronic Products and a Lifetime Warranty on cable products when Atlona products are purchased from this HDTV Supply site.
HDTV Supply and Atlona have teamed up and warrants Atlona products will substantially perform to their published specifications and will be free from defects in materials and workmanship under normal use, conditions and service. Under its Limited Product Warranty, Atlona, at its sole discretion, will either (a) repair or facilitate the repair of defective products within a reasonable period of time, restore products to their proper operating condition and return defective products free of any charge for necessary parts, labor and shipping or (b) replace and return, free of charge, any defective products with direct replacement or with similar products deemed by Atlona to perform substantially the same function as the original products or (c) refund the pro-rated value based on the remaining term of the warranty period, not to exceed MSRP, in cases where products are beyond repair and/or no direct or substantially similar replacement products exist. Repair, replacement or refund of Atlona's products is the purchaser's exclusive remedy and Atlona's liability does not extend to any other damages, incidental, consequential or otherwise.
This Limited Product Warranty extends to the original end-user purchaser of Atlona's products and is non- transferable to any subsequent purchaser(s) or owner(s) of these products and the Limited Product Warranty Period begins on the date of purchase by the end-purchaser. The date contained on the end-purchaser 's sales or delivery receipt is the proof purchase date. For more info contact Atlona at 877-536-3976 or HDTV Supply at 800-841-9238.
Why not buy this Atlona product today?
Questions & Answers

Ask a question about the Atlona 5 Input 4K HDMI Switcher w/2 HDMI & HDBaseT Ouputs or Call 800-841-9238


Q: Why should I buy this Atlona product from HDTV Supply?
A:
HDTV Supply & Atlona have had a CEO-to-CEO relationship since 2003 and even with their prior company, Len Expo. We are a Premier Authorized Partner & have a signed contract directly with Atlona. If you buy an Atlona product from an unauthorized source you will not get any warranty support, tech support, nor any of the below.
Buying An Atlona Product from HDTV Supply Gets You:
Our partnership with Atlona gives you a 10-year Atlona warranty with any Atlona product you buy from us. It is always best to register your product with Atlona at Product Registration so they have your equipment on file if you have any problems.
Our partnership with Atlona gives you Free Lifetime HDTV Supply U.S. based Telephone Tech Support at 800-841-9238 with any Atlona product you buy from us
When you buy an Atlona product from us and you need to call Atlona directly (877-536-3976) they provide you these hours of operation:

U.S. Monday - Friday 5AM to 5PM PST
U.S. Saturday - 7AM to 5PM PST
U.K. Support is at +44 (0)118 380-0430 from Monday to Friday 8AM to 5PM (GMT)

99% on Atlona products are in stock and ship the same day
You can buy Atlona products from us with most any credit card, your Amazon account as well as PayPal
HDTV Supply has many videos to show the features of Atlona products
You will find all Atlona User Manuals and other manuals at our site
From time-to-time HDTV Supply runs Factory Authorized sales on Atlona products
If their is an Atlona firmware update for your product you will find it at our site
Many times we will list lower cost Refurbished Atlona products at our site
All Atlona products bought from HDTV Supply are brand new and in unopened boxes.
All Atlona products bought from HDTV Supply are shipped in double carton boxing assuring you a perfect unit when you get it.
All Atlona products bought from HDTV Supply have full value shipping insurance assuring you of a replacement unit being sent to you if you receive it and it is broken in shipping
HDTVSupply.com has sold and supported 1,000s of Atlona products and have shipped these products to over 50 worldwide countries. We are one of the oldest and most trusted Atlona resellers as we support all of their products with telephone and email ordering and tech support.
Why not buy an Atlona product from HDTV Supply today?
Atlona 5 Input 4K HDMI Switcher w/2 HDMI & HDBaseT Ouputs
Recently Viewed Items