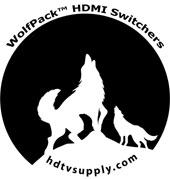 HDTV Supplys WolfPack
8x8 Matrix HDMI Switch over CAT5
has 8-female HDMI inputs a 2x8 = 16-female RJ45 connector outputs. Each output has 2-RJ45 connectors and one or both will be used depending upon the above HDMI receivers you pick. The 8x8 Matrix HDMI Switch over CAT5 has has User Adjustable EDID Learning and allows any of 8 inputs to be routed to any of 8 outputs; or the same input to be routed to all outputs, or any combination. This 8x8 HDMI matrix gives you over 17,000,000 input and output combinations.
The 8 - HDMI receivers are unbundled and not included in the price.
It also includes a remote control with 18 discrete keys.
NOTE: This product has been discontinued. See the above SIMILAR Tab for equivalent products or, if not there, call us at 833-WOLFPACK (833-965-3722) right now to discuss your needs.
The 8x8 Matrix HDMI Switch over CAT5 has a built-in WIFI iPad and Android control as well as the unit has its own WIFI antenna. The size of the matrix is only 1U high & rack mount ears are included. The HDMI input is compensated, clock/phase adjusted and jitter free so all you see is an high quality HDMI signal.
NOTE 1:
The HDMI HDBaseT receivers are
unbundled
so you don′t have to pay for, say 8, if you need only 6. Choose the quantity you need in the above OPTIONS.
NOTE 2:
The 8x8 Matrix HDMI Switch over CAT5 extends an HDMI audio and video signal up to ~100 feet with
2-CAT5e cables per output
and ~130 feet with
1-CAT5e cable per output
at 1080p. CAT6e 23 gauge solid is the preferred cable for this 8x8 Matrix HDMI Switch over CAT5 and will extend the HDMI slightly further. If you distances are longer see a similar iPad controlled 8x8 matrix with
unbundled standalone HDMI extenders to 300 feet in the above SIMILAR TAB.
What sets this WolfPack 8x8 Matrix HDMI Switch over CAT5 apart from others:
8-HDMI female inputs
8x2 = 16 female RJ45 outputs to be used with the above unbundled receivers
Easy to read front panel LCD display
WIFI operation for using IOS and Android smartphones, phablets and tablets control on its own WIFI network named MXMATRIX88 in the IOS or Android device.
Uses a steel case for industrial and commercial applications like factories, bars, churches, etc.
2-side mounted fans to keep it cool in hostile installations (see more in the above Q/A Tab)
Complete IR control via 18-buttons on the remote control
Five switching modes: panel buttons, local IR, RS232, and 2-smart devices
1U rack design for easy installation
Integral WIFI
Rack mountable
User Adjustable EDID
3D pass-through
The 8x8 Matrix HDMI Switch over CAT5 provides built-in EDID management for recognizing multiple display formats and sources.
8x8 Matrix HDMI Switch over CAT5 Features:
Inputs: 8 - HDMI female connectors
Outputs: 8x2 = 16 RJ45 female connectors
Built-in IOS & Android WIFI hardware control with software
Detachable WIFI antenna
18-key remote control
HDMI 1.3 and HDCP compliant
2D and 3D compliant
Supports both HDMI audio and HDMI video
Supports DTS-HD and Dolby trueHD audio formats
HDMI Sources can be routed independently to displays
Supports Digital Video ™DS formats in Deep Color 10bit / 12bit / 16bit
Control is provided via an iPad and Android phone or tablet, front panel buttons with LED readouts, an IR remote control or RS232.
Supports 1080p TV′s at 24/30/60/100/200/240 Hz and above as well as Blu-rays at 24 FPS
Supports high definition HDMI resolutions of 480p, 720p, 1080i, 1080p and 3D Type
DVI support to UXGA or 1600x1200 HD resolutions
CPU Link speeds up to 6.75Gbps
Control is by a supplied discrete button remote control, WIFI, front panel switches or RS232 for a PC control
Supports EDID for total control of compliant displays AUTO mode & FIX mode (720p, 1080i, 1080p)
Rack mountable (1U High with 19 inch rack ears)
The 8x8 Matrix HDMI Switch over CAT5 with User Adjustable EDID has 8 standard HDMI inputs and 8 standard HDMI outputs. An Intelligent EDID learning function is added to increase its compatibility to any HDTV, unlike cheaper units that you have to guess their compatibility. Intelligent EDID learning is only found in professional HDMI switchers and never less than $5,000, as this costs. Control of this switcher can be managed via its front-panel control, an iPad, IR remote control, RS-232, or our optional RS-232 to Ethernet Converter. The
RS-232 to Ethernet Converter
allows control of the unit from anywhere in the world given you know how to write RS-232 code and have the correct serial Ethernet hardware. The 8x8 Matrix HDMI Switch over CAT5s RS-232 control allows the switcher to also be controlled by 3rd party control systems like Crestron, Control4, and many computerized software/hardware control systems using its RS232 control..
Why not buy a WolfPack 8x8 Matrix HDMI Switch over CAT5 today?