Features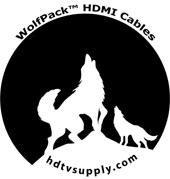 HDTV Supplys WolfPack™ 8K HDMI Cables support 8K @ 60Hz and 4K & 120Hz. The 8K HDMI cables also supports eARC and the latest audio formats like DTS Master, DTS:X, Dolby TrueHD, Dolby Atmos, etc.

These WolfPack™ 8K HDMI Cables have a 48Gbps bandwidth and includes support for eARC as well as Dynamic HDR. Dynamic HDR allows the devices used with this 8K HDMI cable to adjust settings such as brightness, color, depth, etc. based on particular scenes or frames, allowing video to be displayed at its optimal settings. Your benefit is a far better picture quality than 4K.

The 8K HDMI cable will also allow VESA DSC 1.2a link compression which can be used to achieve resolutions above 8K @ 60 Hz / 4:2:0 / 10-bit color, such as 8K @ 60 Hz RGB, 8K @ 120 Hz and 10K @ 120 Hz, if your equipment supports those specifications.
These 8K HDMI Cables Support:
Nvidia Quadro RTX 5000
Nvidia Quadro RTX 6000
Nvidia Quadro RTX 8000
Nvidia GeForce RTX 2080 Ti
Nvidia GeForce RTX 2080
Nvidia GeForce RTX 2070
EVGA GeForce GTX 1080 FTW
MSI GTX 1070 Gaming X 8G
ZOTAC GeForce GTX 1050 Ti Mini
Asus ROG STRIX GTX 1070 8G
Gigabyte GeForce GTX 1070
Dell 8K Monitor
Sony 8K TV
...and more.
8K HDMI Cables Features
Conforms to HDMI 2.1 specifications
Supported Video Resolutions:

Full HD 1080p
Quad HD 1440p
3D Format
4K Ultra HD 2160p up to 60 Hz over HDMI 2.0
4K Ultra HD 2160p up to 240 Hz with DSC over HDMI 2.1
8K Full Ultra HD 4320p at up to 120 Hz over HDMI 2.1

Increased bandwidth up to 48Gbps
Dynamic HDR enables support of scene-by-scene or frame-by-frame when compared to HDR (HDR metadata is taken through the average of an entire movie
eARC supports the latest audio formats:

DTS Master
DTS:X
Dolby TrueHD
Dolby Atmos
and up to 32 audio channels

FreeSync (AMD) on PlayStation 4 Pro & Xbox One X support
Game Mode VRR support
21:9 Cinema aspect ratio support
CEC support
HDMI Ethernet support
Added support for:

Auto Low-Latency Mode (ALLM)
Variable Refresh Rate (VRR)
Quick Frame Transport (QFT)
...and Quick Media Switching (QMS)

Supports low EMI (Electro-Magnetic Interference)
Supports HDR10 and Dolby Vision
Backwards compatible with previous HDMI 2.0, 1.4 & v1.3 versions
This WolfPack 8K HDMI cable meets todays requirements for 4K/30, HDMI 2.0, HDCP 2.2, 4K @ 60Hz and 18Gbps.
Why not buy an 8K HDMI Cable today?
FAQ
As a result of a variety of pandemic-related circumstances, we have experienced significant cost increases on a number of our products. A variety of factors have contributed, including higher material costs, increased labor charges, and supply chain and delivery issues that are impacting many electronic component manufacturers.
We have worked hard to mitigate these increases, and in many cases we have been able to mitigate most, if not all of them. However, the cost of some of our 8K products has risen to the point where we can no longer absorb the full amount. so we have raised their prices.
Government
This product may be eligible to be purchased through the United States Governments SEWP program, similar to their GSA program.
The NASA SEWP (Solutions for Enterprise-Wide Procurement) provides the latest in Information and Communications Technology (ICT) and Audio-Visual (AV) products and services for all Federal Agencies and their approved contractors.
If you are a government agency and want to see whether HDTV Supply has this product in the SEWP database go to our
our SEWP Contract Holder RedHawk IT Solutions, LLC
to allow you to maybe order this product from the United States Governments SEWP program. It is very easy to place your order, go to the link above and enter HDTV Supply and there you will see a list of part numbers of what we currently have. If you do not see it than give us a call at 833-WOLFPACK (833-965-3722) and we may be able to enter it.
Our SEWP Contract Holder RedHawk IT Solutions partner has the following credentials:
DUNS: 801957023
TIN: 260452583
CAGE: 4TBM6
Their SEWP Federal Contracts are:
SEWP Contract Number: NNG15SD38B
Group: Group B_SDVOSB
NAICS: 541519
and
SEWP Contract Number: NNG15SD88B
Group: Group C
NAICS: 541519
The SEWP Program Office manages a suite of government-wide IT products and services contracts that enable NASA and all Federal Agencies to achieve their missions and strategic initiatives by providing streamlined access to critical technologies and solutions. The Program provides best value for the Federal Government and American taxpayer through innovative procurement processes, premier customer service and outreach, acquisition insight, and partnership with Government entities and Industry.
For a complete listing of HDTV Supply products from us, or our other vendors, call 833-WOLFPACK (833-965-3722).