Features
The
Shinybow SB-5648LCM True 4x8 HDMI Matrix Switch with EDID
is one of the matrix routers with remote control that offers high performance. This HDMI matrix not only provides an easy approach but it also provides an approach which is dynamic and helps to manage video installations which are of the high definition type, either remotely using or directly using Rs-232, over the internet or infrared. The 4K 4x8 Matrix Switcher allows any input to be routed to any output; or the same input to be routed to all outputs, or any combination. The 4x8 HDMI matrix allows 65,356 switching combinations.
This excellent SB-5648LCM not only supports multiple forms of resolutions that is up to 1080p but it also supports digital audio which it receives from HDMI and helps to source them to HD displays. The purpose of wide variety HD video applications is served by this wonderful SB-5648LCM model. The company offers a three year warranty to all the customers.
NOTE:
This product has been discontinued. See the above SIMILAR Tab for equivalent products or, if not there, call us at 800-841-9238 right now to discuss your needs.
Shinybow SB-5648LCM True 4x8 HDMI Matrix Switch with EDID Features:
Inputs: 4-HDMI female connectors
Outputs: 8-HDMI female connectors
Optional stand alone HDMI extenders over CAT5e/6 composed of a transmitter & AC adapter & a Receiver & an AC adapter
Switches 4 HDMI inputs with 8 HDMI outputs
3D support
One Preview Port (Mirrors Output #1)
DVI ®, HDMI ® and HDCP ® compliant
Sources can be routed independently to any or all destination devices
Digital Video formats in Deep Color 12bit
High Definition video resolutions of 480p, 720p, 1080i and 1080p
Link speeds up to 6.75Gbps
EDID for total control of compliant displays
Switching controlled via front panel, Wireless Remote or RS-232
Compatible with all HDMI source devices, PC monitors, Plasma HD display, HDTV and audio receivers/amplifiers
Various User Interface control:

Window based GUI control via RS-232 port
Front Panel push buttons
IR Wireless remote control
Third party RS-232 controller (via simple ASCII)
Automatic scanning of Input and Output status

Desktop with rack mount via included 19 inch bracket
This product helps to switch 4 HDMI inputs with the 8 HDMI outputs. It provides 3D support and consists of one preview port. The sources can be easily routed to all or any destination devices and this is done independently. The digital video formats are in the form of deep color 12bit. Video resolutions in the form of 1080p, 1080i, 720p and 480p, all are available. The link generally speeds up to 6.75 Gbps. It has EDID that helps to control total compliant displays.
The front panel enables to control switching by the help of RS-232 or wireless remote. All HDMI source devices are compatible with this wonderful product. HDTV, Plasma TV, PC monitors as well as audio amplifiers and receivers are supported by this device. GUI control which is window based is usually controlled by RS-232 port. There are push buttons available in the front panel. The device is equipped with IR remote control that is wireless. There is a controller in the form of RS-232 present in this device. The output and input status get automatically scanned. The user guide available with this product makes sure that customers do not have a torrid time using this device.
Specs
Shinybow SB-5648LCM True 4x8 HDMI Matrix Switch with EDID Specs:
Input Ports: 4x HDMI female ports, Type A 19-pin Female TMDS
Output Ports: 8x HDMI female ports, Type A 19-pin Female TMDS
Output Ports: 1x HDMI female ports, Type A 19-pin Female TMDS (Preview)
EDID: Standard, TV/Moving Port 1
HDMI Audio output: PCM2, PCM5.1, PCM7.1, Dolby 5.1, DTS 5.1, Dolby Digital Plus, Dolby TrueHD, DTS-HD
HDMI Cable In: 1080p 8bit (15m), 1080p 12bit (15m)
HDMI Cable Out: 1080p 8bit (15m), 1080p 12bit (15m)
DVI Resolution: 1920 x 1200 WUXGA
Color Space: RGB_24/36, YCbCr 4 x 4 x 4_24/36, YCbCr 4 x 2 x 2, xvycc
Frequency Bandwidth: 2.25Gbps (single link)
Control: Front panel, wireless IR remote, RS-232
Infrared Frequency: 38KHz.
Deep Color: 1080p 12bit
HDMI Resolution: 480i~1080p 50/60, 1080p 24, VGA~UXGA
DVI Resolution: 480i~1080p 50/60, 1080p 24, VGA~UXGA
Power Supply: Multi-Voltage 100~240VAC to 12VDC 5A Switch Mode Power Supply (Center Positive) (US/EU standards)
Approvals: CE/FCC/UL certified RoHS (2002/95/EC)
Dimensions (WxDxH): 19* x 9.85 x 1.75 in (*with rackmount bracket) (482 x 250 x 44 mm)
Weight: 11 lbs
Chassis Material: Metal
Color: Black
Operating Temperature: Operating from 32˚F ~ 107˚F (0˚C ~ 40˚C)
Warranty: Three (3) Years
Compatibility
This matrix features a set of 8- EDID modes in addition to allowing any input source to receive a copy of the EDID information of any selected output. Changing the EDID settings may be necessary when connecting to or from a surround sound receiver or for passing 3D content derived from a cable or satellite set top box if the default EDID has problems.
Using one of the the internal EDID modes can also speed up the switching process with cable or satellite and many other sources.
If you use one of the internal EDID settings the source device will see the matrices EDID you chose instead of the display's EDID and overrides the display's own EDID information. If your display is not capable of accepting the video resolution or audio type selected, you may not have audio and/or video. In this case choose another more compatible EDID or use the default EDID.
Videos
HDTV Supply has this 4x8 HDMI Router in stock in our Texas warehouse so place your order at the above ADD TO CART button by 11AM PST and it can ship today or call us at 800-841-9238 to place your order.
3D
HDTV Supply is a leader in supplying 3D equipment for this new, fast growing 3DTV market. Our test lab includes the latest equipment for designing, testing and supporting 3D video equipment. The chips sets we use support the below 3D formats and work with many of our HDMI 1.3 and HDMI 1.4 compliant devices. This device supports these 3D formats:
Side-by-Side 3D Format
Top-and-Bottom 3D Format
Blu-ray 3D Format
Frame packing
and more
We not only test this device with lab equipment we also test many of our 3D devices with 3D products you are likely to use. The products used for the test are:
Sony PS3 with the 3D 3.41 firmware
Samsung model PN50C7000YF 3DTV
Samsung model BD-C6900 3D Blu-ray player FORCED to 1080p
Samsung model SSG-P2100T 3D glasses
DirecTV models HR21-100 and the HR24 high definition receiver.
It works with all HDMI devices including the new 3D units.
The 3D viewing results were awesome in our lab and did not have any picture or audio degradation. The normal and standard (2D) results equally exhibited a superb picture quality.
Q/A
Q: You have a great selection of 8x8 HDMI Matrix Switchers, do you have a comparison of them?
A:
Yes, see our
UNDER $2,000 8X8 HDMI MATRIX COMPARISON
to help you make a decision.
Q: Can I use unpowered HDMI over CAT5/6 extenders with this matrix?
A:
We don't recommend them with our matrices, or anyone else's, due to them consuming power from the matrix and the matrices are not designed to power many external devices.
Consider the example of 9 - HDMI balun transmitters that need 0.5a amp each to power it times 9 or 4.5 amps the matrix would have to supply. The power supply of this matrix is rated at 12v at 3.5 amp so in that example the matrix would probably break down and your warranty may be voided. See the companion powered HDMI extenders in the above OPTIONS that have 2-AC adapters.
HDMI cables with built-in boosters also consume power also and we don't recommend more than 2, if at all. You must use our low power ones, also.
Q: I've made EDID changes but don't see an affect.
A:
When you make changes to the EDID, you need to either power cycle the display or change the inputs. This forces the display to relock onto the source.
Q: Would I be able to used an HDMI connection for audio only going to my audio receiver. This way I could get True HD Audio. Will this output work how I am describing?
A:
Yes, provided you do not turn On a display device that might be connected to the Output of your audio receiver. Some older displays do not have the ability to decode anything other than 2 channel stereo and when connected to a receiver via HDMI.
Q: I have a PC with HDMI out, how do I set it up?
A:
When your computer boots up, it looks for an EDID (extended display identification data) from the display to tell it what monitor is connected and what resolution to output. During boot up of the computer you should have ONLY one output selected to one input at a time so that the computer gets the EDID of the display that is selected. If you have multiple outputs selected to one computer, the computer will read the EDID of the last output selected to it. If all your displays are the same, or all displays are capable of running at the same resolution then this step does not matter.
Q: The front panel power light comes on but there is no LED numbers in the display, what do I do?
A:
For tech support always call 800-841-9238.
Warranty
HDTV Supply
includes a 3 Year Limited Warranty on all Shinybow products. The warranty states that (a) its products (the will perform substantially in accordance with the accompanying written materials for a period of 3 years from the date of receipt and (b) that the Product will be free from defects in materials & workmanship under normal use & service for a period of 3 years. In order to get a warranty replacement for a defective item, HDTV Supplys and Shinybows Support Team will verify the product is eligible for warranty. An RMA number will then be issued. Shipped replacements will be in like new conditions, tested and all components included.
HDTV Supply
also sells a 5 Year warranty for all Shinybow products. Please go to
5 Year Extended Warranty
or see the above Options to purchase it.
Ask a Question
Questions & Answers

Ask a question about the Shinybow SB-5648LCM 4x8 HDMI Matrix Switch with EDID or Call 833-WOLFPACK (833-965-3722)


FAQ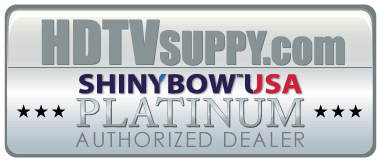 HDTVSupply.com & Shinybow have had a CEO-to-CEO relationship since 2002. We are a Platinum Authorized Reseller Dealer & have a signed contract with Shinybow to sell and support their complete product line. Our partnership started when HDTV Supply went looking for a company that could supply unique products, provide flawless support and had fair pricing. Shinybow was the first company that met out strict demands and they were the first we developed a relationship with.
Reasons To Buy This Shinybow Product From HDTVSupply.com:
Our partnership with Shinybow gives you a 3-year Shinybow warranty when you buy from us
Our partnership with Shinybow gives you FREE HDTV Supply U.S. based Live Telephone Lifetime Tech support
HDTV Supply has a dedicated TEXT support line at 805-409-0208 to support you
HDTV Supply has a dedicated Product Manager for Shinybow products to assist with any special needs
We sell extra remote controls for all Shinbow products
All Shinybow remote controls are full size
Many times we will list lower cost Closeout Shinybow products at our site
All Shinybow products are in stock and ship the same week day if the order comes in by 12PM PST
You can buy Shinybow products from us with most any credit card, your Amazon account and PayPal
HDTV Supply has many videos to show the features of Shinybow products
You will find all Shinybow User Manuals and other manuals at our site
From time-to-time HDTV Supply runs Factory Authorized sales on Shinybow products
If there is an Shinybow firmware update for your product you will find it at our site
Many times we will list lower cost Refurbished Shinybow products at our site
The below may be available on many Shinybow products, just email, TEXT or call us to find out:

RS232 Docs
GUI software
iRule support with LCM products
Roomie support with LCM devices
Ethernet TCPIP Docs
.pdf IR codes
HEX IR codes
Control4 serial drivers
Control4 IR drivers
Control4 TCPIP drivers

All Shinybow products bought from HDTV Supply are brand new and in unopened boxes.
All Shinybow products bought from HDTV Supply are shipped in double carton boxing.
All Shinybow products bought from HDTV Supply have full value shipping insurance
All Shinybow products bought from HDTV Supply have a 30-day No-Hassle returns
All Shinybow products bought from HDTV Supply can be shipped blind to your customer
We have shipped >5,000 Shinybow products throughout the world
HDTV Supply is located in CA and Shinybow is located in Texas, makes for longer phone support hours
Shinybow stocks extra accessories in case you misplace your remote, we can get you a new one
HDTV Supply & Shinybow pride ourselves on confidentiality, any personal information that you may share with us is kept absolutely private.
HDTVSupply.com is one of the oldest and most trusted Shinybow resellers as we support all of their products with telephone and email ordering and tech support.
Why not buy this Shinybow product from HDTV Supply today?