4X4 VGA Matrix Switcher w / RS-232 + IR Remote




4:4 VGA Matrix Switcher w/RS-232 + IR Remote

3 Year Warranty & Free Lifetime Tech Support

Part # SB4140

Today's Price: $499.00
Features
This
4X4 VGA Matrix Switcher with RS-232
is designed to work as a switcher for multiple VGA sources and displays via RS232 or IR Remote or Push Button on the front panel. Because it is a matrix switcher, it allows any input to be routed to any output, or the same input to be routed to all outputs or any combination. It completely eliminates the need to constantly move around video input and output cables.
NOTE:
This product has been discontinued. See the above SIMILAR Tab for equivalent products or, if not there, call us at 800-841-9238 right now to discuss your needs.
4X4 VGA Matrix Switcher Features:
Switches VGA Video between multiple sources and displays.
Allows connection of 4 sources and 4 displays
Supports resolutions up to 2048x2048
Installs in seconds
It is capable of switching VGA signal between four sources and four displays with compatible inputs. A maximum bandwidth of 450MHz will support a sharp and highly defined video in multiple resolutions of up to 2048x2048.
Control of this switcher can be managed via its front-panel control, IR remote control, RS-232, or our optional
RS-232 to Ethernet Converter
. The RS-232 to Ethernet Converter allows control of the unit from anywhere in the world given you know how to write RS-232 code and have the correct serial Ethernet hardware.
The RS-232 control allows the switcher to be controlled by a computerized system such as HTPC and eliminates the need for an infrared remote control. The 4:4 VGA Matrix Switcher works with all video equipment that has proper connections such as Cable and Satellite receivers, Computers, Video Scalers, etc
Why not buy this 4X4 VGA Matrix Switcher today?
Specs
4X4 VGA Matrix Switcher Specifications:
Video Amplifier Bandwidth: >450MHz
Resolutions: up to 2048x2048
Video Input Connectors: 4 sets of DB-15 (VGA or RGB-HV)
Video Output Connectors: 4 sets of DB-15 (VGA or RGB-HV)
Net Weight: 2lbs (1.25kg)
Power Consumption: 450mA (max.)
Power Supply: 12VDC; 500mA~2000mA
Switcher Size: (L/W/H) 230mm/110mm/44mm
4X4 VGA Matrix Switcher Package Includes:
4:4 VGA Matrix Switcher
IR Remote
Instruction Manual
Rack Mounts
AC/DC Adapter: 12VDC, 500mA~2000mA
RS-232 driver CD (Windows 98/2000/XP only)
Warranty: 3 years labor/parts manufacturers warranty.
Warranty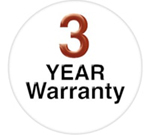 HDTV Supply
includes a 3 Year Limited Warranty on all Shinybow products. The warranty states that (a) its products (the will perform substantially in accordance with the accompanying written materials for a period of 3 years from the date of receipt and (b) that the Product will be free from defects in materials & workmanship under normal use & service for a period of 3 years. In order to get a warranty replacement for a defective item, HDTV Supplys and Shinybows Support Team will verify the product is eligible for warranty. An RMA number will then be issued. Shipped replacements will be in like new conditions, tested and all components included.
HDTV Supply
also sells a 5 Year warranty for all Shinybow products. Please go to
5 Year Extended Warranty
or see the above Options to purchase it.
Ask a Question
Questions & Answers

Ask a question about the 4X4 VGA Matrix Switcher w / RS-232 + IR Remote or Call 833-WOLFPACK (833-965-3722)


4X4 VGA Matrix Switcher w / RS-232 + IR Remote
Scroll Left & Right To See 20 Of Your Recently Viewed Items Below