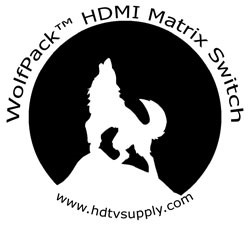 HDTV Supply's WolfPack 4K 60
4x4 HDMI Matrix with CAT5 Outputs
is an 4x4 HDMI Matrix with HDMI and HDCP 2.2 compatibility and allows 4 sources to be shown or switched to any of the 4 - HDBaseT outputs. It also has one (1) local mirrored HDMI output. This 4x4 HDMI Matrix with CAT5 Outs is POC (Power Over Cable) as it powers remote HDBaseT receivers without any additional power supply units.
This 4x4 HDMI Matrix with CAT5 Outs also has a built-in independent audio matrix with 4 - coax digital audio inputs to 4 - coax digital audio outputs. As a 1U stand-alone 4x4 HDMI matrix, it offers the the convenience of future-ready Ultra HD A/V switching and distribution solution with the reliability of cutting-edge HDMI and HDCP 2.2 compatibility. It can be controlled by press button in front panel, IR, RS232, and LAN control with Telnet API and Web GUI. An independent DIP switch is also provided for manual EDID adjustment.
Based on HDBaseT Lite chipset inside, the output distance can reach up to 220 feet via Cat5e/Cat6 cabling. Each source can be routed to any display using the front-panel push buttons, GUI interface, IR remote control, RS-232 interface, or via TCP/IP. It also provides our POE function meaning that you only need one power adapter at the transmitter to supply the power over both the transmitter and receiver. This helps out with widescreens that don't have an extra AC socket.
WolfPack 4x4X2 HDMI Matrix with both CAT5 & HDMI Outputs Features:
4 x HDMI inputs
4 x HDBaseT outputs and 1 x mirrored HDMI output
4K/UHD capability @ 60 Hz with 4:4:4 chroma sub-sampling plus support for HDR formats
Fully supports video resolutions, audio formats, and color space formats in the HDMI 2.0 specification
HDMI inputs and output support up to 4K@60Hz 4:4:4 8bit
HDBaseT outputs support up to 4K@60Hz 4:2:0 8bit
Transmits 4k@60 4:2:0 8bit signal up to 35m, 1080P signal up to 60m viaCat5e/6 cable
Transmits 4k@60 4:2:0 8bit signal up to 40m, 1080P signal up to 70m viaCat6a/7 cable
Supports HDCP management for inputs: Turn on/off HDCP support
Supports HDCP management for outputs: Turn on/off HDCP
Built-in 4x4 audio matrix
Digital S/PDIF audio outputs support up to Dolby 5.1 and DTS 5.1
Supports IR, RS232 and LAN control with Telnet API and Web GUI
Supports IR routing and IR call back
Supports CEC control sink for both HDBaseT outputs and the one HDMI output
EDID can be controlled by Front panel buttons, DIP switch, API commands and Web GUI
EDID Advance Management: Smart EDID and AVR Priority.
Compact 1U size
Including mounting brackets and remote control handset
Can be mounted in a 19" rack (mounting hardware included)
Easy to read front panel LCD display
Allows any source to be displayed on multiple displays at the same time
Allows any HDMI display to view any HDMI source at any time
Come with a remote control
Dolby TrueHD and DTS-HD master audio pass through HDMI output
Advanced EDID management for rapid integration of sources and displays
Front-panel LCD display for status feedback
Multiple switching modes: push-in button, IR remote control, RS-232 control, and TCP/IP control
Easy installation with rack-mounting ears
Full 3D pass-through.
Delivers four HDMI source signals to any or all of four compatible video displays
Input switching can be performed through RS-232 or IR
Supports deep color: 12 bits per TMDS channel (36 bit, sum of all channels)
Supports 480i/p, 576i/p, 720p, 1080i/p and multiple PC resolutions
Supports Dolby Digital Plus, Dolby Digital TrueHD, DTS-HD: Master Audio, and LPCM
IR remote control, RS-232 control, or front panel control
Rack mountable with included hardware
The 4x4 Matrix Switch allows you to route signals from any of the four video inputs to any or all of the four video outputs, in any combination. The Matrix can be controlled using the included Remote or a PC via RS232/Telnet and the included app. POC technology allows Matrix to supply power to the Receivers, which is quite an ease for installation.
Why not buy this WolfPack 4x4 HDMI Matrix with both CAT5 & HDMI Outputs with both CAT5 & HDMI Outputs today?
The matrix includes everything you need to get up and running except the Ethernet cable.
4x4HDMI Matrix with CAT5 Outputs Specifications:
Video input: 4-HDMI type A connectors
Video output: 4-RJ45 and 1-HDMI type A connector
IR input: 4 x 3.5mm stereo jack
IR output: 4 x 3.5mm stereo jack
IR extension input: 1 x 3.5mm stereo jack
DIP Switch: Four switch DIP
Copy and Use EDID from the Display
Control front panel: Push button and IR
Control rear panel: RS232, TCP/IP and IR
Input DDC Signal: 5.0 volts p-p (TTL) Input Video Signal: 0.5 to 1.0 volts p-p
Supported IR Carrier Frequency: 20-60KHz
Rack-Mountable Rack ears included
The transmission distances of HDMI over UTP cables are measured using TE CONNECTIVITY 1427071-6
Use EIA/TIA-568-B termination (T568B) for CAT cables is recommended for better performance.
DO NOT use 568A/568B standard mixed CAT cables (cross-over cable) because there are 2 pairs swapped and this will cuase an issue with the POE OVER-CURRENT and damage the POE components. Please use straight-through CAT cable using 568B standard.
It is recommended that you only power up the device after connections of source, sink and CAT cable.
To reduce the interference among the unshielded twisted pairs of wires in CAT cable, do not run HDBaseT / Zone Cat5e/6/6a cabling with or in close parallel proximity to mains power cables. Shielded CAT cables can be used to improve EMI problems which is worsen in long transmission.
Q:
This product has CEC, what is CEC?
A: This product features CEC (Consumer Electronics Control) allowing your HDTV's remote to manage up to ten devices that are connected via HDMI (such as Blu-ray Disc players or home theater receivers) with no special programming needed. For example, you can use your remote to turn on your TV, your player, and your receiver at the same time, and adjust the system volume with one button. All devices must support CEC, though.
Most major TV manufacturers now support CEC, and an HDTV with HDMI 1.3 will likely have the technology. Manufacturers call it by different names; LG Electronics, for instance, calls its implementation SimpleLink, whereas Toshiba calls its version CE-Link. Interoperability isn't mandatory, so some manufacturers limit control to their own products; Sony, for one, allows only Sony-to-Sony communication.
Q: Is the 4x4 HDMI Matrix with both CAT5 & HDMI Outputs fully HDMI and HDCP compliant?
A: Yes. The 4x4 HDMI Matrix CAT5 Outputs has been ATC certified as HDMI compliant and meets all requirements of HDCP certification.
Q: How is HDBaseT technology different than others?
A: Unlike other HD distribution technologies, HDBaseT is the only technology which enables CAT5/6/7 connectivity from 200 meters to 100 meters, depending upon the specific product, for uncompressed full HD multimedia content and optionally up to 100 watts of charging power via a single cable. HDBaseT is optimized for video applications and can connect all HDBaseT enabled home entertainment devices. Also, HDBaseT technology has the capacity to deliver double the resolution available today to future 2K and 4K formats. Other existing solutions also require a specific cable and/or a new proprietary connector while HDBaseT utilizes the existing Ethernet infrastructure.
Q: I have a PC with HDMI out, how do I set it up?
A: When your computer boots up, it looks for an EDID (extended display identification data) from the display to tell it what monitor is connected and what resolution to output. During boot up of the computer you should have ONLY one output selected to one input at a time so that the computer gets the EDID of the display that is selected. If you have multiple outputs selected to one computer, the computer will read the EDID of the last output selected to it. If all your displays are the same, or all displays are capable of running at the same resolution then this step does not matter.
HDTV Supply's WolfPack Family of Matrix Switchers can be created however you wish. Just SCROLL DOWN and fill out the below and press SUBMIT and we will send you a quotation based upon your needs within an hour.
If it doesn't meet your needs just call us right now at 833-WOLFPACK or 833-965-3722 or email us at support@hdtvsupply.com