4K WolfPack 4x8 (4X4X2) HDMI Matrix w/both CAT5 & HDMI Outs - HDBaseT & POE




WolfPack 4K 4x4x2 HDMI Matrix with LCD Display & Rack Mountable

Comes with 4-220 Feet POE HDBaseT HDMI Receivers

Web GUI, IR remote control, RS-232 control & front panel control

5 Year Warranty & Free Lifetime Telephone Tech Support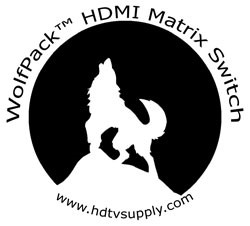 HDTV Supplys WolfPack 4K
4x4X2 HDMI Matrix with both HDBaseT CAT5 & HDMI Outputs
routes four Hi-Def sources to any four HDTV displays, supporting 1080p Full HD plus all 3D formats, along with multichannel digital audio formats such as Dolby True HD and DTS-HD Master Audio.
NOTE:
This product has been discontinued. See the above SIMILAR Tab for equivalent products or, if not there, call us at 800-841-9238 right now to discuss your needs.
Based on HDBaseT Lite chipset inside, the output distance can reach up to 220 feet via Cat5e/Cat6 cabling. Each source can be routed to any display using the front-panel push buttons, GUI interface, IR remote control, RS-232 interface, or via TCP/IP.
It also provides our POE function meaning that you only need one power adapter at the transmitter to supply the power over both the transmitter and receiver. This helps out with widescreens that don't have an extra AC socket.
If both the HDBaseT CAT5/6 and the standard HDMI outputs are used, the number of total outputs would be up to 8. Each individual zone (example, VIDEO OUT 1) of the CAT5 and HDMI output would have the same picture, though. Think of it as a 4X4X2. Since the matrix switch also has 4-female HDMI outputs you can use these with the above optional stand alone HDMI extenders and have separate
extended warranties
if you have long distances to where your widescreens are located at.
This 4K WolfPack
4x4X2 HDMI Matrix with both CAT5 & HDMI Outputs
sends all HDMI formats including 1080p video with 36-bit deep color & lossless audio. It offers flexible installation options, such as selecting between a variety of control interfaces and two different zone cabling methods to best fit your application.
WolfPack 4x4X2 HDMI Matrix with both CAT5 & HDMI Outputs Features:
With both HDMI and HDBaseT outputs (up to 8 sinks simultaneously)
4K at 30 Hz compliant
Can be mounted in a 19" rack (mounting hardware included)
Easy to read front panel LCD display
Supports forward or backward IR extension
Supports the latest HDMI 1.4 and HDCP 1.2
Supports resolutions up to 1080p@60HZ.
HDBaseT Lite chipset inside for the output distance up to 70M or 220 feet.
Allows any source to be displayed on multiple displays at the same time
Allows any HDMI display to view any HDMI source at any time
Come with a 26-button remote control
Dolby TrueHD and DTS-HD master audio pass through HDMI output
Advanced EDID management for rapid integration of sources and displays
Front-panel LCD display for status feedback
Multiple switching mode, push-in button, IR remote control, RS-232 control, and TCP/IP control
Easy installation with rack-mounting ears
Full 3D pass-through.
Delivers four HDMI source signals to any or all of four compatible video displays
Input switching can be performed through RS-232 or IR
Supports deep color: 12 bits per TMDS channel (36 bit, sum of all channels)
Supports 480i/p, 576i/p, 720p, 1080i/p and multiple PC resolutions
Supports Dolby Digital Plus, Dolby Digital TrueHD, DTS-HD: Master Audio, and LPCM
IR remote control, RS-232 control, or front panel control
Rack mountable with included hardware
The 4x4 Matrix Switch allows you to route signals from any of the four video inputs to any or all of the four video outputs, in any combination. The Matrix can be controlled using the included Remote or a PC via RS232/Telnet and the included app. POH technology allows Matrix to supply power to the Receivers, which is quite an ease for installation.
Why not buy this WolfPack 4x4 HDMI Matrix with both CAT5 & HDMI Outputs with both CAT5 & HDMI Outputs today?
This system provides a minimum data transfer rate of 6.75Gbps, which means that it supports very High Speed 1080p and 3D video signals, as well as high definition multichannel audio, including Dolby TrueHD and DTS-HD Master Audio. The matrix includes everything you need to get up and running except the Ethernet cable.
4x4x2 HDMI Matrix with both CAT5 & HDMI Outputs Specifications:
Bandwidth: 2.25 Gbps per Color
Video input: 4-HDMI type A connector, female, locking
Video output: 4-RJ45 and 4-HDMI type A connector, female, locking 4XRJ45 port, HDBseT
IR input: 4x3.5mm stereo jack
IR output: 4x3.5mm stereo jack
IR extension input: 1x3.5mm stereo jack
DIP Switch: Four switch DIP
DIP Switch Modes: 1080i/2.0,1080p 3D/2.0,1080p/2.0,1080p/5.1,1080p/7.1,
Copy and Use EDID from the Display
Control front panel: Push button, IR
Control rear panel: RS232, TCP/IP, IR
Input DDC Signal: 5.0 volts p-p (TTL) Input Video Signal: 0.5 to 1.0 volts p-p
Supported IR Carrier Frequency: 20-60KHz
Power Supply: 12V/5A DC, screw type connector
Power Consumption: 60 watts (max)
Audio: Passes up to Dolby TrueHD or DTS-HD Master Audio
Resolution Video: up to 1080p VESA: up to 1920x1200
Distance 230ft @1080p over CAT5e/6 130ft @1080p 3D over CAT5e/6 and
Dimensions 440x183x44mm
Weight 4kg
Temperature Operating 32癋to 104癋(0癈to 40癈)
Storage -4癋to 140癋(20癈to 60癈)
Rack-Mountable Rack ears included
Video Parameters
Video Formats: 480i/p, 576i/p, 720p, 1080i/p, VGA through UXGA
Color Processing: 36 bit Deep Color (12 bits per TMDS color channel)

Audio Parameters
Audio Processing: Dolby, DTS 32-192fs sample, LPCM 7.1 channel
Multi-channel Digital: Yes
Frequency Response: 10-50KHz


Miscellaneous
Connector Types: HDMI Type A
Dimensions (HxWxD, in.): 1.75x 17.2x 6.9 (44x438x175mm)
Product Weight: 4.9 lbs. (2218g) net
Shipping Weight: 7 lbs.
Data Rate: 2.25Gbps (single link)
Signal Processing: Compensated, clock phase adjusted
Jitter Processing: Reconstituted signal; jitter free
TMDS Clock Speed: 225MHz
EDID: Automatic or manual monitor discovery
Maximum Output Cable Length: HDMI connectors: 35 feet at 1080p/60, 8 bit color. Cat 5e/6 connectors: 100 feet at 1080p/60, 8 bit color.
Agency Approvals: FCC, CE, RoHS
Item Includes:
HDMI matrix router
IR remote control
5.5V (4A) DC power adapter
Rack mount hardware
User manual
4x4x2 HDMI Matrix with both CAT5 & HDMI Outputs Contents:
HDTVMT0404VL2 Matrix Switcher
4 - IR Emitters
4 - IR Receivers
1 - IR Extension Cable
2 - 12V/5A DC power supply
2 - AC Power cable
1 - Remote Control with Battery
2 - Rack mount ears
6 - Rack mount ears mounting screw
1 - CD for control software
4K WolfPack HDMI HDBaseT Extender to 220 Feet with IR & POC

Price: $299.95

Today's price:

$149.95

(You Save: 50%)

4K HDBaseT Balun - Send HDMI to 220 Feet w/One CAT5/6 Cable w/Flanges

Price: $299.95

Today's price:

$199.95

(You Save: 33%)

4K WolfPack HDBaseT Extender to 220 Feet with POE & 15-Level EDID

$499.95

WolfPack HDMI over CATx Extender to 700 Feet w/IR

Price: $499.95

Today's price:

$299.95

(You Save: 40%)

HDTV Supply has this 4x4x2 HDMI Matrix with both CAT5 & HDMI Outputs usually in stock in our California warehouse so place your order at the above ADD TO CART button by 11AM PST and it can ship today or call us at 800-841-9238 to place your order.



Q: There is 2-AC adapters with the matrix, how are they used?
A: One powers the matrix and the other powers the far away POE HDMI receivers. The POE receivers do not have power supplies.

Q: How do I set up the LAN control?
A: Connect matrix with TCP/IP/8000:

TCP/IP protocol

Port: 8000

For example: connect the matrix via IP=192.168.0.100 and Port=8000

Then send the terminal control commands string with carriage return(0x0D) to the matrix to active the command.

For example: Terminal control command to power on the matrix: PON

Send: "PON"+0x0D, 3 characters with byte 0x0D, total 4 bytes

Terminal control command to power off the matrix: POFF

Send: "POFF"+0x0D, 4 characters with byte 0x0D, total 5 bytes

The TCP/IP user instruction and command list is in the MANUALS Tab above

Q: Is the 4x4 HDMI Matrix with both CAT5 & HDMI Outputs fully HDMI and HDCP compliant?
A: Yes. The 4x4 HDMI Matrix with both CAT5 & HDMI Outputs has been ATC certified as HDMI compliant and meets all requirements of HDCP certification.

Q: Can I use the HDMI output for one TV and the CAT5 output for the same position to connect to another TV?
A: Yes, you can use both HDMI or CAT5 outputs at each position but the audio and video will be the same.

Q: Please tell me more about the IR.
A: 1. The Matrix supports bi-direction IR.

2. IR frequency: emitting 38KHz, and receiving 30-50KHz (max. 10 meters).

3. The IR receiver cable is stereo type (5pcs included), and the IR emitter cable is mono type (4pcs included)

4. The IR path has 2 directions:

A. Forward direction (from Matrix IR RX to HDBT Receiver IR TX): On this direction, the IR path is fixed -- Matrix IR RX-1 to HDBT Receiver IR TX-1, Matrix IR RX-2 to HDBT Receiver IR TX-2, ...and Matrix IR RX-4 to HDBT Receiver IR TX-4.

B. Backward direction (from HDBT Receiver IR RX to Matrix IR TX): On this direction, the IR path accompanies the selection of HDMI Input/Ouput, e.g. HDMI Output-3 selects HDMI Input-1, then you should connect IR receiver cable to HDBT Receiver-3 IR RX, and connect IR Emitter cable to Matrix IR TX-1.

Q: How is HDBaseT technology different than others?
A: Unlike other HD distribution technologies, HDBaseT is the only technology which enables CAT5/6/7 connectivity from 200 meters to 100 meters, depending upon the specific product, for uncompressed full HD multimedia content and optionally up to 100 watts of charging power via a single cable. HDBaseT is optimized for video applications and can connect all HDBaseT enabled home entertainment devices. Also, HDBaseT technology has the capacity to deliver double the resolution available today to future 2K and 4K formats. Other existing solutions also require a specific cable and/or a new proprietary connector while HDBaseT utilizes the existing Ethernet infrastructure.

Q: Can I use unpowered HDMI over CAT5/6 extenders with this matrix?
A: We don't recommend them with our matrices, or anyone else's, due to them consuming power from the matrix and the matrices are not designed to power many external devices.

Consider the example of 9 - HDMI balun transmitters that need 0.5a amp each to power it times 9 or 4.5 amps the matrix would have to supply. The power supply of this matrix is rated at 12v at 3.5 amp so in that example the matrix would probably break down and your warranty may be voided. See the companion powered HDMI extenders in the above OPTIONS that have 2-AC adapters.

HDMI cables with built-in boosters also consume power also and we don't recommend more than 2, if at all. You must use our low power ones, also.

Q: I've made EDID changes but don't see an affect.
A: When you make changes to the EDID, you need to either power cycle the display or change the inputs. This forces the display to relock onto the source.

Q: Would I be able to used an HDMI connection for audio only going to my audio receiver. This way I could get True HD Audio. Will this output work how I am describing?
A: Yes, provided you do not turn On a display device that might be connected to the Output of your audio receiver. Some older displays do not have the ability to decode anything other than 2 channel stereo and when connected to a receiver via HDMI.

Q: I have a PC with HDMI out, how do I set it up?
A: When your computer boots up, it looks for an EDID (extended display identification data) from the display to tell it what monitor is connected and what resolution to output. During boot up of the computer you should have ONLY one output selected to one input at a time so that the computer gets the EDID of the display that is selected. If you have multiple outputs selected to one computer, the computer will read the EDID of the last output selected to it. If all your displays are the same, or all displays are capable of running at the same resolution then this step does not matter.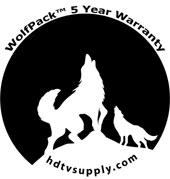 HDTV Supply
includes a 5 Year U.S. Limited Extended Warranty on this product. There are two bundled parts to this 5 year warranty. The 5 year warranty is only for the main device you purchased and does not include any product options or additional products you purchased at the same time.
FIRST YEAR:
The first year is direct with with HDTV Supply at 800-841-9238. The warranty states that the Product will perform substantially in accordance with the supplied written materials and Product information located on this Product web site page for a period of 1 year from the date of shipment of the Product and that the Product will be free from defects in materials & workmanship under normal use & service for a period of 1 year from date of shipment.
In order to get a warranty replacement for a defective item within the first year call HDTV Supplys Tech Support Team with your order number at 800-841-9238 and they will verify the product is eligible for a warranty repair. An RMA number will then be issued via email. Shipped replacements will be in like new condition, tested and all components included. Please read
HDTV Supplys Warranty Terms and Conditions
for more.
2ND THROUGH 5TH YEAR:
The 2nd through 5th year are direct with
Consumer Priority Extended Warranty Service (CPS)
as they are HDTV Supplys extended warranty provider. They are a large 3rd party repair company with facilities throughout the U.S. and offer our U.S. customers unparalleled product coverage and repairs. If after calling HDTV Supply, at 800-841-9238, we find we can't fix the issue over the phone, and you need a repair, you will henceforth deal directly with CPS for the repairs via their toll free phone number (800) 905-0443 Option 3 during the 2nd through 5th year.
You can also
email CPS
and
email HDTV Supply
as well as call us a 800-841-9238 if you have any questions with this 5 year bundled warranty.
Questions & Answers

Ask a question about the 4K WolfPack 4x8 (4X4X2) HDMI Matrix w/both CAT5 & HDMI Outs - HDBaseT & POE or Call 800-841-9238



The transmission distances of HDMI over UTP cables are measured using TE CONNECTIVITY 1427071-6

Use EIA/TIA-568-B termination (T568B) for CAT cables is recommended for better performance.

DO NOT use 568A/568B standard mixed CAT cables (cross-over cable) because there are 2 pairs swapped and this will cuase an issue with the POE OVER-CURRENT and damage the POE components. Please use straight-through CAT cable using 568B standard.

It is recommended that you only power up the device after connections of source, sink and CAT cable.

To reduce the interference among the unshielded twisted pairs of wires in CAT cable, do not run HDBaseT / Zone Cat5e/6/6a cabling with or in close parallel proximity to mains power cables. Shielded CAT cables can be used to improve EMI problems which is worsen in long transmission.
This WolfPack product is part of HDTV Supplys WolfPack International OEM (Original Equipment Manufacturer) program that allows buyers to buy 40 of these matrices at once to get a discount larger then we already give.
What you get with our WolfPack International OEM Program:
5-year extended warranty to your customer starting when you ship the device to them, not when we ship it to you. Options are not included.
We will add your logo to the matrix
Permission to modify a generic users manual to make it your own
Lifetime U.S. Telephone Tech Support to you
The price is only $900 each when you pay for all 40 matrices plus shipping and take delivery as soon as we can ship.
How you can participate in the WolfPack International OEM Program:
You support the end user with our behind the scenes support to you
You will never sell on-line below the discounted price on this site
You have experience installing complex HDMI matrix systems
You have an AV website that we can review
You have a Tax Resale document you can send us
If you are interested, send us an email at support @ hdtvsupply . com on your company, the area you support and your experience. Shipping time is 2 to 3 weeks and payment is by wire transfer or Bank Of America check.
4K WolfPack 4x8 (4X4X2) HDMI Matrix w/both CAT5 & HDMI Outs - HDBaseT & POE
Recently Viewed Items